Generation Connect unveils the voices and visions of youth on the future of AI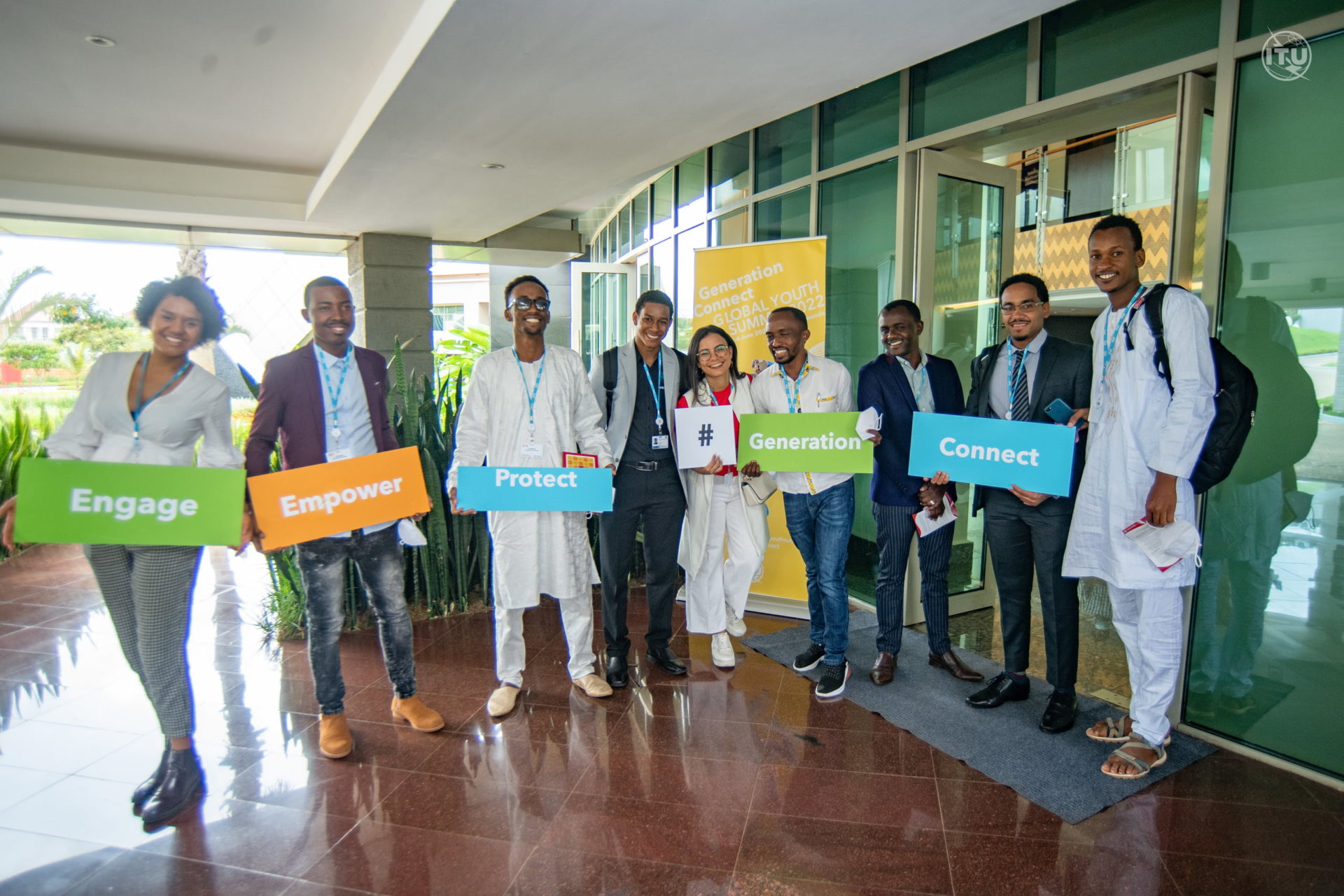 Ethics
|
Inclusivity
|
Innovation & Creativity
By Erin Kalejs
Together, Artificial Intelligence (AI) and digital innovation have the incredible opportunity to create long-term improvements to lives on a global scale, especially young people who will inevitably acquire these innovations and create new ones. It is therefore now more important than ever that global youth voices are heard and understood in conversations about AI in order to design a better and safer future for all. That was the message and what was achieved at the recent AI For Good "Youth and Artificial Intelligence: Designing our Possible Futures" webinar hosted by the International Telecommunication Union (ITU) at Generation Connect, in Kigali, Rwanda.
The session was also hosted in collaboration with The Lancet and Financial Times Commission on Governing health futures 2030: Growing up in a digital world (GHFutures2030), AI Future Lab and Fondation Botnar.
During the opening statements and throughout the session, members of the global youth community were invited to share visions, ambitions and plans for AI. The live event featured intergenerational dialogue and launched the Youth and Next Gen Leaders AI Manifesto, announcing the global youth's principles, beliefs, and hopes for a brighter future through AI.
"It's inevitable that solutions for a digital age and digital native population will largely inculcate AI and other digital tools but whether it's for healthcare, climate change or economic policies, these tools themselves are not solutions alone. They're just that, tools. The solutions lie in the voices of young people."
Said Suyi Davies Okungbowa, author of Imagining Health Futures 'SelfCare' and assistant professor of creative writing at the University of Ottawa, with inspiring words and an important reminder about youth and AI.
Through global consultative processes, AI Future Lab aimed to answer three crucial questions through the voice and perspectives of youth:
What do the youth feel about AI?
How do youth want AI to be developed?
What do youth need to develop and sustain their AI ecosystem?
Overall, the manifesto uncovered the three most important AI values for the global and regional youth are transparency, privacy and fairness.
Youth also expressed the need for skilling, investments and regulation. However, the needs differ regionally, with the youth in Africa stating that digital infrastructure was necessary before a discussion on AI and their future can begin.
Furthermore, some of the AI development principles included, asking important and challenging questions such as how centralized should AI regulation be? The manifesto also stated that other areas of focus are understanding how economic incentives are moving AI forward, and that climate change is a serious problem to youth, and many want AI to be considered through the climate change paradigm.
When it comes to the impact of AI on youth, the manifesto revealed that 90% of youth believe AI will impact their career, 50% said they feel included in their AI regional ecosystem, and 50% also said that they do feel comfortable sharing their data. In terms of agency, half of the youth said they do feel comfortable with AI systems making decisions and performing tasks for them.
Saif Malhem, founding co-chair at AI Future Lab emphasized that we are in a unique and exciting moment, "at a time when we are experiencing the fourth industrial revolution with AI being at the helm and we have 50% of our global population being 29 years old. The message that we are saying here today is we're always thinking differently because we're learning from the lessons of those who came before us. We're standing on their shoulders, but we are able to push in a way that perhaps before we were not able to push so why we need to work in AI is because we are needed, and we're needed as leaders."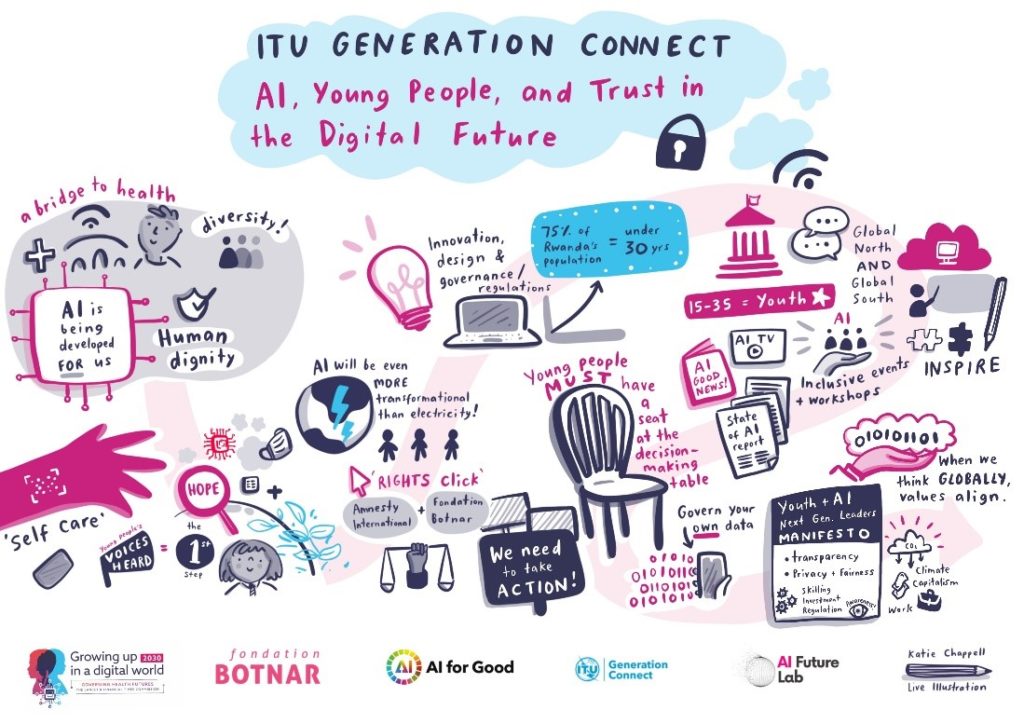 Closing the generational and technological gap
The main challenge that was discussed at the event is closing the gap between technological innovation and technology governance, and how to involve youth in both of these processes. As we move forward, it is important to effectively place human dignity and regulation at the center of design. The risk in product design is great as it could lead to creating even more inequity in society. However, a careful balance must be struck in order to mitigate the risks but still allow innovation to flourish instead of stifling it.
"We need to have a unified framework and we actually have that as a global society under international law, we have an entire body of human rights, so we need to make sure that governments that are deploying AI as well as companies that are developing AI solutions are respecting human rights end to end." says Stefan Germann, Chief Executive Officer at Fondation Botnar. "We need to make sure that young people, who are really the digital experts, are right at the core of these interventions. For us that means that young people are equal partners in programs, design, platform engagement and research and that all these solutions should really enhance the wellbeing of young people but also everyone in society at large," he explains.
"For us, getting young people involved in our community is a completely inspirational thing for me to see, and it's a melting pot for future evolution of the community," said Nick Bradshaw, Founder and CEO of AI Media Group. As he explained, "there was no publication in Africa talking about the good news AI story. We wanted to change that, so we advocate for positive stories about both young people and startups, showcasing them on a quarterly basis. All of that is culminating with the launch of the first 'State of AI Report' which we're launching at the World Economic Forum Center in South Africa on the 14th of June."
The panel discussion at the event also explored data and AI ethics, Crystal Rugege, managing director at the Center for the Fourth Industrial Revolution Rwanda spoke about the importance of data governance and its impact on youth because their "entire lives are chronicled online, whether it's signing up for Tik Tok or a new app, you freely give away your personal data. So, one of the first things we focused on was putting in place a law on the protection of personal data and privacy." She urges youth "to understand how your data is being used and take charge of governing your own data and being very careful about reading terms and conditions."
Stefan elaborated on this important point by saying "I'm an AI optimist and whilst there are huge upsides, it is the decisions that we collectively make at this point in time and in the years to come that determines whether this will enhance our wellbeing or reduce our space of human agency."
In the closing session, the Manifesto was presented to Patrick Nyirishema, Head of Defense Research & Development (Ministry of Defense, Rwanda) to take forward the visions of the youth into WTDC, The World Telecommunication Development Conference.
"This manifesto is very important work, but it's work that is going to continue to evolve and hopefully the people in this room and many other youth out there are going to participate to continue to evolve it and make it relevant for their lives in a practical sense." he said.
"AI evolves slowly, it's like being in a river that is flowing downstream and is picking up momentum. A time comes when it's very difficult for you to maneuver but when it is still moving slowly you have room to swim. That's why this conversation is happening at the right time and we need to have more conversations like it."
Watch the full AI for Good session recording.