Scaling-up global action on sustainable development: Winning AI start-up awarded at AI for Good Global Summit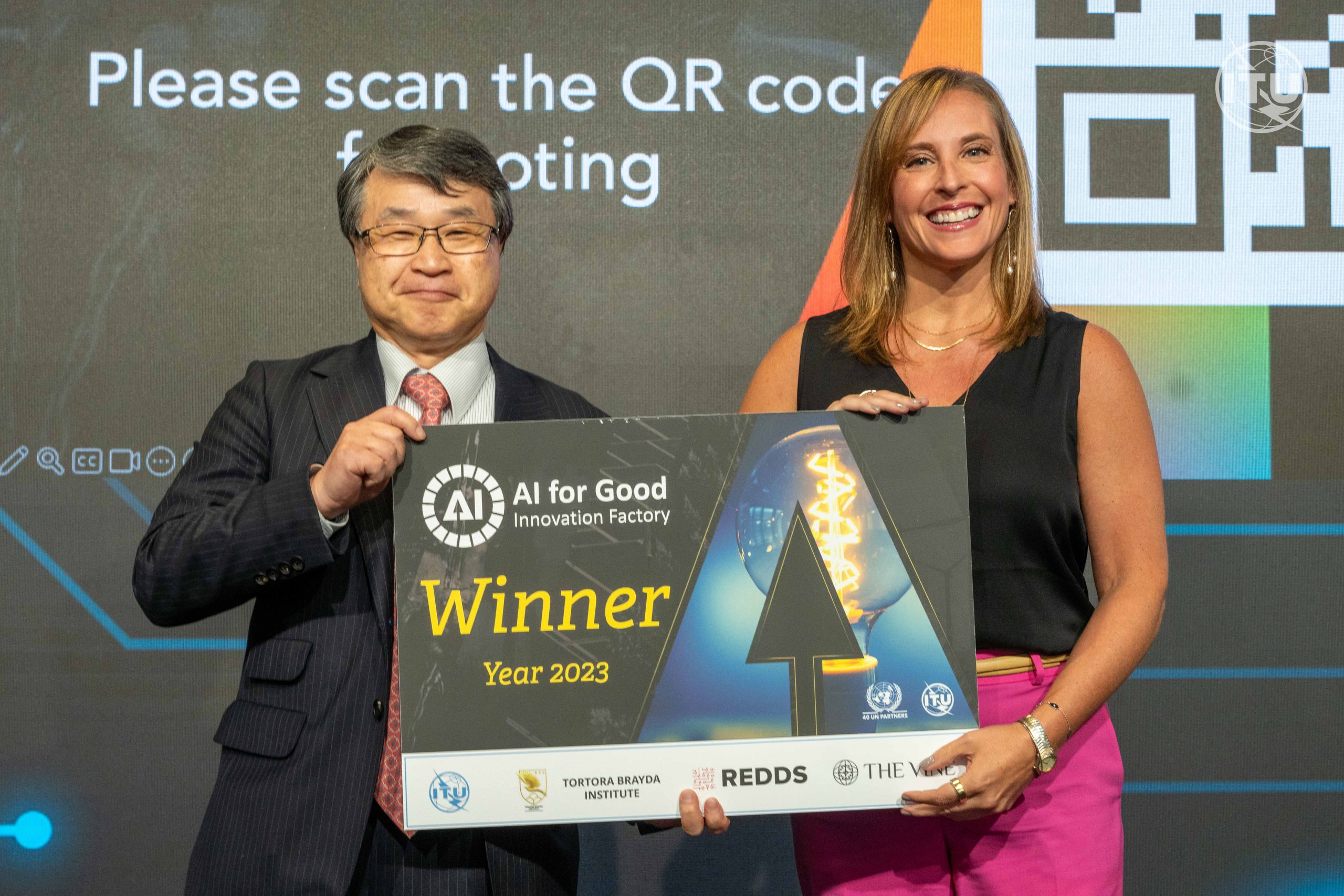 Artificial Intelligence
|
Global Summit
|
Innovation & Creativity
|
Innovation Factory
At the AI for Good Global Summit, the world leading solution from Ultrasound AI, emerged as the winner of the Innovation Factory start-up competition.
Ultrasound AI is a ground-breaking platform that utilizes the power of artificial intelligence to identify and analyze characteristics for pregnant women, to reduce the instance of pre-term pregnancies. This solution emerged as the winner of the US/Silicon Valley Entrepreneur Finalists in 2023.
A total of five start-ups joined at ITU in Geneva to pitch, in four minutes, their solutions to global challenges to a panel of judges. From tackling global air pollution, one the largest problems impacting people around the world, to health start-ups treating arthritis or improving x-ray diagnostics,  these start-ups showed the power of AI to bring action on sustainability.
After two years of searching for the top AI start-ups, the top five were invited to Switzerland to pitch in front of a live audience at the Robotics for Good stage, as the culminating event of day one of the Summit. As the only woman finalist, Marissa Fayer showed how AI can help advance the standard of care for providers and pregnant women.
"Women and babies deserve quality healthcare, and that's what we are trying to do," said Marissa Fayer, presenting the winning innovation from Ultrasound AI .
AI for Good Innovation Factory is an UN-based startup pitching/acceleration platform to help start-ups grow and scale their innovative AI-powered and SDG-driven solutions, by providing them with opportunities of business matchmaking, mentoring, fundraising and more. The program is open to any innovative start-ups using artificial intelligence, machine learning, and advanced algorithms to achieve the UN Sustainable Development Goals. The event connects the finalists with world renowned AI experts and thought leaders to help scale their AI solutions globally.
"I see the potential in all of these solutions," said Seizo Onoe, Director of the Telecommunication Standardization Bureau at International Telecommunication Union (ITU).
The winning start-up benefits not just from monetary awards, but the visibility at the UN level.
"AI for Good is one of the biggest events in the world now," exclaimed Stephen Ibaraki, Chairman & Managing General Partner, REDDS Capital. As part of the AI for Good community of start-ups, these solutions are able to scale their solutions to reach more people with innovative solutions.
The esteemed judges included: Carlo Tortora Brayda di Belvedere, CEO, Gorilla Corporation and Founder of Tortora Brayda™ Partnership Excellence™, Gorilla Corporation; Mostafa Gado, Venture Developer, FoundersLane; and Adria Dunn, Philantropist & Author, The Vine. The event is coordinated by Josh Choi, Director of Business Development, Korea Startup Forum.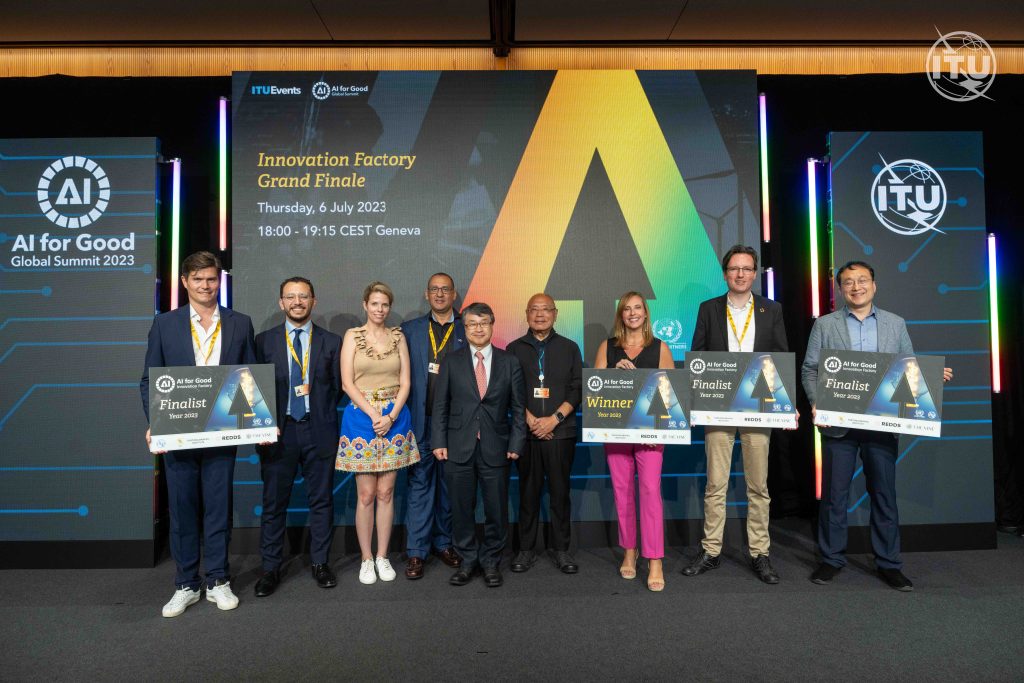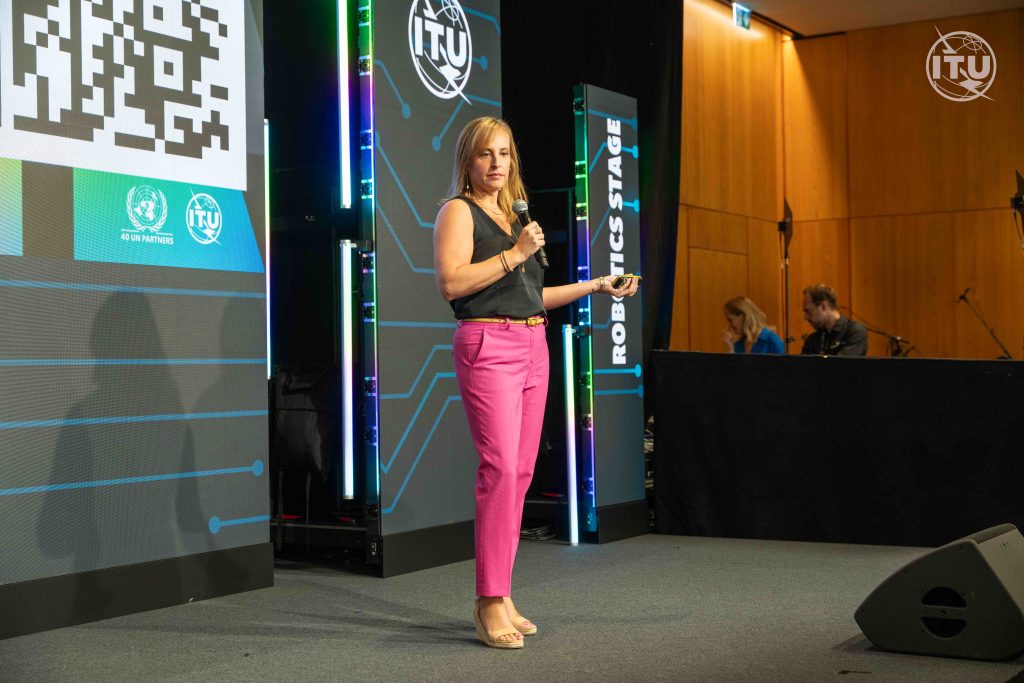 The competitors showed a range of innovative ideas including:
Breeze Technologies are an industry leader in air quality sensors, data and analytics. Using distributed networks of small-scale environmental sensors, they can enable a fully-new approach to understand our environment, how it affects us and how we influence it. With real-time data, they address the  underlying issues of environmental pollution and develop strategies and best practices how to prevent it.
ROPCA, started at the University of Southern Denmark, has created an automated system for locating and ultrasound scanning hand joints on Rheumatoid Arthritis patients. In 2019 the ROPCA was established as a company. ROPCA's goal is to develop a fully automated ultrasound scanning system with artificial intelligence performing the disease activity scoring. The system is designed and constructed for hospitals worldwide, with the intent of improving the lives of patients with Rheumatoid Arthritis. In 2021 ROPCA has submitted the first products for CE-marking in the EU. They were selected at one of the top Robotics for Good start-ups advancing sustainable development earlier this year.
Korean-based Promedius with their AIdent platform uses unsupervised AI technologies to provide safe and reliable AI solutions for x-rays and ultrasound images. For example, PROS CXR: ID accurately classifies chest radiographs into multiple diseases including COVID-19 related pneumonia.
SenseGrass is pioneering farming solutions, and Soil intelligence with Precision farming. SenseGrass offers 360 farming solutions based on cutting edge technology like Nano-Satellite Mapping, Rover Bots and AI-based mobile & web application that makes farming super-efficient & easy. They were a 2021 finalist in live pitching event. https://aiforgood.itu.int/event/ai-for-good-innovation-factory-live-pitching-session-6/