"2.7 billion people are still not even online" – A conversation with Tomas Lamanauskas, Deputy Secretary-General of the ITU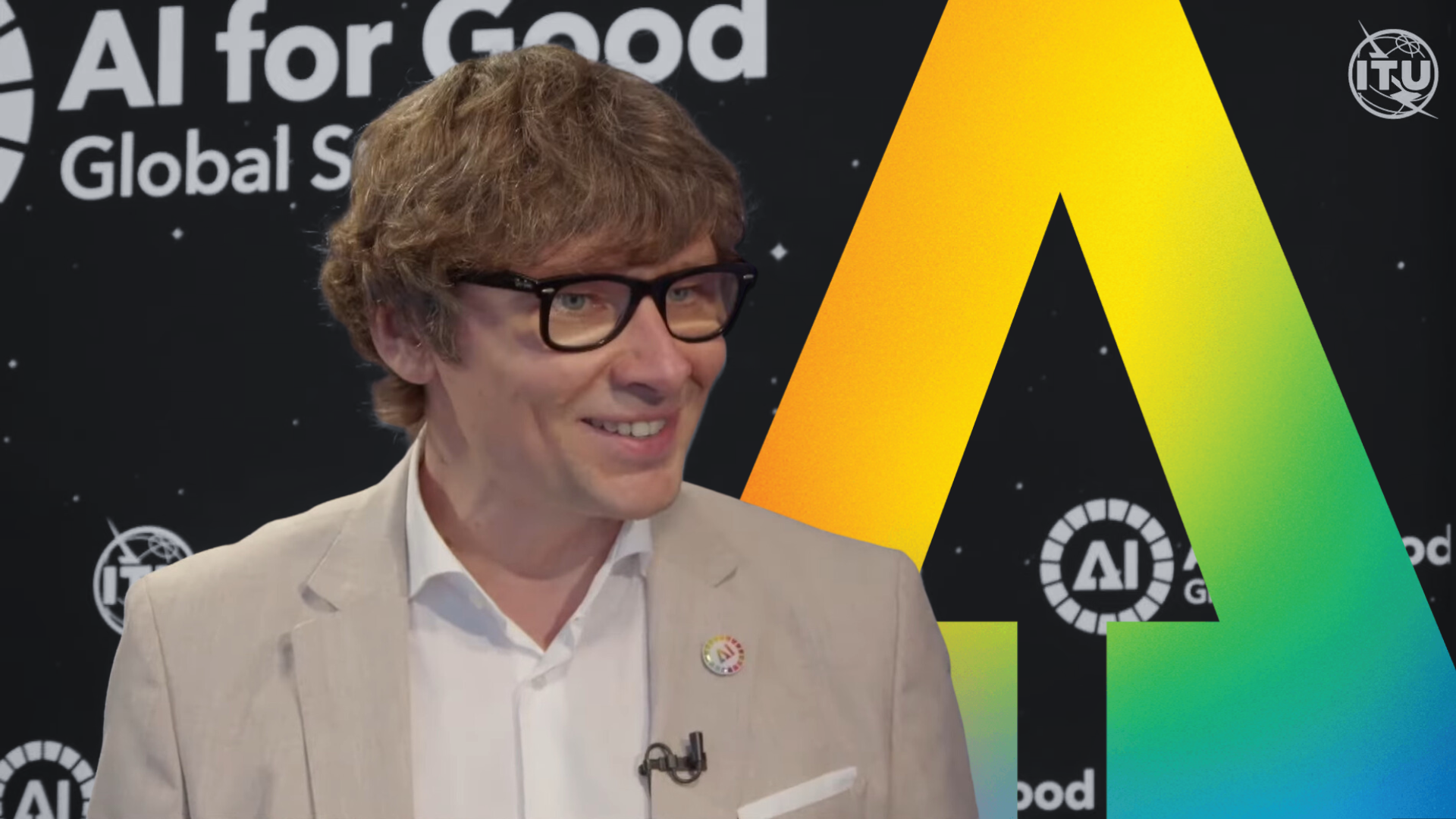 Artificial Intelligence
|
Global Summit
|
Interview
By Alexandra Bustos Iliescu
AI has emerged as a groundbreaking technology with the potential to reshape societies and economies. Its applications range from autonomous cars and voice-activated assistants to complex diagnostic tools in healthcare and personalized learning systems. However, along with its immense benefits come several challenges and risks that necessitate a broad global dialogue.
In a recent interview at the AI for Good Global Summit, Tomas Lamanauskas, the Deputy Secretary General at the International Telecommunication Union (ITU), discussed these critical aspects and shared his perspective on the multifaceted impact of AI on global communities.
Dialogue on AI: The Purpose of the Global Summit
The AI for Good Global Summit serves as an international platform that brings together stakeholders from different sectors worldwide. The purpose is to delve into AI as a concept, solution, and phenomenon, and examine its practical applications. According to Lamanauskas, one of the main goals of the Summit is to build awareness and inclusivity in the dialogue surrounding AI.
Lamanauskas elaborated on the Summit's goals, saying that "some of the outcomes we are already achieving; it's really bringing a global community from different stakeholders together here to look into the AI as a concept, as a solution, as a phenomenon, but also as a very practical application." By creating a platform for such a diverse discussion, the Summit aims to foster a balanced understanding of the benefits and challenges posed by AI.
During the interview, Lamanauskas emphasized the importance of achieving a balance in the dialogue about AI. According to him, it's critical to remember that like all technologies, AI can be a force for good and carry risks.
"We're kind of losing the fact that AI, at the end of the day, has every technology can serve good but can have risks," Lamanauskas stated.
The risks of AI often capture the headlines, and the potential for misuse of the technology has led to justifiable apprehensions. However, it's essential to remember that these risks shouldn't overshadow the transformative positive potential of AI.
AI and Sustainable Development Goals (SDGs)
Discussing the tangible impact of AI, Lamanauskas drew attention to its direct relevance to the United Nations SDGs. He stated that 85% of the 280+ examples featured in the ITU's Compendium of AI Solutions directly support the advancement of these goals.
"Actually, we did that together with the UN family, other 40 agencies; we collected 280 plus examples of AI using the UN system, and 85 percent of those examples are directly related to sustainable development goals," Lamanauskas stated.
AI's role in diverse sectors offers a testimony to its practical value and potential. For instance, the United Nations Environment Program and the United Nations Office for Humanitarian Coordination have collaborated on projects utilizing AI to analyze weather and migration patterns to predict the potential impacts of climate change.
AI Ethics and Global Legislative Initiatives
AI's potential is marred by ethical challenges and risks. It's been a focal point of discussions at various forums, including the AI for Good Global Summit. Lamanauskas acknowledged that ensuring ethical development and deployment of AI is an evolving and complex issue.
"I think this is a complicated question and it's also still a very evolving question," Lamanauskas stated. While recognizing that different countries have launched legislative initiatives to deal with AI, he also pointed out that there remain many unanswered questions in this sphere.
Lamanauskas discussed the emerging principles for the ethical use of AI, which include transparency, accountability, avoiding bias, ensuring fairness, and maintaining security. However, he placed particular emphasis on promoting inclusiveness, stating that "inclusiveness is along with different aspects of that from inclusive data sets to the ability to use AI."
Inclusiveness extends to providing equitable access to AI benefits, regardless of one's geographical location, and addressing the digital divide.
"2.7 billion people are still not even online," he stated.
This divide poses a significant challenge, as these people are not only missing out on AI's benefits but also lack the ability to protect themselves from the potential risks posed by this technology.
Inclusiveness also encompasses understanding AI models and how AI works. It's crucial both at an individual level and a national level. A lack of understanding can lead to misuse or unintended consequences, highlighting the importance of education and awareness in AI deployment.
AI is an increasingly influential technology with a broad range of applications that can drive significant societal progress. However, the ethical and inclusive use of this technology presents challenges that require ongoing international dialogue.
Through forums like the AI for Good Global Summit, diverse stakeholders can share insights, examine practical applications, and discuss the complex questions that arise as we increasingly adopt AI. As AI continues to evolve, the outcomes from such dialogues are more crucial than ever in shaping its trajectory for the benefit of all.
In Tomas Lamanauskas' words, "this event [is] a way to really bring the benefits of AI to everyone in an inclusive fashion and enable everyone to manage those risks as well."
This vision sets the foundation for an inclusive, sustainable, and ethically guided future for AI – one where its enormous potential can be harnessed while managing the associated risks effectively.