Go back to programme
Innovation Factory Grand Finale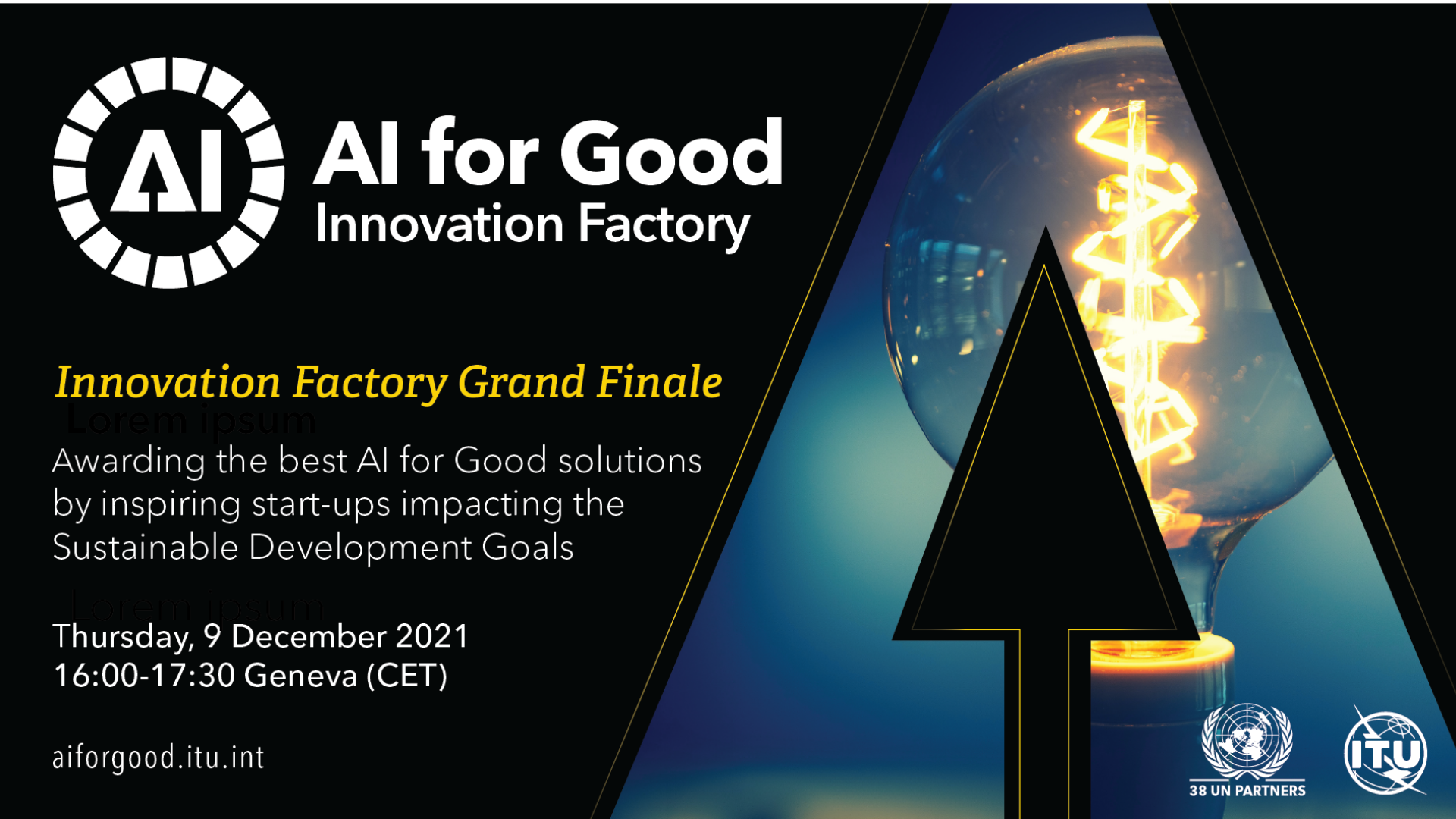 * Register (or log in) to the AI4G Neural Network to add this session to your agenda or watch the replay
After a year-long quest to find the most promising AI for Good startups from across the globe, the Innovation Factory Grand Finale will award five winners for their innovative and scalable solutions to help advance the achievement of the United Nations' Sustainable Development Goals (SDGs). 
During this exciting live event, five entrepreneurs will have the chance to present their solutions before a jury of experts who will evaluate their pitches and select the top winner. This year, the public can also submit votes for their favorite solution. 
In only its 2nd year, the AI for Good Innovation Factory continues to grow. With over 150 entries from 39 countries, the finalists have a chance to not only win recognition from ITU and its partners including the UN agencies, but this year we are offering a range of cash prizes, investment and mentoring opportunities, cloud credits, and more! 
Investors and innovation experts will also be present to announce possible partnerships, potential funding, and programs to support the startups, bring their solutions to market and scale them for maximum impact. 
These five promising AI ventures have a great scalability potential and are making use of innovative technologies for social good. From fields of road safety, climate change, energy saving, digital healthcare, financial inclusion – these AI for Good solutions are tackling the world's greatest challenges. Which one will win? 
Join us live for the Innovation Factory Grand Finale on 9 December 2021! 
Program:
The Grand Finale will feature opening remarks from the ITU Secretary-General and the TSB Director. The top startups will deliver their final pitch with presentations showcasing their AI innovations. We will conclude with discussions including a Q&A with the jury, audience, or media on topics related to the social impact of their solutions. 
Prizes:
Due Diligence by REDDS Capital
– All finalists will automatically go directly into the DD process for possible investment with REDDS investment networks in 2022 and beyond. REDDS offers due diligence, feedback plus advisory and mentorship headed by REDDS Fund Manager and COO. Only a very tiny percentage of startups pass screening and enter the Due Diligence process for possible investments for the future.
Marketing & Advisory Support by Gorilla Corporation & Tortora Brayda Institute
– The winner will be awarded the following prizes valued at $34,000 USD
(1) A 1-year subscription license of the Through Channel Marketing Automation (TCMA) system PartnerPulse (Valued at $24,000 USD). The License includes Website/landing pages, Sales Platform, Marketing Platform, Partner Dynamic Scorecarding, Partner recruitment, and onboarding.
(2) Advisory support aimed to build sales for 4 quarterly Consultative Sessions (Valued at $5,000 USD)
(3) Marketing support aimed to build sales for 4 quarterly Consultative Sessions (Valued at $5,000 USD)
Cloud Service Credits by AWS
The winner will get &6,000 valued credits for AWS service and the 2nd place will get $3,400 valued credits
More about the Innovation Factory Pitching Series:
There are four steps, increasing successively in difficulty, to overcome to reach the Grand Finale. Those who scored the highest scores throughout the Innovation Factory pitching now have one final chance to win the top spot. 
Watch the Innovation Factory Winning Pitches on YouTube!