Go back to programme
Les défis à venir pour l'IA et l'économie créative: impacts sociétaux des machines, propriété intellectuelle, et développement à l'horizon 2030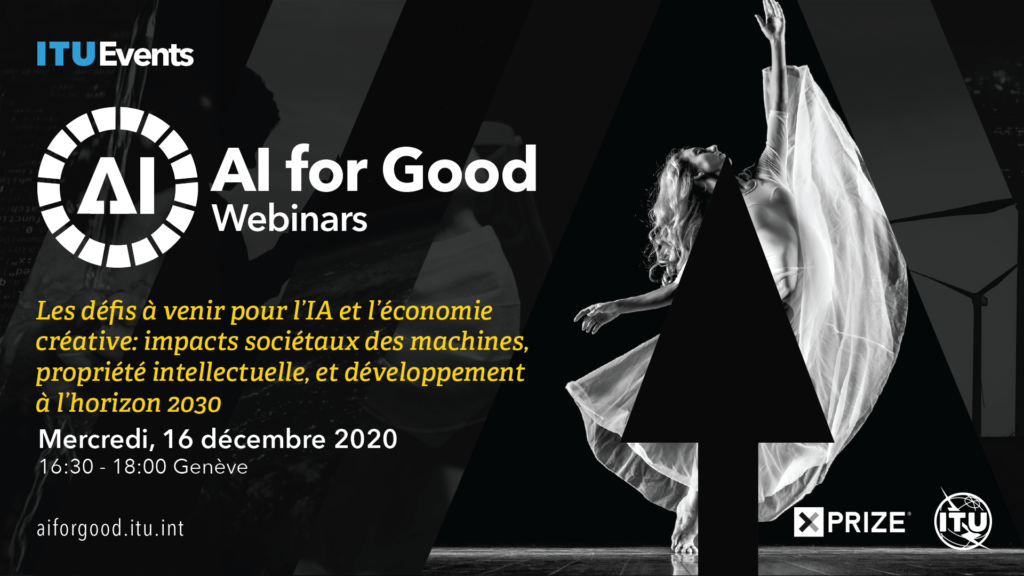 Le Programme 2030 pour le développement durable des Nations Unies ne peut être pensé sans considérer l'impact de l'IA. Les enjeux sociétaux à venir qui se rapportent à l'IA en général acquièrent une couleur particulière dans le domaine de l'art et des industries culturelles et créatives. Comment la propriété intellectuelle va-t-elle évoluer pour encourager la créativité à l'ère de l'IA et ainsi contribuer à l'ODD 9 ? L'impact de l'IA en termes d'emplois dans l'économie créative sera-t-il positif ou négatif (ODD 8)? L'IA pourrait-elle finir par provoquer un recul en matière d'égalité des genres dans les secteurs créatifs (ODD 5)? En cette fin d'année 2020, nous ouvrirons un dialogue prospectif pour réfléchir aux défis à venir, à l'horizon 2030, mais également pour préparer 2021, année des Nations Unies pour l'économie créative.
Ce webinaire fait partie d'un cycle de conférences dans le cadre de la publication du Guide sur l'IA dans l'art et les industries culturelles et créatives.
English version:
« Future Challenges for AI and the Creative Economy: Societal Impacts of Machines, Intellectual Property, and Development towards 2030 »
The United Nations 2030 Agenda for Sustainable Development cannot be considered without taking into account the impact of AI. Be they positive or negative, the future societal issues related to AI will have a very specific impact on the arts, and cultural and creative industries.
How will intellectual property evolve to encourage creativity in the age of AI and thus contribute to SDG 9? Will the impact of AI in terms of jobs in the creative economy be positive or negative (SDG 8)? Could AI end up causing a setback in terms of gender equality in the creative sectors (SDG 5)?
Taking place at the end of 2020, this webinar will also open a forward-looking dialogue to reflect on the challenges ahead, up to 2030, but also to prepare for 2021, the United Nations Year for the Creative Economy.
This webinar is part of the a series of conferences dedicated to the publication of the Guide on AI in Art and Cultural and Creative Industries
Note: The webinar will be held in French/Le webinaire se déroulera en français.