Flood forecasting at Google: The AI Solution for Global Impact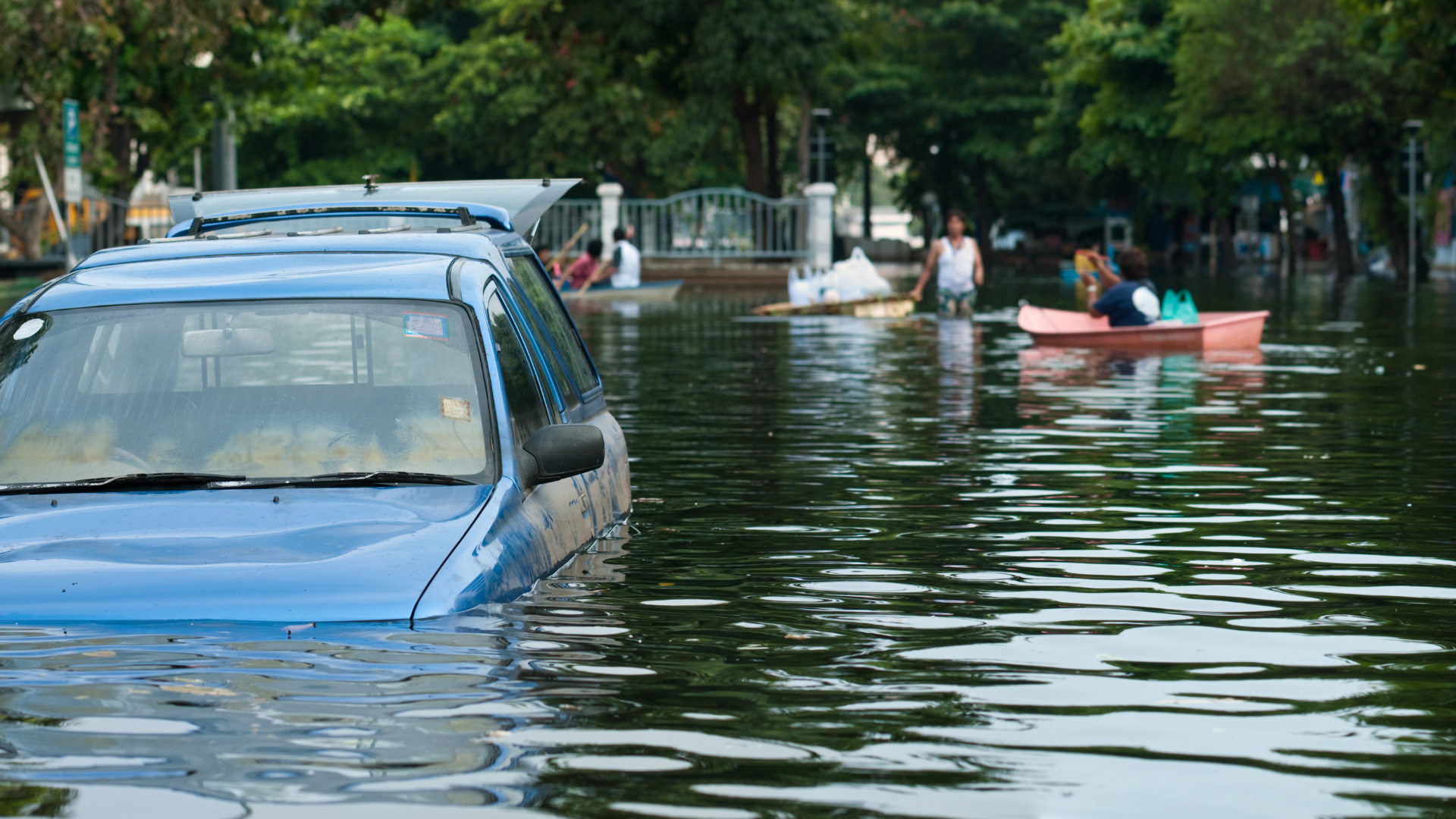 Disaster Management
|
Environment & Climate change
By Celia Pizzuto
Flooding is one of the most widespread and costly forms of natural disaster primarily affecting developing countries and communities, resulting in disproportionate adverse consequences for human life. According to the World Meteorological Organization (WMO), floods are the deadliest natural hazards, and have been increasing exponentially both in frequency and intensity over the last decade. Flood forecasting comes up as an important strategy to reduce the damage of flooding and the communities' vulnerabilities, as early warnings can save people's lives.
In this AI for Good Discovery session, Grey Nearing, a Research Scientist at Google, discussed the company's flood forecasting system and the opportunities for AI to improve flood predictions.
Watch the full AI for Earth and Sustainability Science Discovery on AI for flood forecasting here:
Google's Flood Forecasting System
Floods have a greater impact on people than any other type of natural disaster across the globe. However, there is significant evidence that early warnings can effectively save lives and reduce economic losses.
"The world lacks high quality flood forecasts, and we are trying to fill that hole to the best of our ability", said Nearing.
In 2018, Google has started developing a flood forecasting system that gathers rainfall data from a range of sources, including weather forecasts, satellites, and ground stations. This system uses multiple weather forecasting models from various sources, including government and private entities, to improve the accuracy of flood forecasting, which is especially important due to the inherent uncertainty in weather forecasts.
Google's Flood Forecasting System is a hydrologic model that is transformed into a streamflow forecast. This forecast is then used in an inundation model to determine which areas are at risk of flooding. The information generated is then distributed to the public via various channels, including Google search, Google Maps, and smartphone push notifications.
Moreover, in November 2022, Google launched the Google Flood Hub, which provides real-time information to people in areas where forecasts are good enough to be shared and where the company is allowed to do so. This service is Google's main tool for disseminating information to populations and is vital in emergency situations.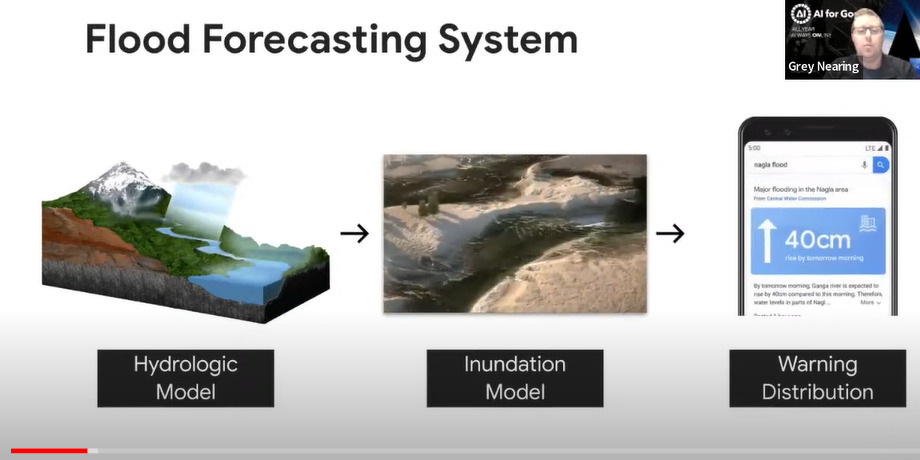 Collaborating with NGOs
Google recognizes the importance of working closely with NGOs to ensure that its flood forecasting service meets the needs of communities around the world. By leveraging the expertise of these organizations in interacting directly with populations, Google is able to gather valuable feedback and continuously improve its service. According to Nearing, this collaboration has proven to be one of the most effective ways for Google to communicate with people.
To further support NGOs in using and interpreting the information provided by Google, training efforts are being made to ensure that organizations are equipped to disseminate the information to the wider population.
In a recent pilot study conducted in Mozambique, Google partnered with the NGO GiveDirectly, which engages with about 6 000 people in this country. The initiative aimed to support individuals in flood-prone areas by providing $200 per person before and after flooding occurred. Google's forecasts were used to identify the areas that would be affected by the flooding, enabling GiveDirectly to distribute aid quickly and effectively.
The challenge of data availability
According to Nearing, one of the major challenges facing the field of hydrology is the limited availability of data on a global scale. Google relies on real-time data for only a few locations, which is then incorporated into their models on a daily basis. Only 1% of the world's watersheds have streamflow gauges, limiting Google's ability to accurately predict flood events.
"There is a strong correlation between the size of the economy in a country and the total years of the streamflow data record in a country".
Moreover, countries with a lower GDP tend to be more vulnerable to floods, with both economic and livelihood impacts being higher. Unfortunately, these same areas often suffer from data deficiencies, making it even more difficult to predict flood events accurately. Addressing these data gaps is crucial in improving flood forecasting and minimizing the impact of floods on vulnerable communities.
The potential of AI in hydrology
The scientific community found out that AI could help solve the issue of data availability. Machine learning (ML) can produce streamflow models that are better at extrapolating than traditional hydrology models.
"Our goal that is we want to take this discovery and turn it into something that is globally useful", said Nearing.
Researchers at Google created a global ML model that can predict extreme weather events with data from around the world able to extrapolate and to make more accurate predictions than traditional models.
ML also has the power to perform tasks that are traditionally considered as hard in hydrological science, including forcing ensembles, estimating uncertainty, making real-time simulations and reducing computational expense.
Using ML can greatly simplify the process of feeding real-time data into models and reduce computational expenses. The ML models used at Google produce probability distributions over streamflow instead of just estimating the streamflow. Instead of running separate hydrology models for each location, the researchers can run one model for all areas that listens to different precipitation products from different locations. Training these models also requires less time than traditional models, which helps scale up globally.
Perspectives on flood forecasting
Grey Nearing emphasized the challenge of scaling machine learning (ML) to longer-term predictions due to the difficulty in dealing with non-stationarity. However, ML has potential for hydrology science, and Google is actively engaging with end-users to disseminate forecasts.
To better communicate forecasts, Nearing highlighted the need for developing citizen science programs. Google understands the potential it can provide in hydrology science and has started working actively on end-user engagement.
"Our real strength is how to reach people", believes Nearing.
Despite not being a traditional player in this space, the company's vast reach can support people during floods by releasing forecasts from other sources if it helps disseminate information to more people.
Explore the use of AI for climate modeling and Deep Learning for modeling dynamic physical processes in this AI for Earth and Sustainability Science Discovery!