AI for Good at the European Robotics Forum in Denmark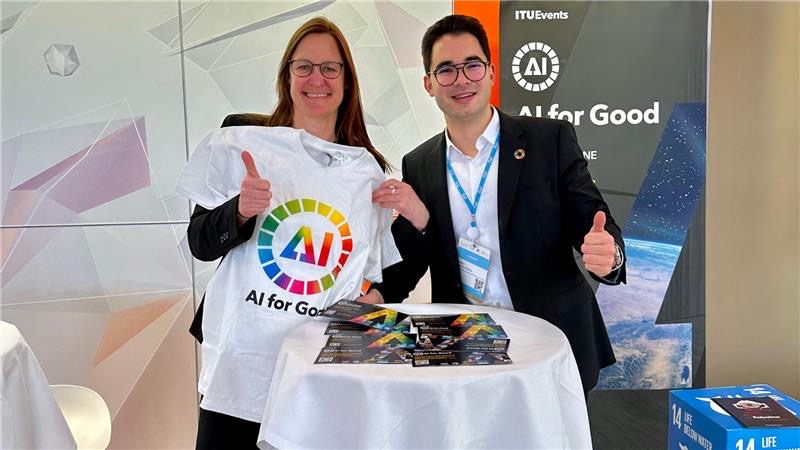 Robotics for Good
By Irina Timoshenko
From March 14 to 16, the International Telecommunication Union (ITU) took part in the European Robotics Forum in Odense, Denmark, an event that brought together 900 European researchers, engineers, entrepreneurs, and policy-makers to discuss the latest advances in robotics.
Attendees had the opportunity to visit 40 exhibits and attend a variety of Keynotes, Plenary Sessions, Technical Sessions, and Workshops. At the AI for Good stand, in partership with AI for Good supporter KUKA, hundreds of visitors were able to learn how the ITU and the United Nations (UN) are using AI for social good, as well as how to get involved in Robotics for Good activities and the upcoming AI for Good Global Summit 2023, to be held on July 6-7 in Geneva.
Discussing the future of Robotics for Good
The Forum opened with a Workshop on Advancing the UN's Sustainable Development Goals (SDGs) with autonomous robots, organized by the ITU, in which speakers discussed how robotics can support sustainable development.
The opening remarks were given by Guillem Martínez Roura, AI and Robotics Coordinator at the ITU, and panelists included Sigrid Brell-Cokcan, Professor at Aachen University, An Jacobs, Associate Professor at Vrije Universiteit Brussel, Damien Sallé, Coordinator of Robotics and Automation at Tecnalia, and Tamás Haidegger, Associate Professor at Óbuda University. The session was moderated by Patrick Courtney, Leader of the euRobotics Topic Group on Laboratory Robotics.

Sustainability and robotics
Sustainability in robotics refers to the development and deployment of robots in ways that promote environmental, economic, and social sustainability. This involves considering the entire lifecycle of a robot, from its design and manufacturing to its use, maintenance, and eventual disposal, making sure that robotics does not negatively impact human rights.
"It is critical to understand the benefits and risks of technology. We have to aim to reach out to people," said Tamás Haidegger, Associate Professor at Óbuda University.
He believes that "sustainability can have multiple meanings" and depends what we take into account. Therefore, the notion of sustainability is very complex. "How do we align the community? How to think about the future?" asked Haidegger. The answer is short: we have to "keep it simple."
Robotics have a great potential of helping environmental sustainability.
"The goal that we have is to develop technology and transfer it to the society and for companies to transform this technological research into prosperity," said Damien Sallé, Coordinator of Robotics and Automation at Tecnalia.
Nowadays, it is important to minimize our environmental impact. Thus, to address the significant pressure humans put on the planet, Tecnalia researchers have decided to focus on the circular economy.
"Circular economy has an impact on CO2 and material extraction. In terms of technology and robotics, it appears to be an alternative where we can have an impact," highlighted Sallé.
Integrating robotics into everyday life to achieve the SDGs
Robotics has become increasingly integrated into everyday life in recent years and has the potential to contribute in a number of ways to several of the United Nations Sustainable Development Goals (SDGs).
"If we want to achieve sustainability goals, we have to think about collaboration, think outside the box, combine expertise of different disciplines," said An Jacobs, Associate Professor at Vrije Universiteit Brussel.
She emphasized the social sciences perspective on human-robot interaction and pointed out that "robotics has proven over the years that there are opportunities to make the healthcare system better" which addresses SDG 3.
Another domain where AI has a lot of perspective is construction robotics.
"We are focusing on the Internet of Construction (IoC) – on how to increase quality control on construction site where AI is helping to orchestrate all the information that we have," said Sigrid Brell-Cokcan, Professor at Aachen University.
She considers that "AI can be used in navigating construction sites" as well.
"We are trying to overcome digital gaps," continued Brell-Cokcan. By doing that we can address SDG 11.
As a result, robots can play an important role in achieving the SDGs by addressing some of the world's most pressing challenges.
Future robotics plans at AI for Good
AI for Good has already unveiled its robotics plans from the second half of 2023, with more than 10 robotics talks and over 35 autonomous robots featured during the AI for Good Global Summit, in addition to our regular online AI and Robotics Discovery Series.
Prior to the start of ERF2023, the ITU hosted a Robotics for Good Innovation Factory session, the second in a series of global startup pitch sessions throughout the year to find the most promising solutions that use AI and robotics to solve sustainable development challenges.