Go back to programme
AI for Good Innovation Factory – The grand finale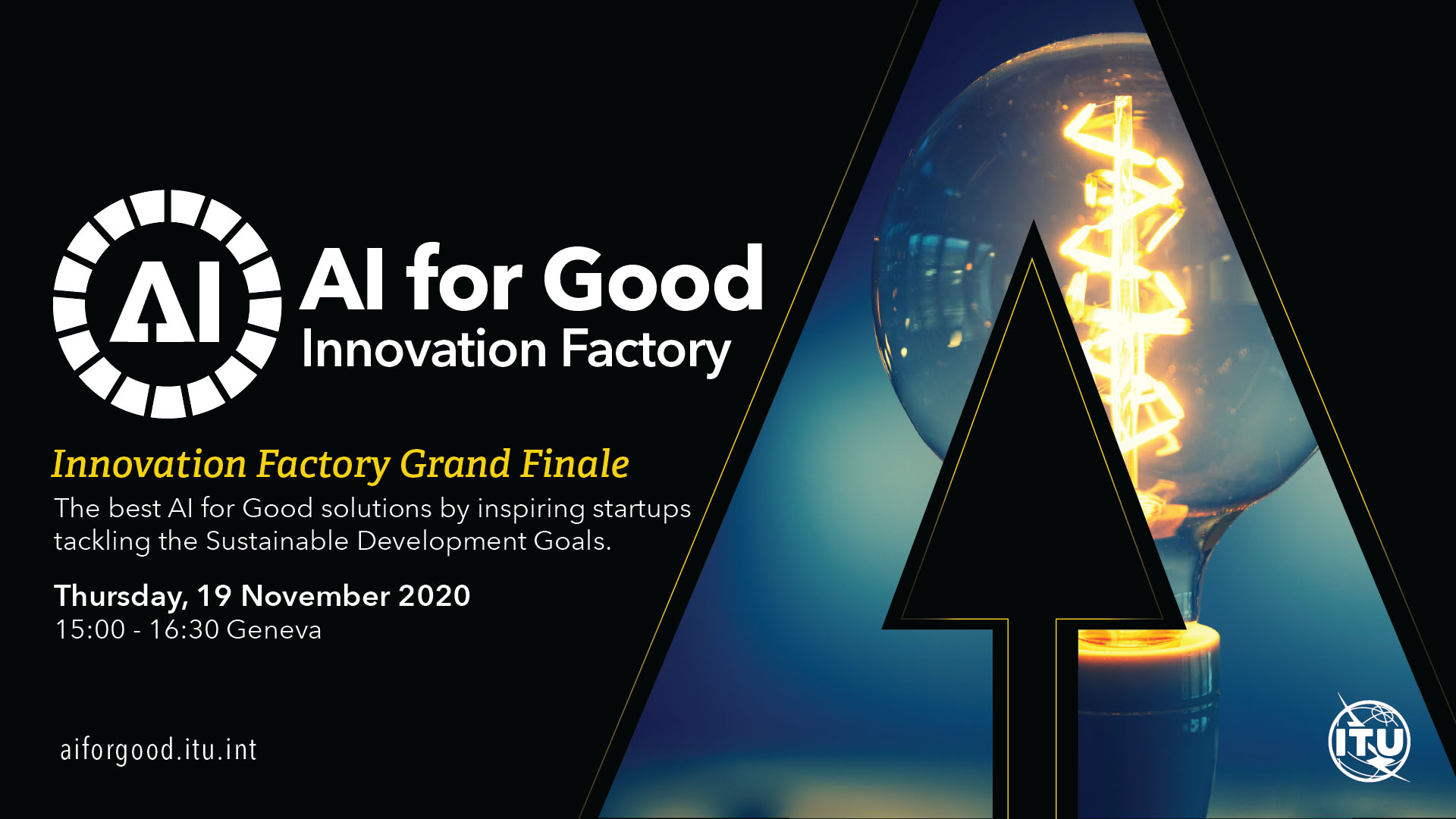 * Register (or log in) to the AI4G Neural Network to add this session to your agenda or watch the replay
The Innovation Factory Grand Finale will present the best four AI for Good startups who scored the highest scores throughout the Innovation Factory pitching this year. These four promising AI ventures have a great scalability potential for a global impact and are tackling the world's greatest challenges with their innovative AI solutions to achieve the SDGs in the fields of waste management, air quality, children malnutrition, and agriculture.
The four startups will have the chance to present their solutions before a jury of experts who will evaluate their pitches and select the top winner. Investors and innovation experts will be present to announce possible partnerships and potential funding.
The Grand Finale will start with an opening remarks from the ITU TSB Director (TBC), followed by the top startups presentations showcasing their solutions followed by discussions Q&A with jury, audience, or media on topics related to social impact of their solutions.
The startups and solutions must have a solid AI element that can advance the achievement of the Sustainable Development Goals of the United Nations. There are four steps, increasing successively in difficulty, to overcome to reach the annual Grand Pitching Finale:
Step #1: Fill out an evaluation form – the best teams will advance
Step #2: Submit a 3 min video – judges will evaluate the best teams
Step #3: Take part in the LIVE pitching sessions. Give a 4 min presentation live in the AI for Good Innovation Factory to a worldwide audience – judges will ask questions and evaluate the best teams
Step #4: The best four startups of step 3 will be pitching live in the Grand Pitching Finale that will take place on the 19th of November 2020. Where the top winner will be selected among the 4 winners
Grand Finale: Where the top startups; get recognized as Innovation Champions, present their solutions for selected the top first place Innovation Champion by jury of experts plus audience voting
Evaluation criteria used:
Pitching startups will be evaluated on the following factors, so highlighting them on your pitch would be useful.
– The idea of the solution (need/uniqueness/novelty)
– Innovative use of Artificial Intelligence
– Relevance to the SDGs and your social Impact
– Scalability potential
– Team
– Presentation/Pitching Skills
Some stats:
– Step 1: +200 Applications have been received
– Step 2: After filtration, +50 videos have been received for pitching consideration
– Step 3: Live pitching, 36 startups have pitched throughout 7 pitching sessions
– Step 4: 4 tops startups will be featured in the grand finale