Robot chefs transforming cooking and contributing to sustainable development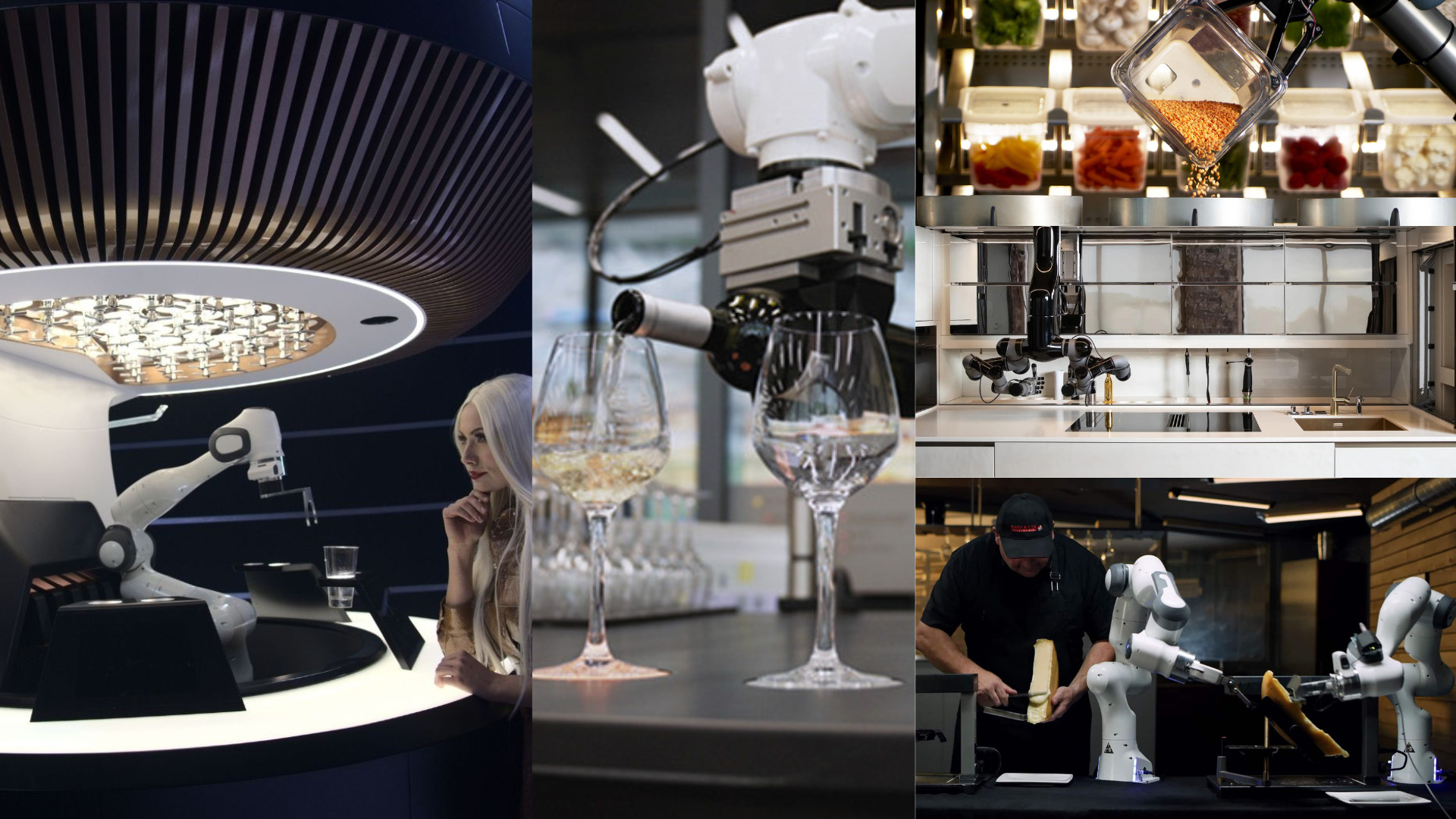 Global Summit
|
Innovation & Creativity
|
Robotics for Good
By Celia Pizzuto
The 2023 edition of the AI for Good Global Summit will take place in Geneva, 6-7 July. Over 30 cutting-edge robots are gearing up to take part in the Robotics for Good exhibition, which will show the potential of autonomous robots to drive progress towards the United Nations' Sustainable Development Goals (SDGs).
In this series of blog posts, we will be introducing some of the robots attending the Summit and explain how they are contributing to the SDGs.
Episode 2: Food preparation robots
In recent years, the world of culinary technology has seen remarkable advancements in the form of food preparation robots. These sophisticated machines are set to revolutionize the food industry with their ability to prepare ingredients, cook meals, and serve food with exceptional precision and consistency. From restaurants to home kitchens, food preparation robots are quickly becoming a popular solution for time-pressed individuals and businesses looking to increase efficiency and reduce waste. With the help of advanced technology and AI, these robots can perform a variety of culinary tasks, from slicing and dicing vegetables to preparing complex dishes with precision and speed.
The exciting world of food preparation robots
Let's explore the many benefits and capabilities of these fascinating machines that are transforming cooking for everyone.
Roboclette, created by Workshop4.0, is a revolutionary robot designed to scrape melted cheese with unprecedented precision and dexterity. Developed by Emmanuel Pignat, Sylvain Calinon, and Nicolas Fontaine in collaboration with the Idiap Research Institute, the robot can learn human gestures and perform complex tasks.
This project highlights not only the technical challenges of robotics, but also the potential for learning from demonstration techniques and the power of human-robot collaboration.
Aperobot is the world's first robot capable of pouring a perfect glass of wine. Developed through a collaboration between Workshop 4.0, the School of Engineering (HEI) and Les Celliers de Sion, this innovative machine represents the cutting-edge of robotics technology.
The HEI researchers designed a Human-Machine-Interface to process drink orders, as well as advanced weighing electronics to ensure precise pouring and a high-level control logic allowing Aperobot to pick the right glass and change empty bottles.
Moley Kitchen is a fully automated robotic system equipped with a three-axis motion mechanism and two six-axis robotic arms. It features state-of-the-art appliances that can be controlled by both the user and the robot through direct commands.
Additionally, this robotic kitchen boasts a vision system, high-quality kitchen panels, a user-friendly GUI screen, and advanced safety features such as a safety light curtain, radar sensors, and a fire safety system. This revolutionary system designed by Moley Robotics promises to usher in a new era of culinary excellence.
Yanu, developed by Yanu Robotics, is a revolutionary bartending unit empowered by fully autonomous AI and robotics technology.
Combining AI and robotics technology, this revolutionary system is capable of serving drinks, processing payments, and communicating with customers through identification and interaction.
Jasper, the robotic kitchen developed by YPC Technologies, utilizes robotics, computer vision, and AI to prepare a diverse range of dishes using fresh ingredients and modern cooking appliances.
By leveraging recent technological advancements in robotics and AI, YPC Technologies aims to bring back the era of freshly-prepared, healthy meals. Jasper offers gourmet food at ingredient costs and can be implemented in residential buildings
Food preparation robots supporting sustainable development
Food preparation robots are not only changing the game in the kitchen, but they are also making a significant contribution to sustainable development. These robots are capable of reducing food waste and increasing food security, aligning with the targets of SDG 2: Zero Hunger. For example, Jasper can provide freshly cooked and affordable meals directly to residents in or near residential buildings, helping to reduce food waste and increase access to nutritious food.
In addition to promoting food security, food preparation robots also encourage the goal of SDG 12: Responsible Consumption and Production. By precisely measuring ingredients, minimizing spills and overpouring, and enhancing production efficiency, food preparation robots can reduce food waste. Moley Kitchen offers the option to deliver ready-to-cook ingredients in reusable containers, while Jasper focuses on reusable dishware and reduction of food packaging waste.
Reducing food packaging waste and promoting sustainable consumption and production patterns, cooking robots also contribute to SDG 13: Climate Action's goal of taking urgent action to combat climate change and its impacts. By optimizing energy usage, Moley Kitchen could potentially reduce the carbon footprint of food preparation, thereby contributing to climate action.
Moreover, single-use food packaging is a significant factor in marine pollution, and by reducing non-recyclable waste, Jasper is making an indirect contribution to SDG 14: Life Below Water's goal of preserving and sustainably using oceans, seas, and marine resources. This protects marine life and helps prevent harmful toxins from entering the food chain.
In conclusion, food preparation robots have enormous potential to make a significant contribution to the SDGs by revolutionizing the food industry, reducing food waste, and combating climate change. Stay tuned to learn more about the incredible robots that will be joining us at the AI for Good Summit 2023. Register now to meet and interact with these robots and their creators.