How artificial intelligence will improve our lives: Tanmay Bakshi (VIDEO)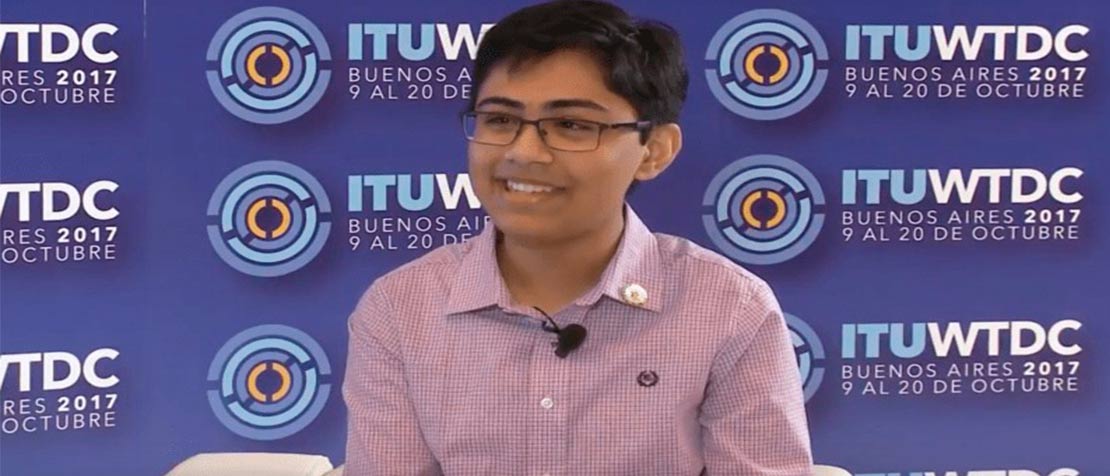 Inclusivity
|
Innovation & Creativity
Thirteen-year-old software developer and self-described 'algorithm-ist' Tanmay Bakshi is at the World Telecommunication Development Conference (WTDC-17) in Buenos Aires, Argentina, to promote his message about the promise of artificial intelligence (AI) to improve lives.
Currently a Machine Learning & Watson Developer at IBM, Tanmay released his first app at just nine years old in 2013. Called tTables, it taught users their multiplication tables.
After continuing to develop other apps, Tanmay said his passion for technology was dampened by its rigidity and how it becomes obsolete immediately after creation.
In searching for something less literal, Tanmay discovered an IBM Watson documentary on AI. The capabilities of AI fascinated him and he started working with IBM Watson shortly thereafter for an initial AI project called AskTanmay.
RELATED: How we can better use tech to improve lives in least-developed countries
Tanmay's main message here at WTDC-17 is the importance of getting more people to open up and adopt these new technologies, and to future-proof their economies.
"[AI] is not only the future of technology but of the digital economy itself."
With regard to the current concerns about AI, Tanmay argues that AI was not made to replace humans, but to augment and amplify our capabilities.
"There's some people that say, you know, artificial intelligence is bad for humanity," says Tanmay. "I'd say that artificial intelligence was not made to replace humans and it is continuing to be developed for the sole purpose of really augmenting what we can do, in amplifying our capabilities."
"[AI] is able to bridge that gap and take what computers are good at — which is massive data crunching and processing — and taking what humans are good at, intelligence, and merge them together into this really fine piece which has a lot of advantages but a few drawbacks as well," he said. "I'm sure within the next few years, practically everything we do will be made much more efficient way."
Looking forward 10 years, Tanmay believes that AI will take away the mundane, repetitive tasks for humans and allow us to focus on where human intelligence is required most.
Watch the video to learn more: