Go back to programme
Robotics for Good Grand Finale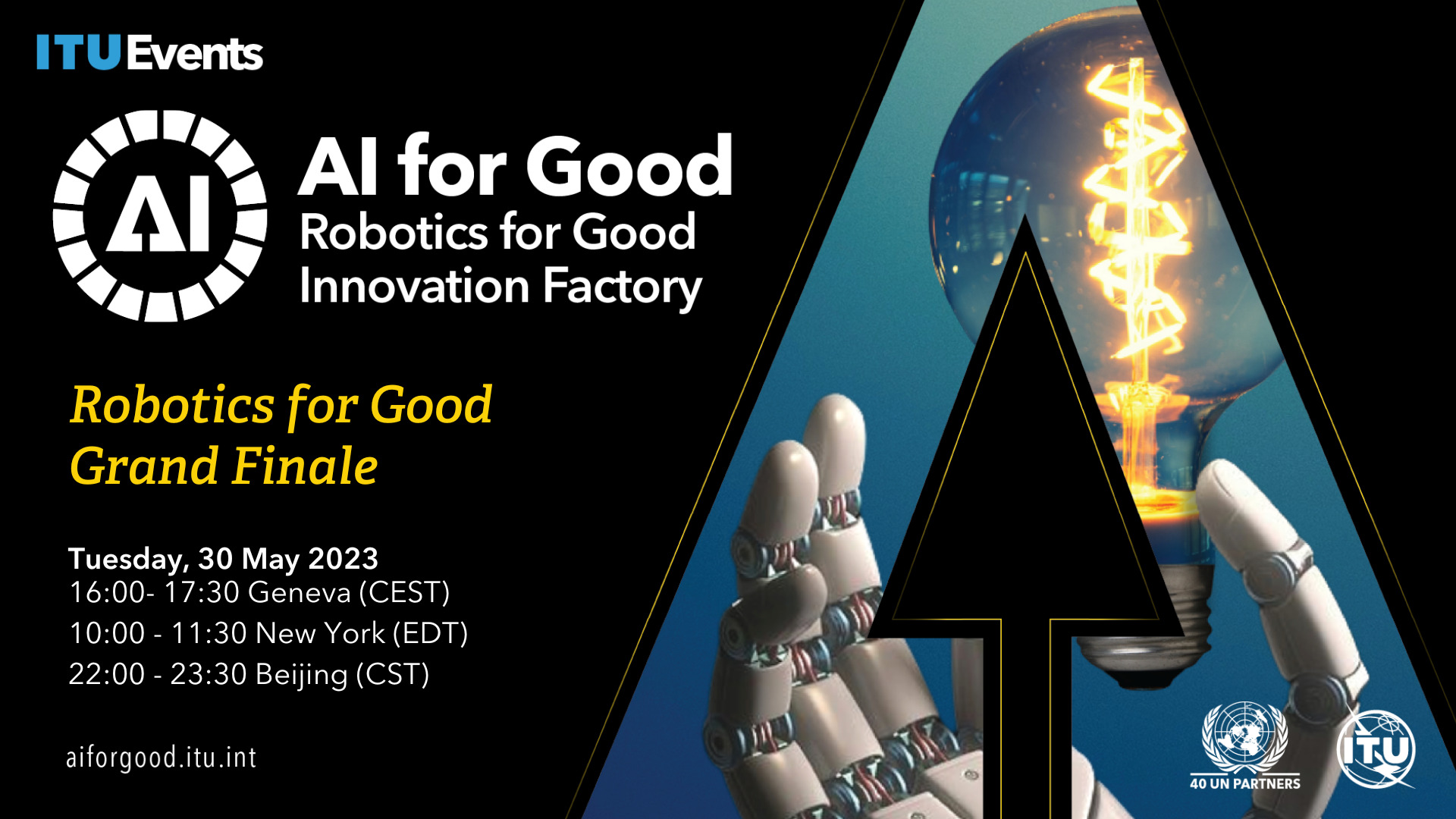 * Register (or log in) to the AI4G Neural Network to add this session to your agenda or watch the replay
After a year-long quest to find the most promising AI for Good robotics start-ups from across the globe, the Robotics for Good Innovation Factory Grand Finale will award one winner for its innovative and scalable solutions to help advance the achievement of the United Nations' Sustainable Development Goals (SDGs).  
During this exciting live event, six entrepreneurs will have the chance to present their solutions before a jury of experts who will evaluate their pitches and select the top winner. The public can also submit votes for their favorite solution.  
The finalists will have a chance to not only win recognition from ITU and its partners including 40 UN agencies, but get a cash prize of 20,000€, investment and mentoring opportunities and more!  
Investors and innovation experts will also be present to announce possible partnerships, potential funding, and programs to support the start-ups, bring their solutions to market and scale them for maximum impact.  
These six promising robotics ventures have a great scalability potential and are making use of innovative technologies for social good. Which one will win?  
Join us live for the Innovation Factory Grand Finale on 30 May 2023! 
Benefits for start-ups 
The Winner of the Robotics for Good Innovation Factory Grand Finale receives:  
AI for Good Innovation Factory Grand Finale

ticket at the AI for Good Global Summit (6-7 July 2023)

Cash prize of 20,000 EUROS from KUKA 

 

Exclusive follow-up Mentoring from KUKA

 

1-year residency (with the option of extension) at MassRobotics
WHAT IS ROBOTICS FOR GOOD INNOVATION FACTORY? 
Robotics for Good as part of the AI for Good Innovation Factory is a series of pitching sessions open to any innovative start-ups developing intelligent autonomous systems to accelerate progress toward the Sustainable Development Goals. Intelligent autonomous systems are developed by integrating AI with robotics. This powerful combination enhances the capabilities of robots by enabling them to analyze, learn and self-improve without having to be programmed in a classical way.  
AI for Good Innovation Factory is an UN-led pitching platform to help start-ups grow and scale their innovative AI-powered and SDG-driven solutions, by connecting them to potential business partners, investors, governments, big IT companies and more. 
For those who are seeking ground-breaking solutions from start-ups, it is an excellent platform to explore opportunities to meet promising ventures and collaborators. 
Learn more about the Robotics for Good Innovation Factory pitching competition throughout 2022-23, leading up to the Robotics for Good Grand Finale in May 2023.