"Radio Technology and AI are a perfect combination" – A conversation with Uwe Baeder, Director of International Relations at Rohde & Schwarz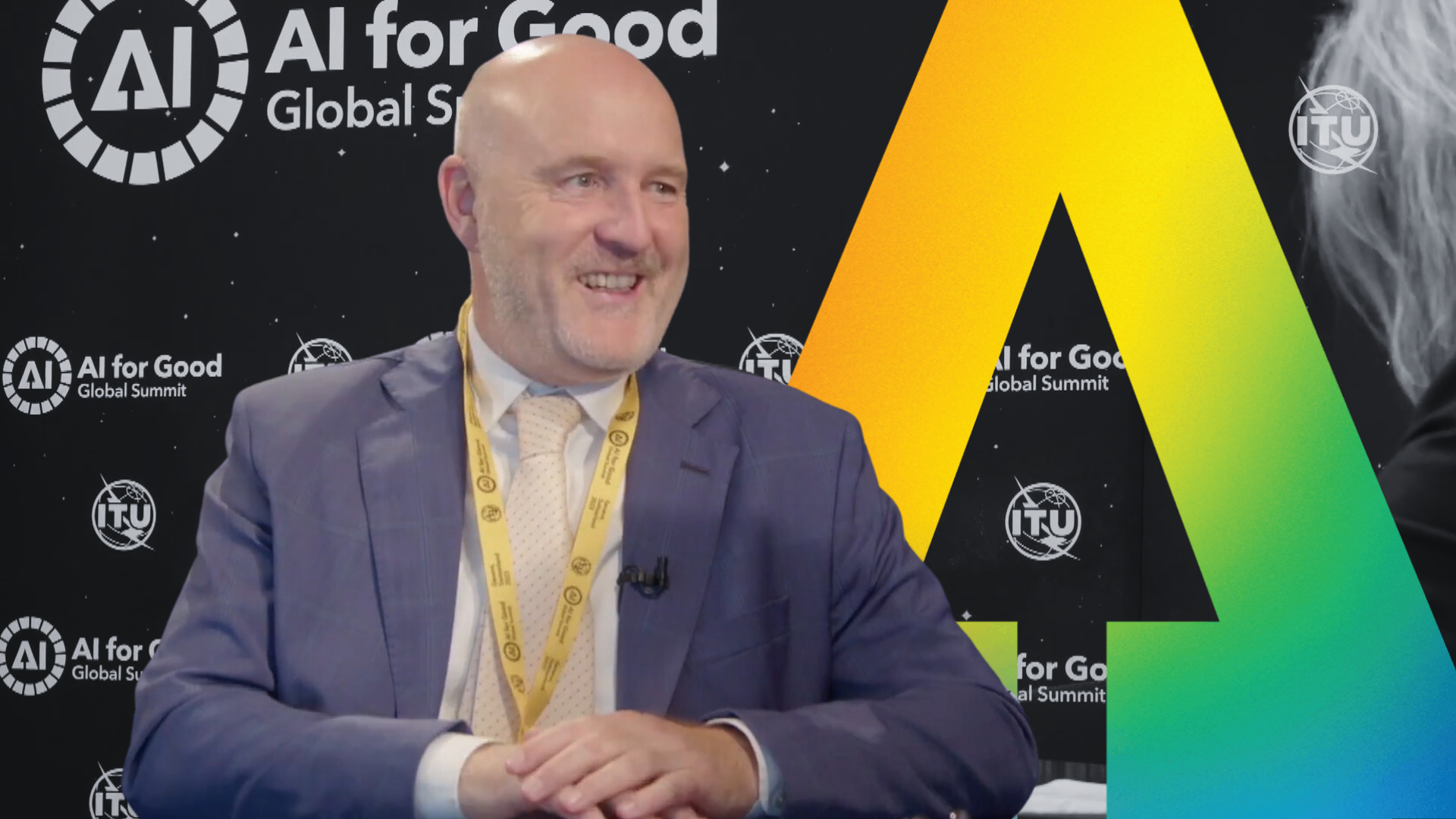 Artificial Intelligence
|
Global Summit
|
Interview
By Celia Pizzuto
Uwe Baeder, the Director of International Relations at Rohde & Schwarz, provided insightful revelations at the AI for Good Global Summit. The Germany-based company is a leader in information and communications technology, with an emphasis on radio wave technology and security solutions.
During this interview, Baeder delved into the workings of their AI-enhanced security scanner and the company's approach to talent acquisition in the ever-evolving AI landscape.
AI for enhanced security: An exciting prospect
An enlightening segment of the conversation was when Baeder described their AI-integrated security scanner. This cutting-edge product is not merely a piece of exhibit but a functional part of the Summit's security concept.
"We are part of the security concept; this security scanner works with AI algorithms," Baeder explained.
According to Baeder, this innovation leverages radar technology and radio waves to generate a substantial amount of data processed by a sophisticated AI algorithm.
"The basic difference is that it works on a kind of radar technology with radio waves; this goes into a well-trained AI algorithm," he said.
But this isn't a typical stationary scanner. It is designed to function in walk-through mode. "You don't need to stand still…here you can slowly walk through," Baeder clarified. This feature underscores the system's flexibility, making it suitable for various scenarios from event security to airport checks.
Perhaps the most compelling feature is the scanner's capability to detect a broader range of materials compared to traditional metal detectors.
"Compared to the classical metal detectors, it can detect also other objects which are not made out of metal" Baeder said.
This innovation can also find potential threats in food production facilities, providing an unexpected benefit.
The search for young talent: An ongoing challenge
Baeder also discussed the significant challenge the company faces in securing AI-skilled talent. The pace at which AI evolves requires workers who don't merely use AI but possess a deep understanding of its fundamentals.
"We need talents which have this knowledge, this capacity in developing AI… really work with it from the fundamentals," he explained
To attract young, skilled professionals, Rohde & Schwarz is focusing on showcasing the exciting opportunities within the field. "It's also then a kind of advertisement that these are cool jobs where you can apply the latest thing in technology and enhance products."
However, the scarcity of AI-centric courses at university and school levels presents a hurdle. Baeder suggests a need for more focused training courses on AI and a robust mathematical foundation.
Regulating AI: An emerging concern
As AI continues to integrate into our social and professional lives, future regulations surrounding AI are a growing concern.
"There are also challenges on how regulation of AI will be done in the future," Baeder mentioned.
He underscored that while regulation isn't currently a significant issue for Rohde & Schwarz, it might become a challenge in the future, particularly for private companies.
The AI for Good Global Summit: A platform for collaboration
The AI for Good Global Summit was lauded by Baeder as a pivotal platform for sparking dialogue around AI. This forum brings together a diverse mix of stakeholders, fostering a vibrant interaction between academia and industry. Baeder emphasized that such events make "this dialogue between Academia industry" possible and allow participants to explore and develop innovative products and solutions.
As AI continues to evolve at a rapid pace, dialogues such as the one with Uwe Baeder at the AI for Good Global Summit provide a wealth of insight into how AI is currently being applied and its potential for the future. These discussions allow us to chart a path forward in the world of AI, helping to navigate both the challenges and opportunities that lie ahead.