"AI has changed [the world of healthcare] now for good forever" – A conversation with Charlene-Elise Anderson, Leader – Intergovernmental Organisations and United Nations at AWS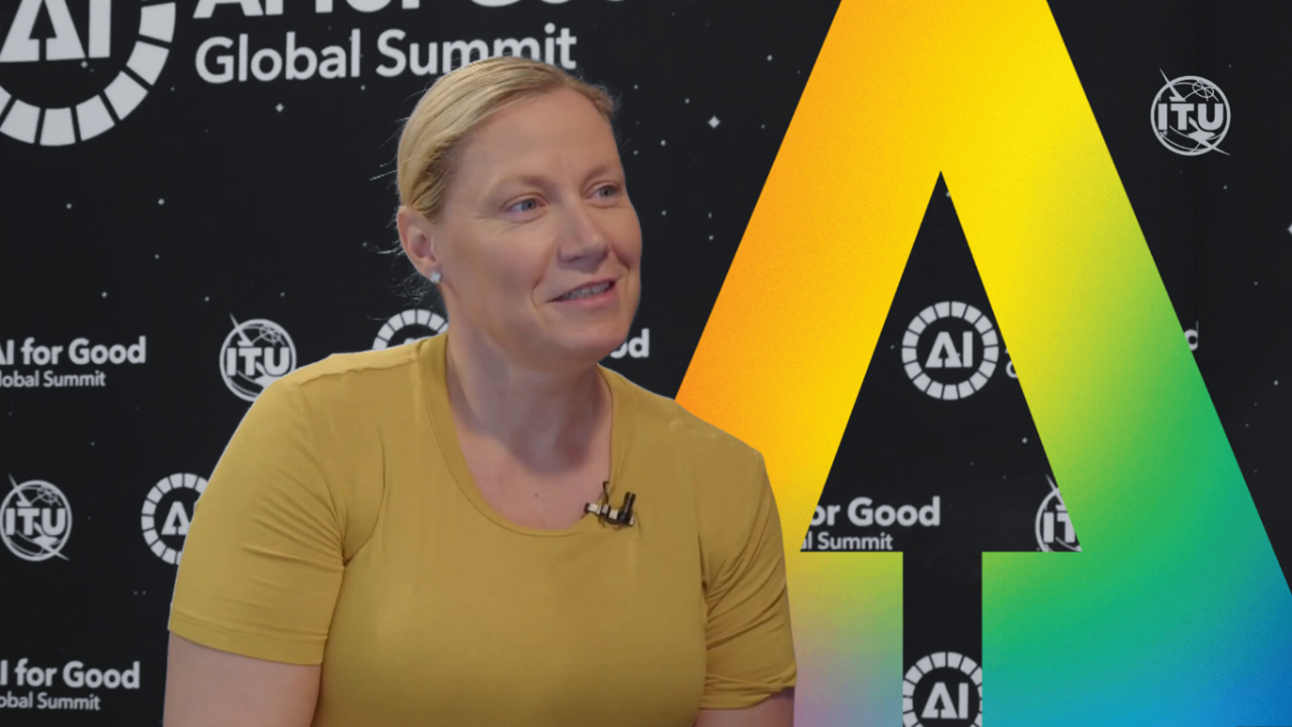 Artificial Intelligence
|
Global Summit
|
Interview
by Alexandra Bustos Iliescu
At the recent AI for Good Global Summit, Charlene-Elise Anderson, Leader – Intergovernmental Organisations and United Nations at Amazon Web Services (AWS), sat down for an engaging conversation about her professional journey from a policing background to working with intergovernmental organizations. She also shed light on the role of AI in public service and emphasized the importance of international dialogue on the future of AI, underscoring its potential to address global challenges.
A journey from policing to tech
Ms. Anderson's transition from policing to technology was driven by her first-hand experience with the difficulties in efficiently leveraging data in the law enforcement sector.
"As a police officer, one of our challenges is knowing what we know data-wise at the point that we need to," she says.
This awareness of the urgent need for data-driven decision-making led her to join AWS, where she recognized the "opportunity around artificial intelligence and machine learning that could help direct public services, governments, organizations to actually deliver on their critical mission to protect, to serve, to save life."
The need for international dialogue on AI
International forums like the AI for Good Global Summit are instrumental in promoting global discussions around AI, a point which Ms. Anderson was eager to emphasize.
"This is an international discussion. It has to be an international dialogue where we discuss these challenges and also the insights, the value from it because if you want the true value of artificial intelligence to be realized, it has to be in collaboration," she notes.
A powerful tool for global challenges
In this context, the benefits of AI are multifold, with an impressive ability to confront numerous global challenges. Discussing the United Nations Sustainable Development Goals (SDGs), Ms. Anderson points to AI's potential in tackling climate change and enhancing education. The health sector, in particular, has emerged as an arena where AI has catalyzed profound transformation.
"AI has changed [the world of healthcare] now for good forever," says Anderson.
Highlighting applications such as voice-to-text conversions that enable automation of basic tasks like triaging and appointment scheduling, she describes how AI and machine learning (ML) techniques are evolving to detect patterns in health data. For instance, AI and ML tools have been used to detect patterns in coughs – a critical development during the recent pandemic.
Anderson also mentions generative AI, which can extract and make sense of large datasets, as a "hot topic" that can revolutionize healthcare. However, she stresses that these technological advances are not aimed at replacing human medical professionals but rather aimed at "automating some of the tasks so that they can actually focus on the human side of things."
Responsible use of AI
Nevertheless, as AI and ML technologies become the most transformational innovation of our generation, she emphasizes the need for a responsible approach in their application.
"There has got to be the responsible use and the approach around that," says Anderson.
She notes that AWS, cognizant of its customers' concerns regarding the responsible use of AI, provides guidance on implementing ML while adhering to societal values around equity, diversity, and inclusion. For Anderson, the "responsible approach" is not a separate stream, but "the foundation in which we build the technology."
Collaboration as a key to safe society
Anderson further underscores the importance of collaboration among private sector companies, public sector bodies, and NGOs. She acknowledges the challenges that public sector bodies face due to their limited resources. However, by collaborating with technology companies like AWS, these bodies can make the most out of their resources and focus on their core responsibilities such as patient care or teaching.
"That partnership is at the foundation of it. If you don't collaborate and work together, the technology that we have versus the resources of the public sector organizations is really difficult," she explains, indicating that collaboration will be a key factor in creating a safe society for the future.
Charlene-Elise Anderson's views shed light on the exciting landscape of AI in public service and emphasize the need for collaboration, a human-centered approach, and a responsible ethical framework in AI's utilization. Her insights present a compelling case for AI's potential to serve as an impactful tool in addressing global challenges and underscore the need for continued dialogue and collaboration in this evolving field.