Go back to programme
Robotics for Good Global Competition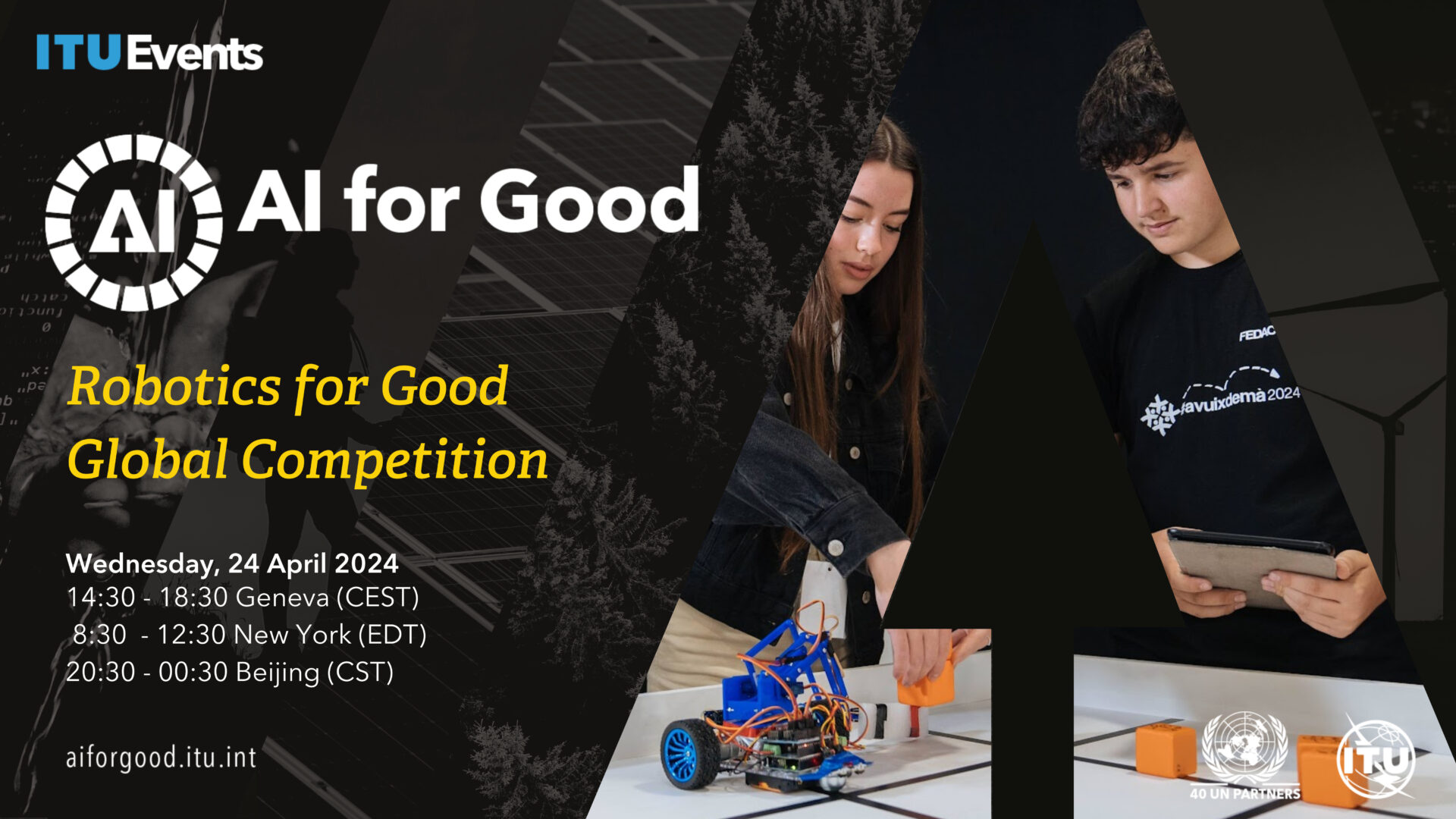 * Register (or log in) to the AI4G Neural Network to add this session to your agenda or watch the replay
Application

Deadline :

11

February 2024

 
Changes in the global climate system are exacerbating the risk and intensity of large-scale natural disasters. With tragic effects resulting from unprecedented heat, drought, cold and wet conditions, such as torrential rains, mudslides, flash floods, earthquakes, hurricanes and wildfires, robots can provide a rapid and accurate response in finding survivors when every minute counts.  
Autonomous machines are reducing the exposure of first responders to dangerous emergencies, rendering disaster relief safer, more efficient, affordable and carbon-neutral. Robots accelerate search and rescue operations and assist disaster responders with geological mapping, damages assessment, rubble removal, delivery of medical supplies and much more. 
Teams from all around the world are invited to participate in designing, building, and coding a robot to solve a challenge centered around the theme of disaster response. Join our inaugural Robotics for Good Global Competition online event on April 24th to discover the most promising teams using robotics to address sustainable development challenges. 
Benefits for teams 
The Winner of the session receives:    
ROBOCAT 2024 Grand Finale ticket, to be held in Barcelona in May 2024

 

VIP pass to attend the AI for Good Global Summit 2024 (CHF 8.5k value)  

 

Pitching opportunity in the Robotics for Good zone at the AI for Good Global Summit 2024

 

Networking opportunities with the UN and robotics companies

 
WHAT IS ROBOTICS FOR GOOD GLOBAL COMPETITION? 
Robotics for Good Global Competition is an UN-based educational robotics championship that each year is inspired on a global challenge in relation to which robots offer practical solutions to advance the United Nations' Sustainable Development Goals (SDGs).  
Participants design, build and program a robot that completes a mission based on one of these goals. While learning robotics and coding, students gain more than just technical know-how, but also vital working-life and future skills, including but not limited to teamwork, problem-solving, project management, critical thinking, and information retrieval. 
The competition fosters free-software and hardware robotics, allowing unrestricted assembly and programming of the robots. It aims to promote inclusivity, enabling learning in robotics and coding regardless of gender, socio-economic status, or academic ability. Additionally, it encourages the use of recycled materials and environmentally friendly solutions, emphasizing