Go back to programme
AI for improved health and well-being at all ages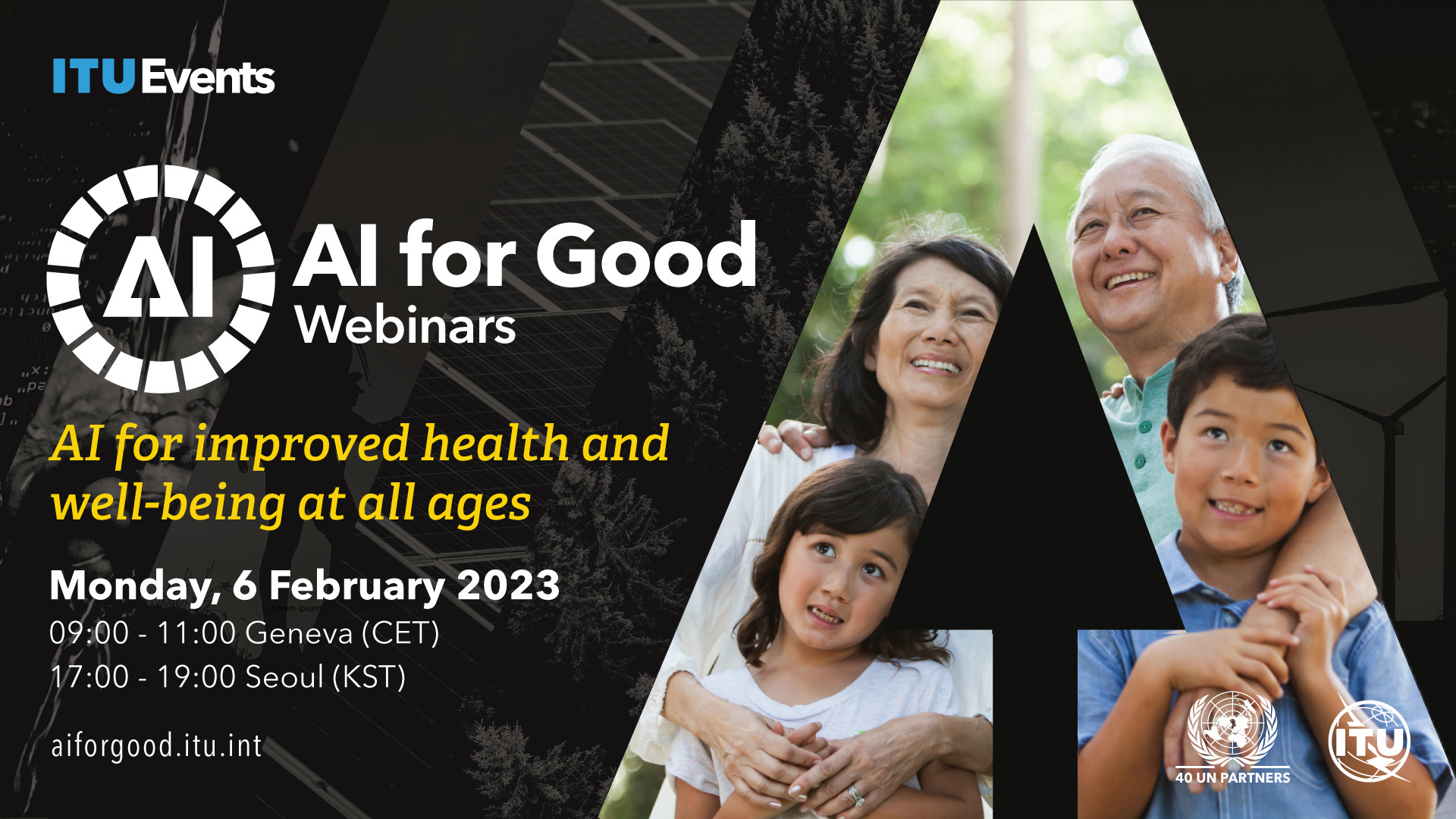 * Register (or log in) to the AI4G Neural Network to add this session to your agenda or watch the replay
Artificial Intelligence (AI) is proving itself as a powerful tool to diagnose disease, protect aging populations and provide assistive technologies to disabled communities. This AI for Good webinar, organized in partnership with the Ministry of Science and ICT (MSIT) of Korea and the International Telecommunication Union (ITU) will outline several new AI initiatives that are helping improve health outcomes for children, seniors and those living with hearing impairments. 
Introduction to Korean Artificial Intelligence (AI) Strategy 
Artificial Intelligence (AI) is a driving force for innovation in the economy and society as a whole, such as improving the economic structure and industrial structure, creating jobs, and solving social problems and its role is becoming increasingly important. In particular, it is emerging as a solution to internal and external changes and crises such as the crisis of low growth and economic inequality, climate change, and the global pandemic of COVID-19.
In response, as Korea President Yoon Suk Yeol said through the "Artificial Intelligence Universalization and Industrial Advancement Plan," it reflects the New York initiative's stance and philosophy to protect the universal values of freedom, human rights, and solidarity in the digital age, and means realizing the government's role necessary to realize the New York initiative* in detail.
* The New York Initiative is a keynote speech of Korea President Yoon Suk Yeol at the  New York University's Vision Forum on the realization of the universal values of freedom/human rights/solidarity with digital technology. The Ministry of Science and ICT plans to spread AI into people's daily lives by driving the growth of the AI industry through large demand generation, innovating national AI capabilities by leading AI technology and infrastructure, and presenting a new digital order model.
AI for improved health of the very young 
There are more than 7,000 rare diseases, which are very diverse, and it takes an average of five to seven years to be diagnosed. It's estimated that 80% of these diseases occur in childhood, most of which require lifelong care. 
Currently, it takes a lot of time and money to interpret the 5 million genetic mutations discovered from one patient, and sequencing tests to diagnose rare diseases can take an average of 3 to 6 months. 
This presentation introduces an integrated AI solution for the diagnosis, treatment, and prognosis management of rare diseases being developed by 11 Korean hospitals and companies, including Seoul National University Hospital, to shorten the test and treatment period and reduce diagnostic costs. 
First, the solution's diagnostic software integrates clinical and genetic information according to the characteristics of rare diseases, builds a comprehensive database, and provides a diagnostic solution to interpret genetic changes in medical institutions that were unable to analyze their own data. Second, treatment software updates genetic variation information, medical guidelines based on individual diseases, and advanced information on clinical trials. Third, the prognosis management software provides a monitoring function according to the characteristics of each disease group, providing a medical schedule to patients and their families.  
AI for aging and elderly populations 
Aging populations require dedicated care and follow-up to ensure adequate health outcomes, which is one of important societal issues. AI can be a solution to help government and society to care these elderly people.   
In this presentation, Naver introduces the Clova CareCall service powered by "HyperCLOVA" technology. Beyond the scale of model sizes and training data of conventional AI, new era of hyperscale AI has started since OpenAI released GPT-3 in 2020.  HyperCLOVA is a Korean-centric hyperscale language model. HyperCLOVA can be applied to interactive conversations such as talking to friends, rather than formalized questions and answers to help with follow-up care for the elderly.  
Naver's Clova CareCall is a service in which HyperCLOVA-based conversation AI calls senior citizens living alone who need care to check their safety on topics such as meals, sleep, and health. It is characterized by being able to take emotional care beyond simple health checks. In addition, after the call type, the status is updated based on the answer so that AI can understand the context of the conversation and implement a natural conversation based on memory at an appropriate time. 
AI for hearing impaired populations 
There are 466 million people registered as Deaf and hard of hearing (DHH)) globally. In Korea, 410 thousand are registered as DHH. According to the World Health Organization (WHO), this will increase to 9 million DHH people by the year 2050. Most DHH people use sign language as their first language and they have difficulty in reading comprehension of verbal language. This causes DHH people to suffer from inequal opportunities throughout their whole life, but assistive technologies can help improve quality of life.   
This presentation introduces various AI solutions that can help remove social barriers that prohibit deaf people from accessing information, education, communication, and culture. The solution utilizes Rule Based Machine Translation engine (RBMT) and Neural Machine Translation engine (NMT) to help DHH individuals break through the glass ceiling. 
This live event includes a 30-minute networking event hosted on the AI for Good Neural Network. This is your opportunity to ask questions, interact with the panelists and participants and build connections with the AI for Good community.