Disaster robots: Revolutionizing emergency response with autonomous robots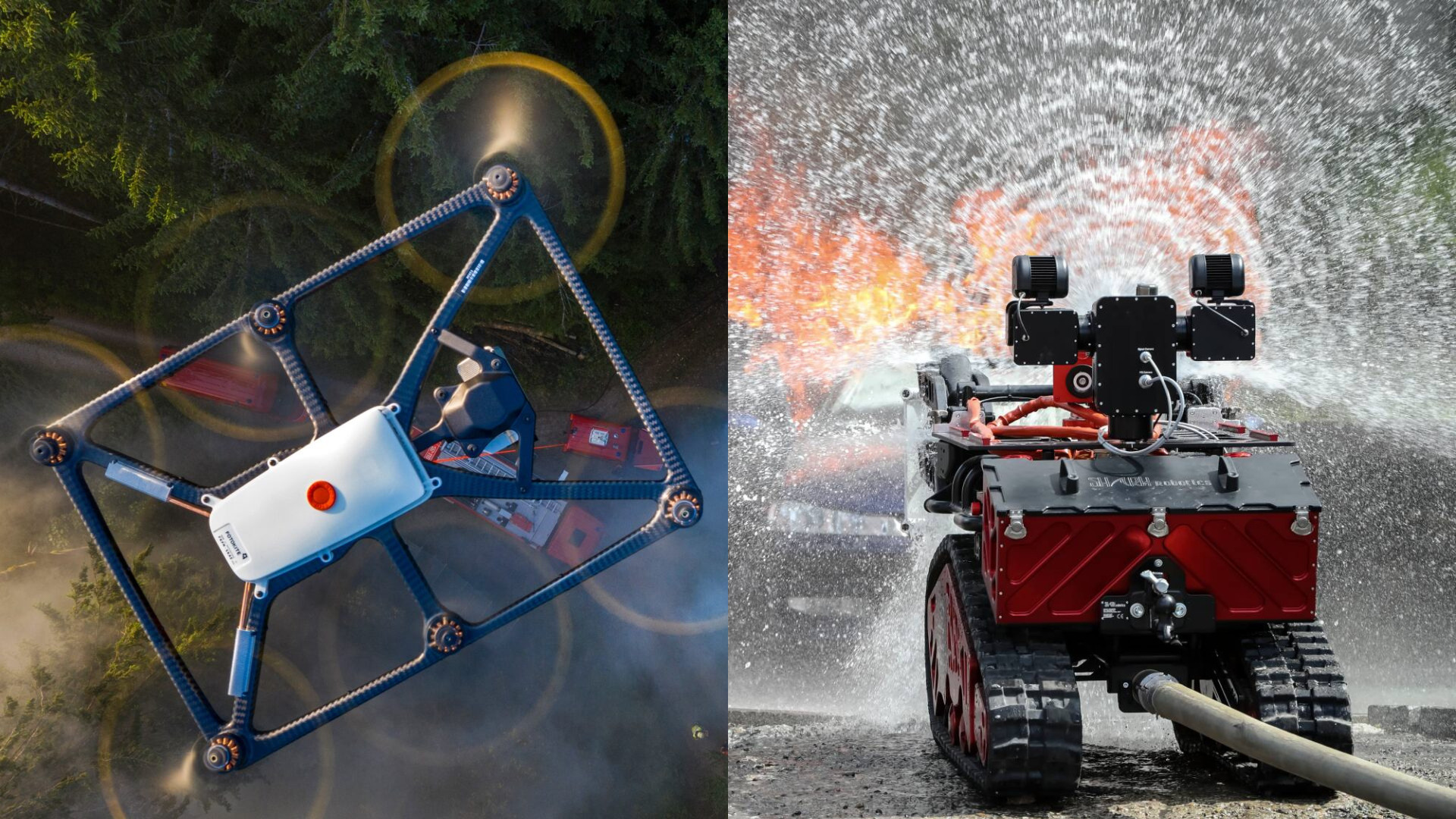 Disaster Management
|
Global Summit
|
Robotics for Good
By Celia Pizzuto
The 2023 edition of the AI for Good Global Summit will take place in Geneva, 6-7 July. Over 30 cutting-edge robots are gearing up to take part in the Robotics for Good exhibition, which will show the potential of autonomous robots to drive progress towards the United Nations' Sustainable Development Goals (SDGs).
In this series of blog posts, we will be introducing some of the robots attending the Summit and explain how they are contributing to the SDGs.
Episode 4: Robots for disaster response
Disaster response robots are quickly becoming the go-to solution for tackling crises head-on. These state-of-the-art machines use the latest technology to support first responders during hazardous situations such as fires, natural disasters, and other emergencies. With their ability to navigate through dangerous environments, these robots reduce the need for human intervention and enhance safety for emergency professionals. Their capabilities can improve response times, promote innovation, and ultimately save lives. As we face new and complex challenges, robots are a promising way to ensure that our emergency response and disaster management capabilities remain ahead of the curve.
Disaster response robots coming to the AI for Good Global Summit
Fotokite Sigma is an advanced unmanned aerial system (UAS) designed by Fotokite to support first responders during critical situations. This robot is fully autonomous and actively tethered, allowing safe and reliable operation in any emergency scene, even in harsh weather conditions. With its built-in redundancy features, Fotokite Sigma is engineered to provide a critical aerial overview of the scene during fire responses, search and rescue missions, or traffic jams. The system's advanced autonomy ensures simple and efficient operation, while the tethered design allows for long-duration flights without the need for battery changes or refueling.
Colossus is a fire-fighting robot that was designed by Shark Robotics for operations in high-risk areas. Built to withstand extreme conditions, this electric robot is equipped with ultra-strong batteries, allowing for up to 12 hours of operational use. It is highly adaptable, featuring over 11 easily interchangeable mission options. With its robust construction and resistance to thermal waves up to 900°C, this multi-purpose robot can be deployed in a range of indoor and outdoor environments and to climb stairs. Despite its heavy-duty capabilities, this robot is easy to use and transport, with remote control, digital tablets, and integration of AI bricks. Colossus was first developed in partnership with the Paris Firemen to meet the specific operational needs of firefighting units.
Disaster response robots supporting the SDGs
Fotokite Sigma and Colossus can help achieve SDG 3: Good health and wellbeing, by improving emergency response capabilities. These robots assist emergency responders by providing critical aerial footage and situational awareness to quickly assess the situation and provide aid. They can also reduce the risk of injury or death to responders and the public by entering hazardous areas or providing aerial footage of burning buildings. The use of autonomous technology in emergency response can promote innovation, improve response times and outcomes, and ultimately lead to better health and well-being for those affected by emergency situations.
By leveraging cutting-edge technology like Fotokite Sigma and Colossus, we can work towards achieving the targets of SDG 11: Sustainable cities and communities. Indeed, these robots can improve emergency response capabilities and help ensure the safety of residents in urban areas. Fotokite Sigma can help achieve this goal by improving situational awareness. It can monitor areas that are at risk of disasters and take proactive measures to ensure the safety of the people living there. In the event of a fire, Colossus can play a critical role in minimizing the disaster impact and making the affected areas safer. Its rapid intervention capabilities can help contain the fire and prevent it from spreading, thereby reducing the risk to lives and property.
Both robots can contribute to SDG 13: Climate Action, particularly in the context of responding to natural disasters or emergencies that are exacerbated by climate change. Fotokite Sigma could support emergency response efforts during extreme weather events, such as hurricanes or floods, by providing critical aerial footage and situational awareness to first responders. This can improve response times and minimize the impact of such events on affected communities. Colossus could be used to respond to wildfires, which are becoming more frequent and severe due to climate change. By intervening early and preventing or containing fires, this robot can help to mitigate their impact on the environment and reduce greenhouse gas emissions from wildfires.
These robots could contribute to SDG 15: Life on Land, depending on how they are used in practice. By identifying potential hazards and risks to the environment, Fotokite Sigma can help prevent or minimize damage to natural ecosystems, contributing to the conservation and sustainable use of terrestrial and aquatic resources. Moreover, Fotokite Sigma can support efforts to mitigate the impact of natural disasters on ecosystems and biodiversity by improving situational awareness in disaster response situations. Colossus could be used to prevent or mitigate forest fires, which can have devastating effects on ecosystems and wildlife.
However, it's worth noting that the primary function of these robots is to support emergency response efforts and improve public safety, so their contribution to SDG 15 would likely be secondary to this goal. Additionally, it is important to ensure that the use of these robots is done in a way that is environmentally sustainable and does not have negative impacts on ecosystems or wildlife.
In conclusion, the development of robots such as Fotokite Sigma and Colossus has tremendous potential to improve disaster response and enhance public safety. As technology continues to advance, it is crucial that we harness its potential to align with global goals and create a better future for everyone. Join us at the AI for Good Global Summit to meet these disaster response robots and their creators. Register here!
Watch our Global Summit video here.