AI for Good Innovation Factory: Meet the 2020 Innovation Champions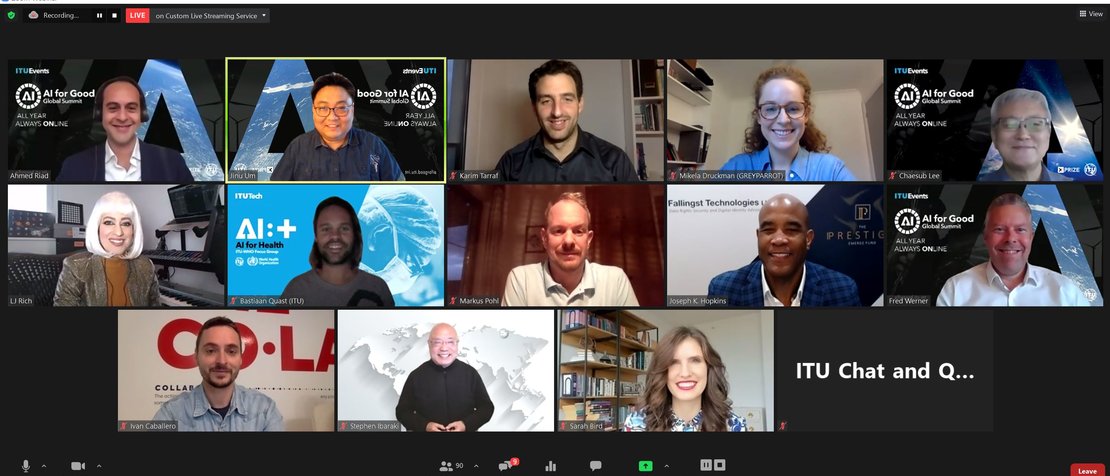 Inclusivity
|
Innovation & Creativity
Greyparrot, a start-up which uses computer vision for waste management, has been voted the winner of the Innovation Factory Grand Finale held as part of the year-round AI for Good Summit 2020.
The Innovation Factory is AI for Good's platform to showcase startups which use artificial intelligence to tackle global challenges, providing them with feedback, mentorship and potential partnerships in social impact entrepreneurship.
The programme saw over 200 submissions from 60 countries, with 36 applicants pitching during seven sessions throughout the year.
Greyparrot and three other start-ups received the highest scores for their innovative, scalable AI solutions for waste management, air quality, child malnutrition and agriculture.

Meet the expert jury

During the live Innovation Factory Grand Finale, these four startups recognized as Innovation Champions presented their solutions to a jury of experts and a public audience who then voted for a winner. The judges on the expert panel were:
• Joseph K. Hopkins, Senior Managing Partner at The IPRESTIGE Emerge Fund LLC and CEO, Fallingst Technologies LLC;
• Stephen Ibaraki, Chairman and General Partner of REDDS Capital and board member of the Association for Computing Machinery;
• Sarah Bird, Principal Program Manager and Responsible AI Lead at Azure AI, Microsoft; and
• LJ Rich, inventor and BBC presenter.
The start-ups were evaluated on the basis of their idea, innovative use of AI, relevance to the Sustainable Development Goals and social Impact, scalability potential, team and presentation skills.
Introducing the Grand Finale Winner: Greyparrot
Greyparrot seeks to resolve the waste crisis by using AI-based computer vision to provide actionable insights for the 530 billion-dollar global waste management industry.
It is important to improve waste recycling and recovery in situations where waste cannot be minimized, but the global recycling rate stands at about 14 per cent only. High levels of contamination, expensive manual sampling and sorting and a lack of data on waste composition have been challenges for the industry. "We believe what isn't measured cannot be optimized," said CEO and co-founder Mikela Druckman. "This is why at Greyparrot, we provide waste recognition software to monitor and audit waste at scale."
Greyparrot's automated waste monitoring system comprises three elements. "First of all we place a monitoring unit on top of fast-moving conveyor belts in waste facilities. We then use advanced AI and computer vision to provide real-time analysis on the composition, from material of the object and all the way to the brand as well. And then we transition that into actionable insights to help maximize the product quality of the waste, optimize the composition of the data and also the verification of those waste flows to ensure they are recycled at the maximum and recovered in the right way," explained Druckman during in her pitch.
Their solution, she asserted, will not only help the waste management sector yield higher returns from recovery of valuable waste streams but also helps increase recycling rates and allows less waste to leak into nature.
Innovation Champion: HawaDawa
HawaDawa, which translates into 'air medicine' in multiple languages, wants to bring air quality data into the mainstream decision-making on managing traffic, health and cities and even scoring real estate choices.
"The air we breathe and air pollution not only affects our health but also affects our climate and our economy," said CEO & Co-Founder Karim Tarraf. Measurements provide insights into sources of pollution, risk factors and potential solutions. It also helps to understand the correlation between air quality, traffic and climate, he added.
His company believes that access to good air quality data is needed to understand the complexity of the issue. "We combine cutting-edge space technology with our own proprietary Internet of Things (IoT) sensor networks with other networks as well as provide in-depth analytics, automated data across the globe on a comprehensive layer," Tarraf said. HawaDawa has partnered with leading institutions working in mobility, healthcare, infrastructure, and research to validate the data.
Innovation Champion: Citibeats
Citibeats is an augmented text analytics platform providing real-time insights to detect social risks using public and structured data.
"Our technology detects social trends faster than the media, increases the coverage of surveys at a fraction of the cost and gets early warnings on critical issues," said founder and CEO Ivan Caballero during his pitch. During COVID-19, the start-up analyzed opinions to help the Inter-American Development Bank (IDB) identify and monitor health, social and economic issues in Latin America and the Caribbean.
"We process big data text through natural language processing and machine learning to provide actionable insights so our customers and partners can react faster and more efficiently to people's needs," he explained.
Their AI solution structures multilingual data in minutes without previous training, noted Caballero, adding that they also specialized in bringing more representation and less bias and noise in the data. "Our ambition is to become the global standard for social risk measurement to help build a more inclusive, fair and responsive society," he concluded.
The Child Growth Monitor is a smartphone app enabling the detection of malnourishment in children without any physical contact.
Traditional methods of identifying malnutrition can be unreliable with bulky, expensive hardware and corrupt data, said Head of Project Markus Pohl. With COVID-19, where a health crisis might escalate to a food security crisis in developing countries, the no-touch solution can help identify children who are at risk of hunger, he added.
"You take a smartphone with our app on it and then you collect the data through the camera function. The app calculates a data model and then the machine learning/deep learning kicks in, and our app gives a diagnosis," Pohl explained.
The measurements will be of better quality and not susceptible to manipulation, he added. The app is currently in the field only for data collection and not for diagnosis. According to Pohl, the first version of the product will be released at the end of this year or in early 2021.
Pohl reiterated that the data belonged to the children and their parents. His company plans to certify the app as a medical tool and start an open source non-profit social business.