Indian firm's digital solution for urban waste pickers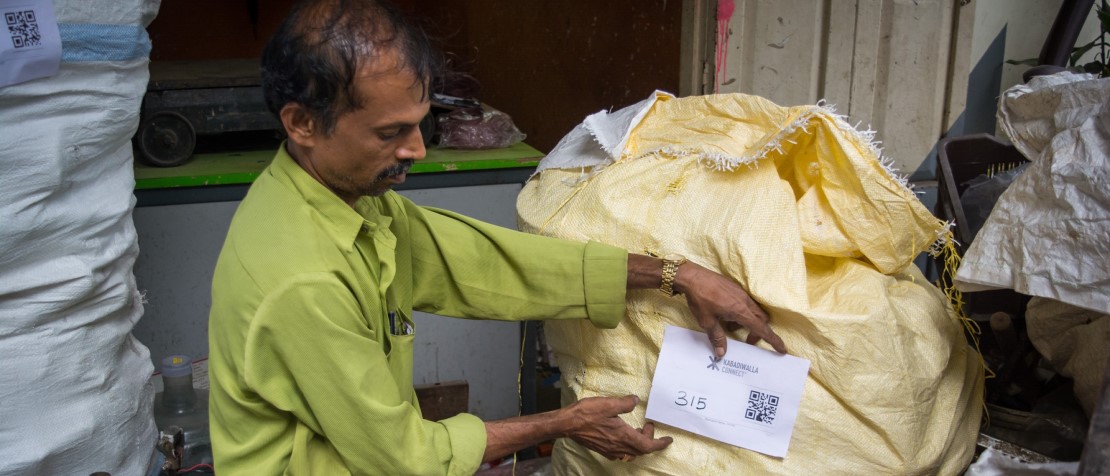 Digital Economy
|
Smart Cities
As India's cities keep expanding, so does the waste they generate.
The more than 62 million tonnes of municipal solid waste produced across the country each year could reach 165 million tonnes in 2030, according to government estimates.
Most of the waste collected by municipalities ends up in landfills, posing environmental and health risks.
A social enterprise in the southern city of Chennai has set out to tackle the problem locally – employing one of urban India's vital, if often overlooked, resources – informal waste pickers.
By gathering and selling litter from neighbourhoods all over the city, the waste-pickers form a critical part of the informal, unstructured waste management supply chain.
Kabadiwalla Connect brought technology into the equation, piloting AI-powered solutions to connect waste collectors with recycling facilities and empowering the informal sector to decentralize waste management.
Their digital innovation recently earned the support of energy multinational Shell to further prove the viability of the solution.
Clean connections
Founder and chief executive Siddharth Hande, a data scientist by training, became interested in the informal supply chain for waste management during beach clean-ups as a university student. Decentralization of waste collection in urban neighbourhoods, he suggests, will be key in developing countries to eventually create a circular economy based on reusable, recycled products.
With waste collectors functioning outside the formal economy, their work and their impact can be rendered practically invisible.
But Kabadiwalla Connect has used data and technology to understand the informal sector and integrate it into the formal waste management system.
Starting with a grant from the World Economic Forum's Global Shapers initiative in 2014, Hande and his team began to map out Chennai's waste aggregators and stakeholders. The resulting street-by-street survey of 2,500 informal waste stakeholders yielded a comprehensive dataset with standardized stakeholder and material classifications.
Informal waste pickers, counted as 'level-zero aggregators', traditionally sell recyclable materials found on the streets to their local scrap dealers, known as kabadiwalas.
These are 'level-one aggregators', who segregate and sell the material to 'level two-aggregators' (solid waste dealers) who buy higher volumes and process recyclable waste.
"The mapping was critical to understand local terms being used for materials in the marketplace," he said. Having data-driven insights facilitates the tracking and tracing of materials needed for processors and organizations looking for certified recycled, reusable waste.
Smart waste pick-ups
Kabadiwalla Connect's pilot project created a point of sale (PoS) device for a Chennai scrap shop to register waste pickers as suppliers and authorize their transactions. The shop was handling about 800 kilograms of plastic each month.
Waste type and quantity are entered on the device, facilitating the segregation and collation of materials from multiple orders. Each sack or batch is tagged with a QR (quick response) code that can be traced back to the original order.
"The idea was to understand how waste aggregators in the informal sector keep accounts and then digitalizing that system in a way that ensures traceability," Hande said.
Kabadiwalla Connect has also distributed smart bins for 1,500 households in Chennai. The Internet of Things (IoT) system helps track the quality and volume of segregation at each apartment, helping waste pickers plan their collections.
Clear market information lets waste pickers source their material directly rather than forage through dumpsites. Their use of tricycles for collection is cost effective and minimizes environmental impact.
Hande also sees scope for reverse logistics to enhance decentralized municipal waste collection, cutting costs through segregation at source saving more compostable and recyclable material from being sent to the landfill.
Designated GameChanger
Kabadiwalla Connect's pilot project attracted Shell's attention when its GameChanger programme issued an open call for solutions in search of companies using digital technology to improve the quality of life of waste workers in India. The programme works with small and medium-sized businesses on early-stage ideas that have the potential to help society progress through the energy transition.
By combining transparency, access, safety, and better integration of the informal sector into India's waste management value chain, Kabadiwalla Connect was judged to be the top submitted solution.
The start-up garnered Shell's support to scale up their app-based "reverse logistics" supply chain.
"Shell helps communities where it operates address the challenges of municipal waste management on many levels," said Suchismita Sanyal, General Manager for Computational Science at Shell Technology Centre Bangalore and part of the expert panel who awarded Kabadiwalla Connect.
"It is our imperative to support social entrepreneurs who combine the knowledge of local communities with deep technical expertise of AI and digital technology", Sanyal added.
"Decentralized waste management solutions, such as Kabadiwalla's, have the potential to 'circularize' the waste stream at a systemic level by empowering with data and insights the many communities involved in the waste supply chain."
In terms of next steps, Kabadiwalla Connect will receive advice and funding from Shell to scale up its solution so that household recyclable waste can be diverted away from landfills and waterways while neighbourhood scrap-shops and their waste-pickers improve their livelihoods.