COVID-19: China's digital health strategies against the global pandemic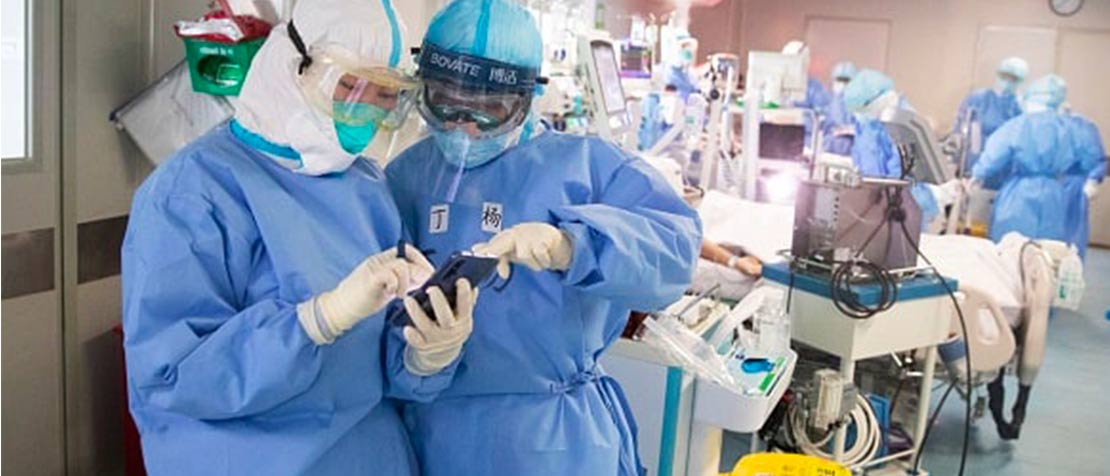 Health
|
Pandemic
Digital health technologies are critical tools in the ongoing fight against the global COVID-19 pandemic.
Artificial Intelligence (AI), big data, 5G and robotics can provide valuable and innovative solutions for patient treatment, frontline protection, risk reduction, communications and improved quality of living under lockdown as the world continues to battle the COVID-19 pandemic.
Critical tools in the fight against COVID-19
Last week's AI for Good webinar, 'COVID-19: China's digital health strategies against the global pandemic,' presented different use cases from China's digital health strategy, and provided context for how AI and information and communication technologies (ICT) has supported healthcare and citizen needs for the world's most populous nation.
Following the start of the COVID-19 outbreak in January 2020, China implemented a wide-reaching strategy to control and contain the virus.
"With various available technologies, we [ICT engineers] can actually play a very positive supporting role in fighting the current virus," said Shan Xu, an engineer in the Smart Health Department at the China Academy of Information and Communications Technology (CAICT).
She spoke about "magical combinations" in which technology can provide innovative solutions for medical requirements. These include using AI and big data to support risk assessments through case tracking and modelling, or increasing the efficiency in diagnosis and treatment of patients through 5G-enabled telemedicine.
Strategies to combat COVID-19 using AI
AI has played a large role in China's digital health strategies and Ms Xu pointed to several activities undertaken by different players in China, including assisting COVID-19 diagnosis, vaccine development, public screening and individual risk assessment.
"We want to share reproducible experience for other countries." – Ms Shan Xu.
She also explained how AI-enabled research and development is being used to support the development of a COVID-19 vaccine in a shorter time frame. One example Ms Xu gave was the Global Health Drug Discovery Institute (GHDDI) working with Alibaba Cloud to develop R&D platforms using AI and big data. Alibaba Cloud is providing AI computing power to support a large amount of data analysis, large-scale literature screening and scientific super-computing work.
AI can also play a huge role in assistive diagnosis. Using a medical knowledge atlas and deep learning algorithm, the system developed by Nankai University and Inference Technology can process dozens of high-resolution CAT scans, rapidly screening large quantities of case data in seconds, thereby dramatically reducing the time needed to reach a diagnosis. The results are in line with those of a chief hospital physician.
"We want to share reproducible experience for other countries and we realize the importance of the monitoring and evaluation of the effectiveness of different digital health cases," Ms Xu said.
But digital health strategies come in many forms. China has deployed robots to provide support to frontline health workers in the field. Medical robots at Wuhan Thunder Mountain Hospital can disinfect hospital wards, measure patient's temperature and distribute medical supplies, reducing the workload of medical staff and the risk of cross infection.
"We can also see the applications of robots in our daily life before the outbreak, but during this very special period, the role of the robots has been greatly amplified and also recognized by the public," Ms Xu said.
Internet resilience and capacity in China
"Our goal is to transform technology into capabilities for continuous work, study and life, and also pandemic prevention," said Yuan Zhang, Director of Machine Vision Standardization and Strategy at China Telecom.
She explained that China Telecom's infrastructure was built to withstand the demands faced by COVID-19. It includes over one million 4G base stations, 75,000 5G base stations and 170 million broadband subscribers, she said. Despite a 22.61 per cent increase in daily broadband network traffic, "the peak level of data consumption did not come close to the limit of the network," Ms Zhang said.
As such, the quality of service did not drop, thanks to the bandwidth of the network backbone.
"China has advantages in Optical Access Networks and fibre to the home deployment; the persistent effort to build the network has paid off," Ms Zhang said.
Putting health on the cloud
One of China Telecom's main roles was to support the sudden and increased demand for remote applications, and transforming technology capabilities to enable continuous work and study while supporting epidemic prevention during the pandemic for tens of thousands of households, required speed and agility, said Zhang.
China Telecom saw a dramatic increase in demand for remote applications. They launched over 70 new applications for different regions and industries to serve these new requirements, and their cloud conferencing service had over 700,000 users one month after their launch.
"The persistent effort to build the network has paid off." – Ms Yuan Zhang
But nowhere was this application more quickly implemented than at the Huoshenshan Hospital in Wuhan, China, which is famed for being built in 10 days to help combat the COVID-19 outbreak, and was deployed with an 'all-on-cloud' medical system.
"The whole [hospital] construction took 10 days, but we only took three days to deploy the network and cloud resources," Ms Zhang said.
Systems on the cloud included hospital and laboratory information, as well as administrative information systems, such as financial management and customer service.
Putting this data on the cloud reduced local maintenance and vastly accelerated its deployment – and importantly, it is a solution that can be easily replicated. As such, Yuang highlighted that creating uniformed interface and data format solutions could be a potential area for standardization.
All of this highlights the ongoing importance of digital health strategies and the ways in which to implement these solutions. As Ms Xu said, "what kind of contributions can digital health make? I think one common answer could be to make life better."
Photo by STR/AFP via Getty Images