Autonomous drones saving lives and powering disaster preparedness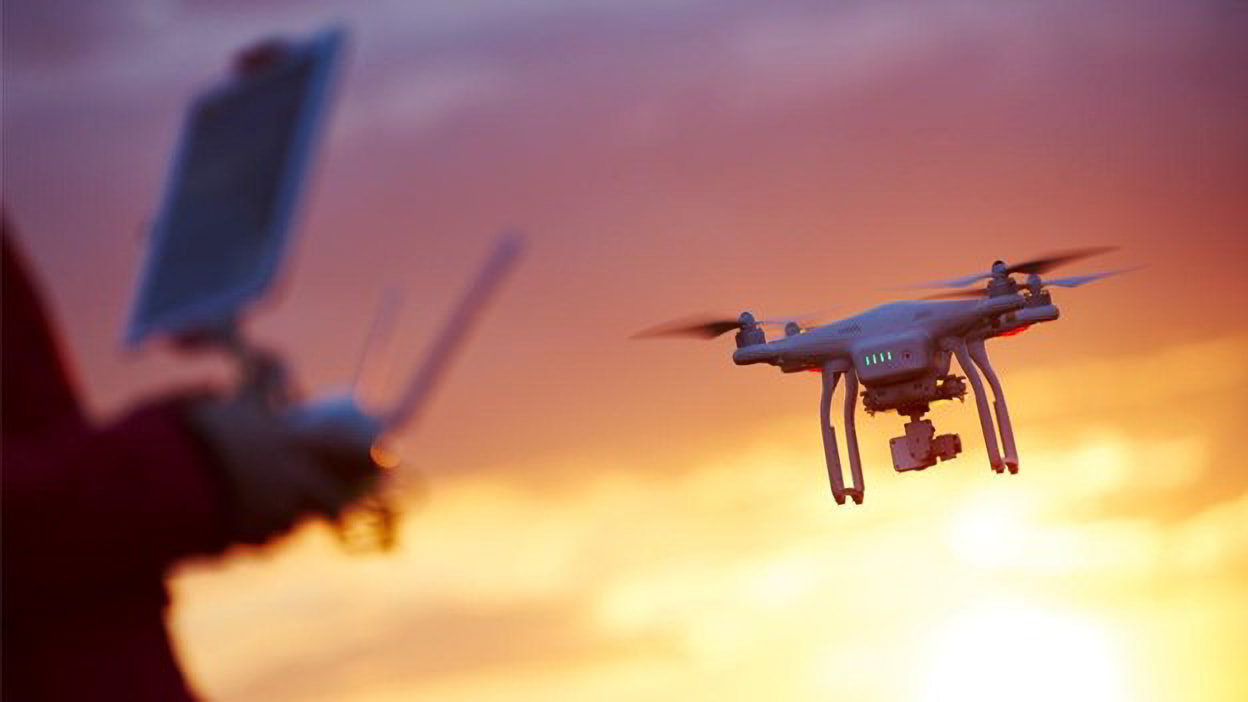 Artificial Intelligence
|
Disaster Management
|
Environment & Climate change
|
Health
|
Smart Cities
Last week marked the International Day for Disaster Risk Reduction. Held every October 13, the day raises awareness about world disasters and the importance of reducing exposure and minimizing risks.
Recently, disaster management efforts have seen a huge boost from advanced and emerging technologies in AI-powered drones and unmanned aerial vehicles.
Nowadays drones are being used for various humanitarian purposes including: search-and-rescue operations, reconnaissance of the situation during emergencies, delivery of medical equipment and supplies, telemedicine communications and much more.
The AI for Good webinar, "Unleashing autonomous drones for disaster risk reduction," explored how AI-powered drones can be applied for disaster prevention, mitigation, and preparedness.
The webinar conducted by ITU in collaboration with the United Nations Office for Disaster Risk Reduction (UNDRR) highlighted the many uses of drones to save lives and power disaster response.
"AI-powered drones are really powerful tools… but the recent developments really can push further the boundaries of these drones' applications for a better future and disaster risk reduction," said Eszter Kovács, CEO and Co-founder of DroneTalks.
New technologies are contributing to situational awareness and ensuring early adoption and mitigation of various disasters and hazards. However, the question remains as to "how can we do a better job for a more resilient and sustainable society?" wondered Kovács.
Drones for sustainable development
Disaster risk reduction is an integral part of social and economic development, and is essential for achieving sustainable development in the future. Disasters, as unavoidable as they are, are the pinnacle of natural phenomena. The inevitability of natural hazards requires the implementation of safety measures. The inherent value of disaster management is mostly determined by the immediate activities and procedures to provide assistance.
"We are constantly striving to see how risk information can become more accessible, and how we can use technology for the public good," said Jenty Kirsch-Wood, Head of the Global Risk Analysis and Reporting Section at UNDRR.
While talking about the use of AI in various fields, she stressed out "an incredible scope for a combination of technological, policy and practical approaches for better understanding risks using this technology".
Unfortunately, there are some regulatory and deployment barriers, as well as issues of accountability, accessibility, and interoperability. However, "drones can really play key and relatively low-cost role in helping to reduce this digital divide and make sure that parts of the world… can deploy this technology and make this data available as a part of multi-hazard multi-scale risk management approach," explained Kirsch-Wood.
Drones need to be a part of a larger analytical framework. "They do not just tell you the answer, it's got to be analyzed, it's got to fit in for a proper validation and dialogue and continual learning process," said Kirsch-Wood.
Drones powering disaster risk reduction
When describing the different types of drones he is developing in the lab, Dario Floreano, Director of the Laboratory of Intelligent Systems at Swiss Federal Institute of Technology Lausanne (EPFL) compared them to examples from biology and live creatures: "To get drones into difficult areas, for example, confined spaces, it is interesting to look how animals like birds and insects do that. They change their morphology to adapt to confined spaces and they can withstand collisions thanks to their flexibility… We do not have to copy these animals into mechanical designs but we can take inspiration from this morphological adaptation to design drones…." he explained.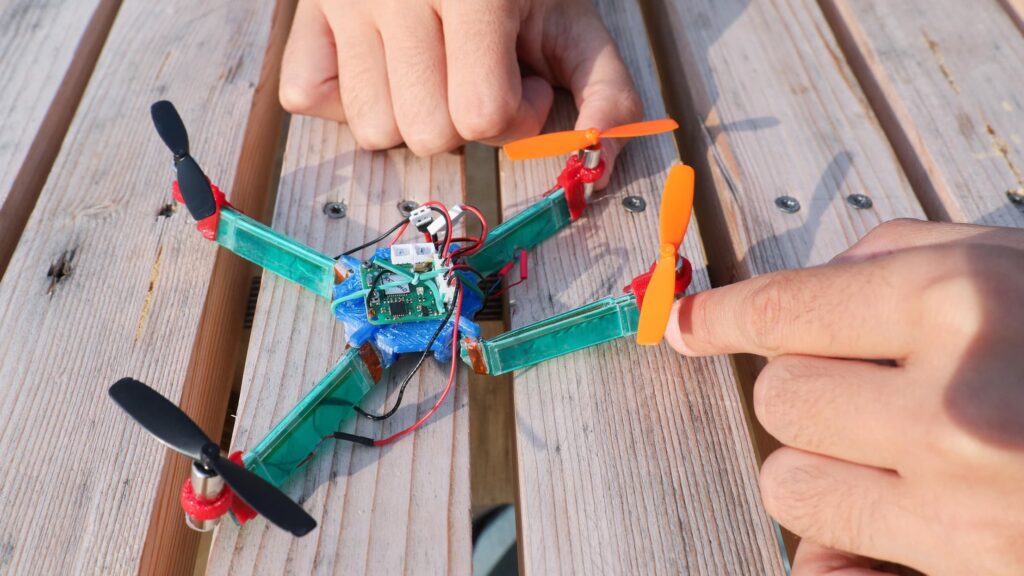 Credit-EPFL
"Drones have a lot of potential applications in disaster mitigation" said Dario Floreano, Director of the Laboratory of Intelligent Systems at Swiss Federal Institute of Technology Lausanne (EPFL).
Furthermore, since operating drones requires great training, Dario stated that "we try to look at a more natural way of controlling these drones and we studied new wearable exoskeletons that can allow non-trained people to drive these drones with their body gestures."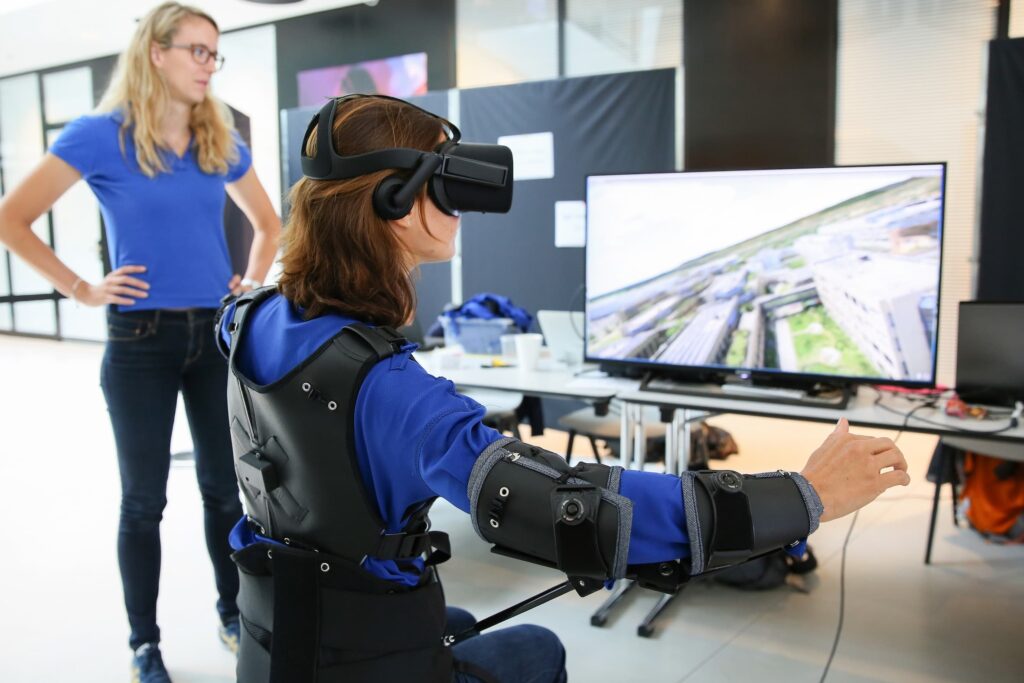 Credit-EPFL
Drones flying completely autonomously using neural networks is one of the main goals in the field of unmanned aerial vehicles. Talking about autonomy, Vijay Kumar, Nemirovsky Family Dean of Penn Engineering at University of Pennsylvania, considered the need to focus "more on embedding AI into these drones so that the humans can be freed up to do tasks that they are best suited to".
Disaster mitigation is an application context where the vast amount of different unmanned aerial vehicles can be exploited. "When you are confronted with a highly unstructured environment, what you would like is for drones to be able to reason about this environment and react very quickly providing intelligence to human search and rescue workers," said Kumar.
"The main goal in our work is thinking how we can use all kinds of UAVs for GPS-denied autonomous navigation…" not only for disaster risk reduction but also to prevent "the gradual degradation of our planet."
Drones and society 5.0
Yan Wan, Professor in Electrical Engineering at University of Texas at Arlington, talked about critical components of future smart cities and Internet of Things (IoT) networks and how drones can be applied there.
"Currently we're undergoing the transition to industry 4.0 which is featured by technologies such as autonomy, big data, AI, IoT, robotics and cyber physical systems," stated Wan.
She believes robots will be key components of the future society. Therefore, drones or aerial robots are not simple vehicles. "There are robots with integrated sensing, communication, control, computing and also networking capabilities."
Wan highlighted the importance of UAV networking which "refers to networking in the air so that UAVs can exchange information, maintain safe maneuvering and also coordination for time-critical missions."
As Disaster Risk Reduction Day emphasizes the need for strengthening resilience and achievement of sustainable development, this AI for Good webinar showed the benefits that drone technology can bring in risk mitigation and the need for these systems to be widely applied in emergency operations.
To learn more about drones for disaster risk reduction, watch the full webinar here. Follow AI for Good for learning about the latest developments in autonomous robots.