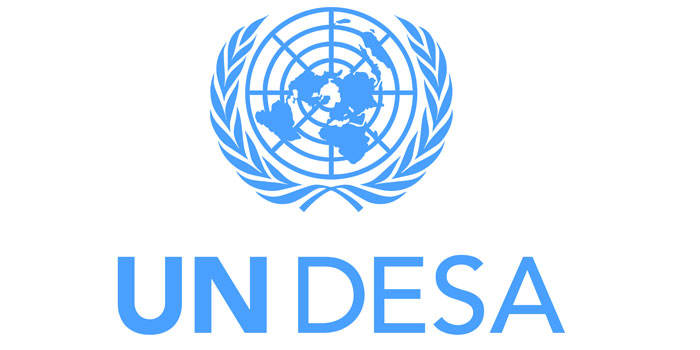 We bring the global community together to work towards common solutions to the world's most pressing problems. We help countries translate their global commitments into national action in the economic, social and environmental spheres.
UN DESA is a pioneer of sustainable development and the home of the Sustainable Development Goals (SDGs), where each goal finds its space and where all stakeholders can do their part to leave no one behind. We are a leading analytical voice for promoting inclusion, reducing inequalities and eradicating poverty, and a champion for tearing down the barriers that keep people in poverty.
Description of Activities on AI
Project 1: Use of Complex Network Mappings Development for Digital Government
The United Nations E-Government Survey is produced every two years and is a flagship publication of UN DESA. It presents the ranking of e-government development across 193 United Nations Member States by assessing e-government development according to a quantitative composite index based on Online Service, Telecommunication Infrastructure, and Human Capital Indices. It provides decision makers with information that enables them to identify their areas of strengths and challenges, as well as suggested options on how best to move ahead.
Against this backdrop, the Division is running a pilot research project on the use of advanced machine learning algorithms for complex network analysis to create clusters of UN Member States based on detected socio-economic similarities, using the most updated publicly available data sets of socio-economic and development indicators. The clusters identified from the network analysis will provide a new and accurate rating tool to reinterpret and benchmarking digital transformation among similar Member States, through 2022 the E-Government Development Index (EGDI).
Project 2: Fast-evolving technologies in e-government: Government Platforms, Artificial Intelligence and people
Chapter 8 within the United Nations E-Government Survey 2018 discusses transformative technologies, such as data analytics, Artificial Intelligence including cognitive analytics, robotics, bots, high-performance and quantum computing. It explains how forces driving such technologies are the result of long-term and painstaking research and development, their use by businesses and citizens as well as the increased processing power of hardware, increasing data availability and society's driving needs and expectations.
Project 3: Artificial Intelligence opportunities and challenges for the public Sector
Conference paper to the recent ICEGOV 2019 on AI opportunities and challenges for the Public Sector
Project 4: TFM findings on the impacts of rapid technological change on the SDGs
New and rapidly changing technologies, such as artificial intelligence, robotics and other automation technologies hold great promise for making accelerated progress towards the Sustainable Development Goals, but also pose formidable challenges in all of the SDG dimensions. Against this background, the UN General Assembly has called upon the TFM in repeated resolutions to present their updated findings to the Annual Multi-stakeholder Forum on Science, Technology and Innovation for the SDGs.
Project 5: Exploring the impacts of new Internet applications and AI on the global energy system
New Internet applications and especially AI technologies have become a rapidly increasing source of energy demand but have also greatly shaped the opportunities for smart and cleaner energy systems. This project reviews what is known and what might be potential policy responses to these trends in the future.
Project 6: IEEE/UN Event series
Training and outreach event on technology, policy, ethics and engagement of AI and other new technologies.
Project 7: Long-term AI and technology scenarios for the SDGs
Long-term technology scenarios are routinely used to explore feasible technology pathways to tackle big global challenges, such as climate change and biodiversity. While an increasing number of them assume significant new opportunities due to AI, most of them do not make any effort to quantify these effects in both positive and negative terms. This initiative aims to explicitly account for AI and potential future AI technology developments based on existing technology development data. It also provides inputs for the mandated discussions of long-term future scenarios and the impact of current trends in the high-level segment of ECOSOC each year.
Project 8: Guidebook on AI ethics for government and development practitioners
While there are hundreds of publications and proposed AI ethics frameworks and codes of conduct by scientific and engineering communities, as well as an UNESCO initiative on AI ethics, little practical United Nations Activities on Artificial Intelligence (AI) 39 guidance exists for governments and development practitioners, especially guidance that is fully based on a balanced scientific and technological understanding. The guidebook aims to fill this gap.
Project 9: TFM online platform
The TFM online platform was mandated to provide a single-entry point for technology information.
Project 10: Guidebook to resources on AI strategies (supplement to the IATT Guidebook on STI roadmaps for the SDGs)
While there is an increasing number of AI strategies and an exponentially increasing number of publications on AI, government officials and development practitioners alike could benefit from a trusted, curated and annotated list of written resources on the various aspects of AI.
Project 11: FAO-UNSD project using satellite data and farm surveys to estimate crop statistics
The project aims to identify crops, map crop areas and estimate crop yield using satellite data and farm surveys.
Project 12: Estimating Port Calls using AIS vessel tracking data
The project aims to identify ships which are entering and leaving a port (by vessel type) using AIS vessel tracking data AIS data are real-time data of ship positioning. This is obtained as a global feed.
A demo app that automatically extracts key concepts related to sustainable development from text documents and links them to the most relevant sustainable development goals, targets, indicators and series.