Go back to programme
Experience Switzerland's thriving AI startup ecosystem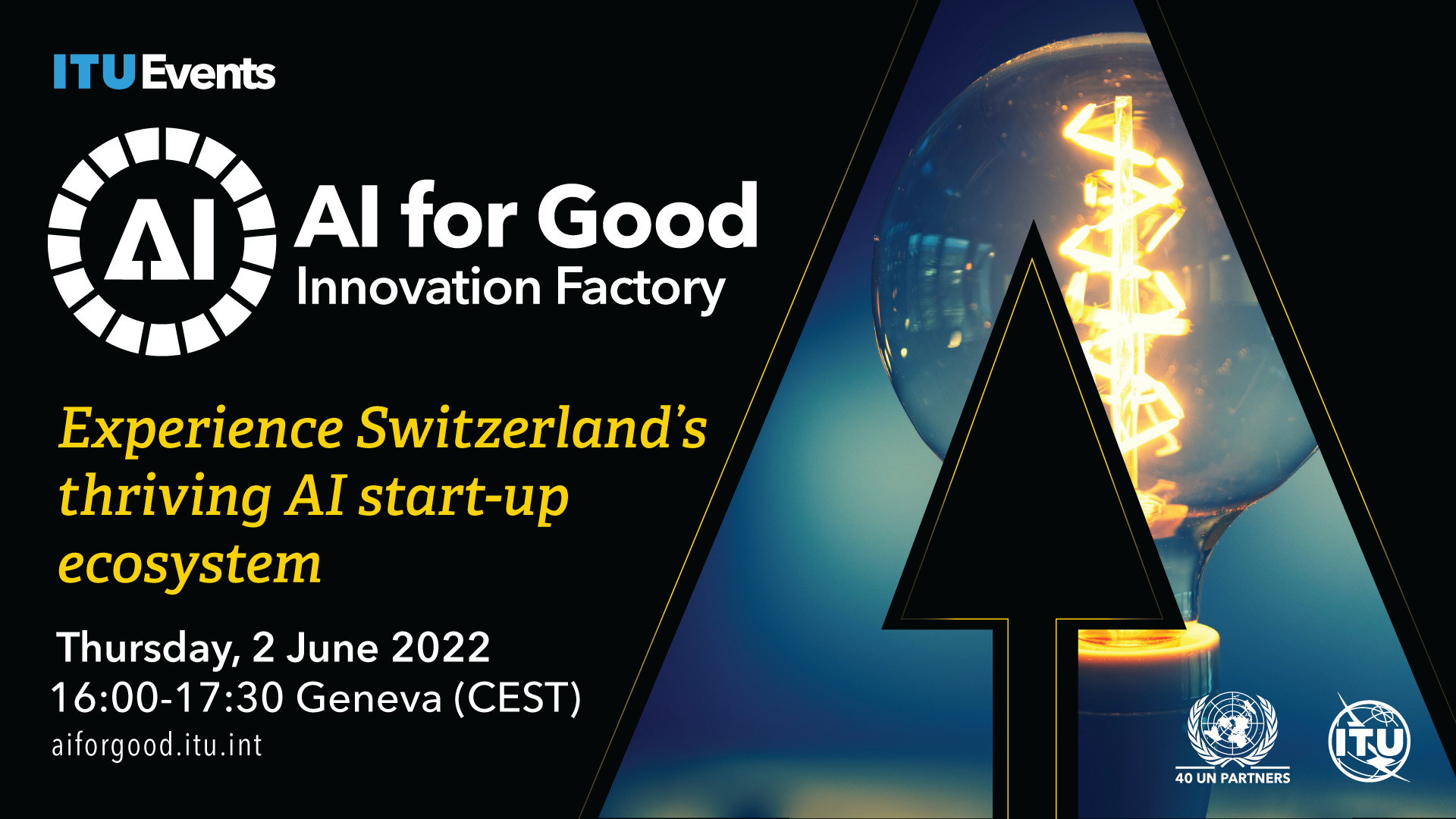 * Register (or log in) to the AI4G Neural Network to add this session to your agenda or watch the replay
The AI for Good Innovation Factory is co-convened with Switzerland. In this special session, start-ups focused on Swiss innovation will compete and pitch their solutions that have sustainable and positive social impact. This competition is open to start-ups using artificial intelligence, machine learning, and advanced algorithms applied to the challenges related to the Sustainable Development Goals that are based in Switzerland. 
This session is the third in our series of global start-up pitching sessions. Learn more about the Innovation Factory pitching competition throughout 2022, leading up to the Innovation Factory Grand Finale in December 2022. 
The application deadline has been extended to Monday, 23 May 2022. Submit your solutions, pitch your start-up here.
Benefits for startups
The Winner Receives
– Grand Finale Demo Day ticket
– Featured Startup in the Innovation Factory Exhibition on the AI for Good Neural Network
– Exclusive Marketing coaching provided by FONGIT
The Top two teams receive
– Reserved slots for our Fongit Force series of workshops which is for FONGIT's community
– Reserved slots for one of our upcoming Cafe and Croissant events, which is closed to FONGIT's community of startups and investors.
– Follow-up Mentoring from iPrestige Emerge Fund and Fallingst Technology
– Networking opportunities with the UN and other potential business partners

Introduction to FONGIT
The Fondation Genevoise pour l'Innovation Technologique – FONGIT, is Switzerland's premier innovation platform and incubator supporting innovative tech ventures in Geneva.
Founded in 1991, Fongit has an excellent track record of building successful companies.
FONGIT is a private, non-profit foundation, benefitting from the support of the State of Geneva. Its mission is to transform technological innovation into social and economic value in the Geneva region. We are currently supporting 100+ startups and projects.
Introduction to iPrestige Emerge Fund and Fallingst Technologies
The iPrestige Emerge Fund is a proprietary first-mover advantage technology incubation accelerator that concentrates on growth opportunities in emerging deep technology markets to mitigate the exploitation of data privacy and data rights breaches.
Fallingst Technologies LLC is a leading technology advisory, asset management and IP valuation services firm. The company also serves as the management service provider of The IPRESTIGE Emerge Fund.
This live event includes a 30-minute networking event hosted on the AI for Good Neural Network. This is your opportunity to ask questions, interact with the panelists and participants and build connections with the AI for Good community.