A look at the Robotics for Good Innovation Factory 2023: Celebrating innovation and excellence in Robotics for Good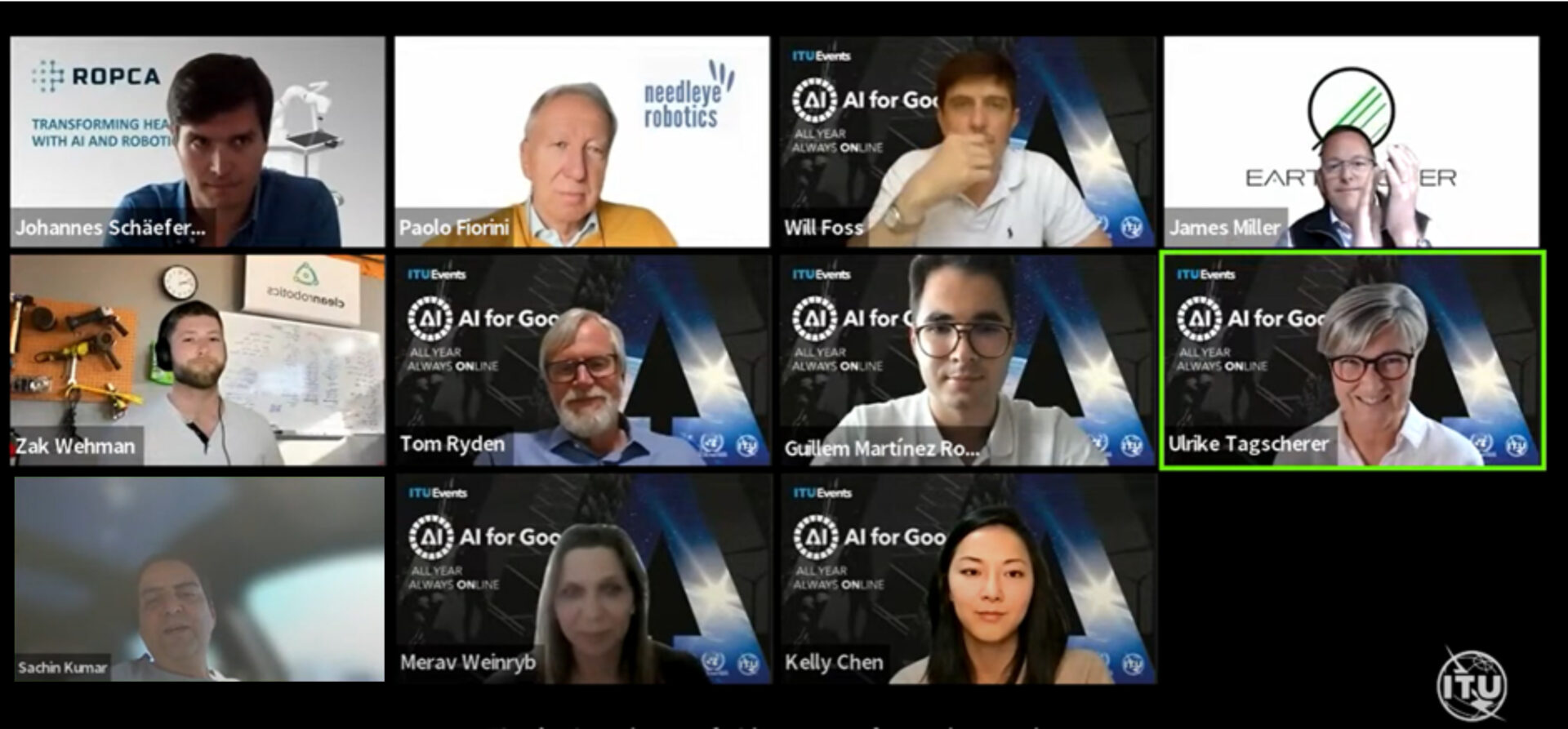 Robotics for Good
By Lindgard Buder
After an extensive year-long quest to identify the most promising AI for Good robotics start-ups from across the globe, the first edition of the Robotics for Good Innovation Factory, as part of the AI for Good Innovation Factory,, concluded yesterday with ROPCA as the winner of this inaugural edition.
During this year's Robotics for Good Innovation Factory Grand Finale, five entrepreneurs selected throughout different pitching sessions had the opportunity to present their promising solutions to our high-class panel of judges, as well as viewers from around the world. The selected start-ups included CleanRobotics; CW Cleaning Solutions GmbH; Earth Rover, Needleye Robotics, and ROPCA. After careful deliberation, the judges – Ulrike Tagscherer, Thomas Ryden, Will Foss, Merav Weinryb, and Kelly Chen – announced ROPCA as the winner of the Robotics for Good Innovation Factory.
As the winner, ROPCA will receive a cash prize of 20,000€ sponsored by KUKA, exclusive follow-up mentoring from KUKA and the judges, and a 1-year residency at MassRobotics. Additionally, all start-ups will have the opportunity to pitch at the AI for Good Innovation Factory Grand Finale during the AI for Good Global Summit, on 6-7 July 2023 in Geneva.
ROPCA: Unveiling the winner of the Robotics for Good Innovation Factory 2023
Born as a project within the University of Southern Denmark, ROPCA embarked on a mission to create an automated system capable of precisely locating and ultrasound
scanning hand joints in patients with Rheumatoid Arthritis. The successful progress of this endeavor led to the establishment of ROPCA as a company in 2019.
With Rheumatoid Arthritis (RA) being a major chronic and debilitating disease, occurring in 1% of the population and affecting three times as many women, diagnosis represents the first significant hurdle that requires improvement to enhance the patient outcomes.
This is precisely where ROPCA wants to come in. Its AI-powered autonomous robot has 97% diagnostic correlation with the rheumatologists' practices and holds the possibility to increase the rheumatologists' productivity by more than 50%. It has a high patient acceptance of 92% and promises to facilitate consultation of patients with rheumatologists by two times.
The Arthritis Ultrasound Robot ARTHUR enables direct interaction with the patient, eliminating the need for a rheumatoid specialist and freeing up valuable time for doctors to focus on direct patient care. One of the standout features of ARTHUR is its connected systems, which automatically generate an AI-driven disease activity report and seamlessly document it digitally in the Electronic Patient Journal. This streamlines the process of capturing and tracking disease progression, enhancing accuracy and efficiency in patient management.
"The patient comes in, scans a social security card and then the robot essentially takes over", claims ROPCA's CEO, Johannes Schäeferhoff.
Designed as a plug-n-play system, ARTHUR seamlessly integrates with the ultrasound machines already present in clinics. This compatibility ensures a hassle-free implementation process, allowing healthcare facilities to quickly harness the benefits of ARTHUR.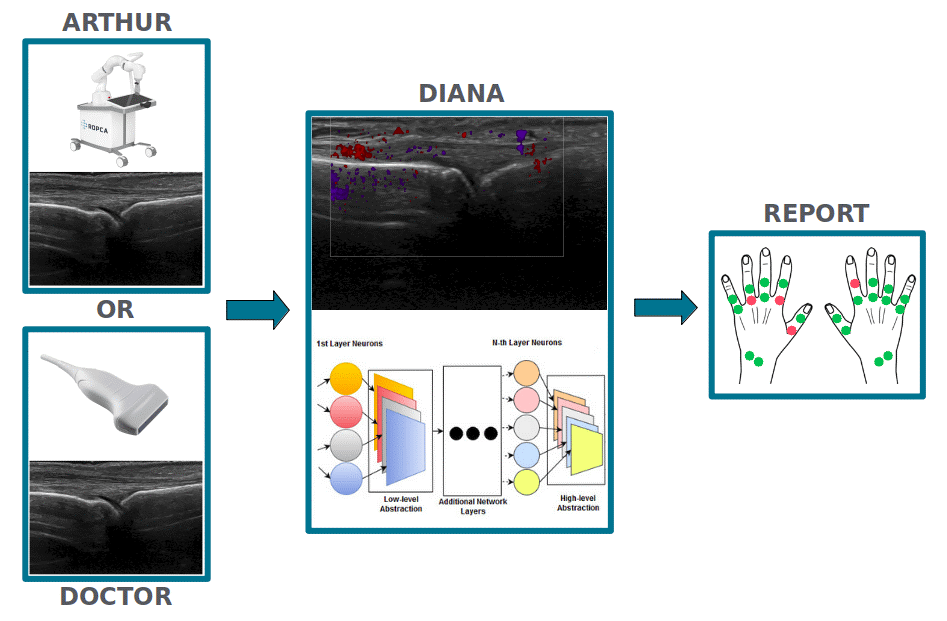 The Diagnosis Aid Network for Rheumatoid Arthritis DIANA is an advanced software system built upon cutting-edge neural networks specifically designed for image analysis. These networks have undergone rigorous training using thousands of ultrasound images meticulously acquired and labeled by expert rheumatologists. With this extensive training, DIANA possesses the ability to accurately classify the degree of Rheumatoid Arthritis (RA) in line with the EULAR-OMERACT standards for diagnosis.
DIANA serves as an assistant tool for evaluating and monitoring disease activity within the joints. It seamlessly integrates with ARTHUR, as well as other images of comparable quality and attributes, allowing for consistent and reliable assessments. By leveraging state-of-the-art technology, DIANA empowers healthcare professionals with a comprehensive and precise assessment of RA, supporting informed decision-making and optimizing patient care.
When used in conjunction with ARTHUR, DIANA offers a seamless integration that enables automated scanning, analysis, and report generation. Within a matter of seconds, DIANA processes the captured images and swiftly generates a comprehensive report, readily available for the doctor's review.
"We are an automation solution, so we ask ourselves how much work can be automated away", Johannes Schäeferhoff explains. "What we want to replace is monotonous work and not really, you know, added value types of activities."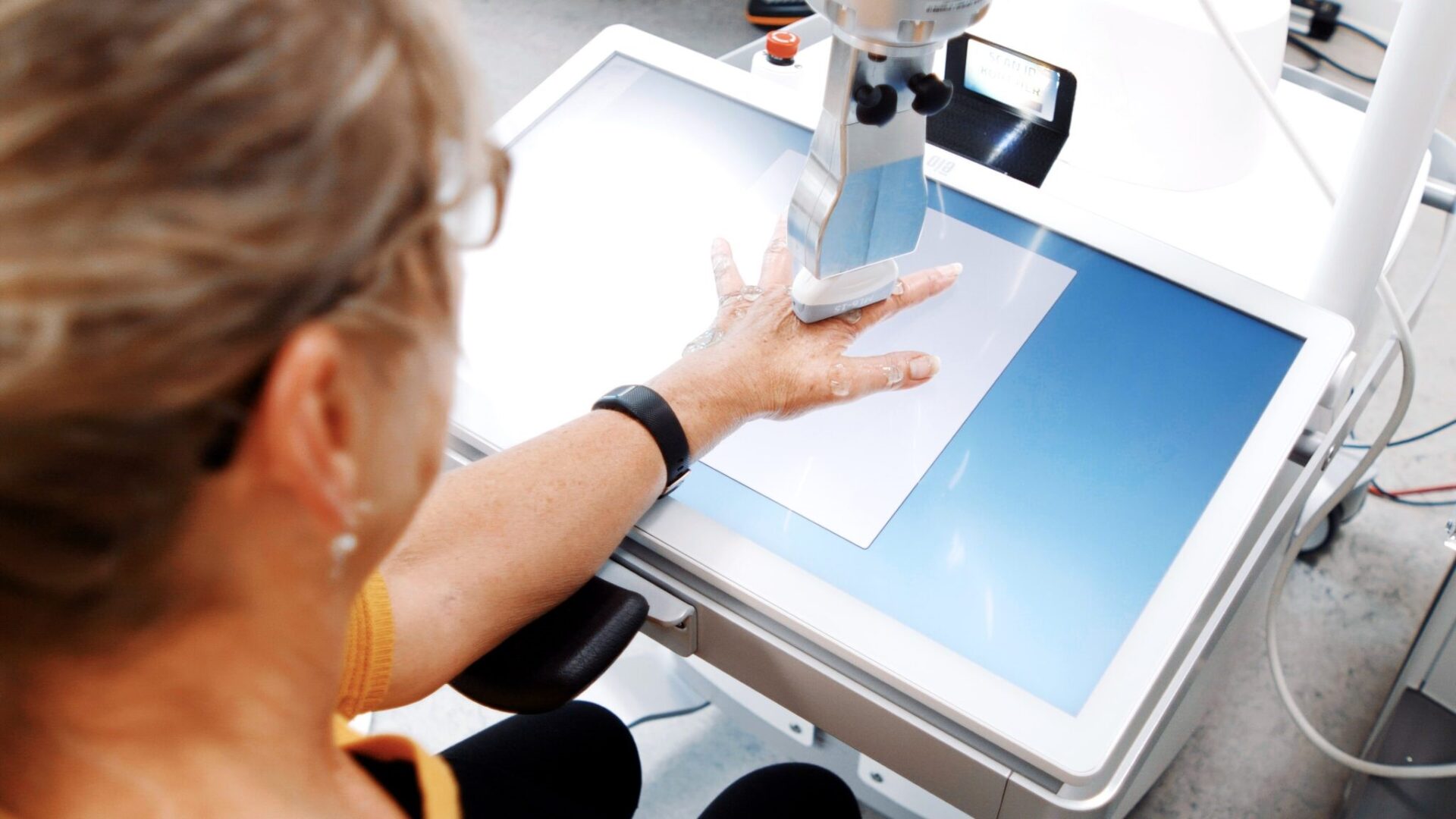 We are delighted to grant ROPCA their winning prize and welcome them at our AI for Good Global Summit, taking place on July 6-7 in Geneva and online. To watch the whole Robotics for Good Grand Finale, please view the video below: