5 video takeaways from ITU Telecom World 2018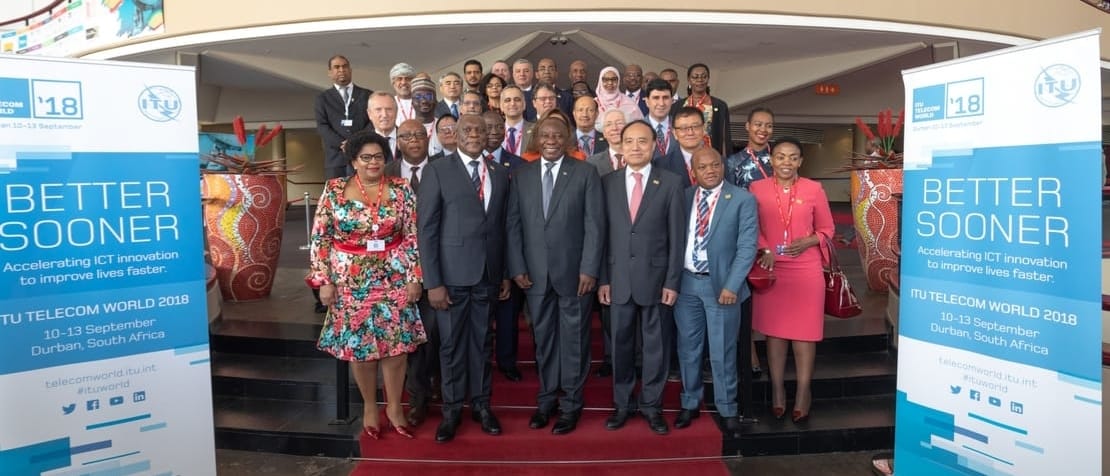 Digital Economy
|
Education
|
Innovation & Creativity
ITU Telecom World 2018, taking place this week in Durban, South Africa, brings together government officials, regulators, private company representatives and experts to discuss ways forward for smart digital development.
"Smart digital development means a better life for all of us." – Américo F. Muchanga, Director General, INCM, Mozambique
Here are five video takeaways from participants at the conference about how to leverage technology to increase connectivity, accelerate innovation and create meaningful impact on the lives of people around the world.
1. Information communication technologies (ICTs) can improve lives
"Smart digital development means a better life for all of us," explains Américo F. Muchanga, Director General of INCM in Mozambique. "It means the recognition that information communication technologies can improve our lives by making our lives easier, by making everyone be able to access the benefits of the information available on the Internet, but also it means that we can participate in the digital economy."
RELATED: South Africa seizes the reins on smart digital transformation
For example, digital financial systems can enable Mozambicans living in remote areas, who might not have access to traditional financial instruments, to access services including micro-finance and micro-insurance, Muchanga says.
2. Digital education is important to meaningful connectivity
Learning digital skills can help empower people to get jobs and make a difference in their communities, says Fatuma Hirsi Mohamed, Principal Secretary Broadcasting and Telecomms in Kenya.
LEARN MORE: International Labour Organization (ILO) and ITU joint Digital Skills for Decent Jobs for Youth Campaign
Kenya has a digital literacy programme that brings technology into schools to prepare children for the 21st century, she says. The country also has an internship program, where university students can learn practical digital skills and gain connections to potential employers, she says.
"We're already preparing them for the work in the future and to be entrepreneurs themselves," Mohamed says.
3. Telecommunication companies must reinvent themselves in the digital age
Telecommunication companies must evolve to respond to economic, technological and demographic changes, says Mohamed Madkour, Vice President, GWNM at Huawei Technologies.
"It's about how telcos can find the most efficient, profitable, development paths so that they can get to the point of business sustainability," he says.
This includes overcoming a fear of change, balancing the short-term returns and long-term goals, finding the right partners and talent, and focusing on their ability to provide valuable connectivity, Madkour says.
4. Mobile virtual network operators (MVNOs) are on the rise
Telecom World 2018 featured a workshop on the rise of mobile virtual network operators (MVNOs). MVNOs leverage existing infrastructure to provide innovative services, says Bilel Jamoussi, Chief Study Groups Department, TSB, ITU.
RELATED: Top 5 trends for mobile virtual network operators (MVNOs)
"We have seen recently a surge of interest by MVNOs in joining ITU for essentially two main reasons: one is the numbering resources that the ITU offers to allow for MVNOs and operators to interconnect around the world and the second is the ecosystem that we provide for economic and financial discussions in terms of the opportunities for MVNOs to partner with operators and various industry verticals," he says.
5. Connectivity can help spur entrepreneurship and innovation
Increased connectivity, digital finance services, digital skills, digital identity systems and other advances in ICTs can help promote entrepreneurship for small- and medium-sized enterprises (SMEs) and benefit rural and under-served populations,  says Hon. Ursula G. Owusu-Ekuful, Minister of Communications for Ghana.
Discover more videos from ITU Telecom World 2018
"By putting in these basic building blocks and just sitting back, we would see a connectedness in our society," she says. "It is that connection that is going to unlock the hidden potential, the capital, the entrepreneurial spirit of our people."