Understanding and addressing the barriers to equitable energy access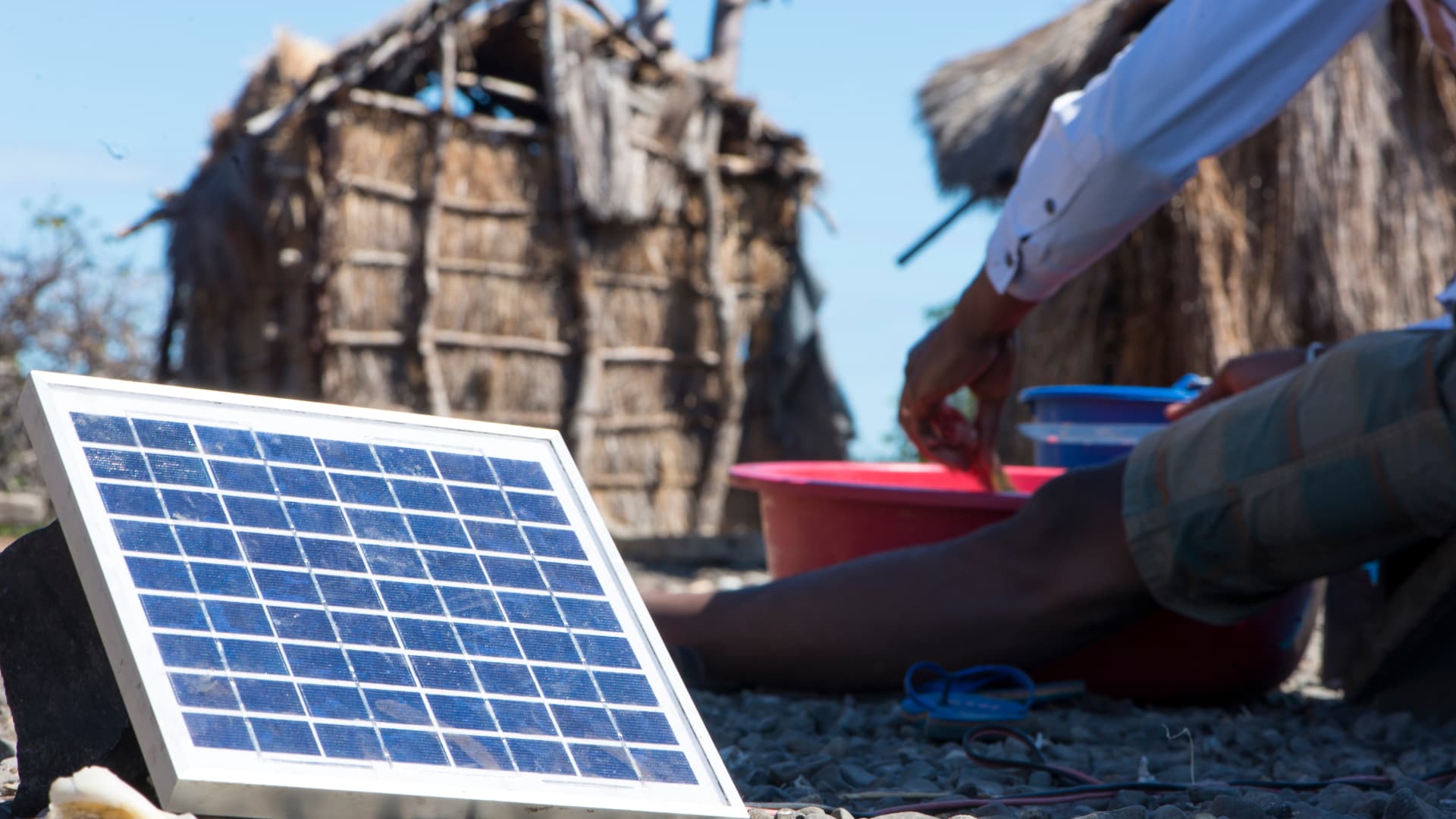 Energy
|
Innovation & Creativity
|
Smart Cities
Energy is at the center of human and economic development – it is what powers economies and sustains societies. People need energy to heat and cool homes, travel from one place to another, manufacture items we rely upon on a daily basis, and more. The inability to fulfill basic energy needs, in turn, could be a constraint to development.
That's why it's concerning that 733 million people globally still have no access to electricity. At the current rate of progress, the International Energy Agency expects that 670 million people will remain without electricity by 2030 – 10 million more than projected last year. Advances have been impeded particularly in countries most in need of energy access. With this in mind, expediting progress toward the United Nation's Sustainable Development Goal of ensuring access to affordable, reliable, sustainable, and modern energy (SDG7) by 2030 is essential.
Only if we thoroughly diagnose the problem can we provide a sufficient, lasting solution. The impact of the COVID-19 pandemic is one factor that has slowed the pace of progress in electrification, but there are many other obstacles that stand in our way – many of which technology is well-suited to help solve.
These are a few of the challenges to overcome with a combination of technology, talent, and tenacity:
Insufficient data to support energy decisions
According to the World Bank, a lack of data prevents governments from having the information necessary to address energy access challenges. Not having the full picture on energy demand, for instance, makes it difficult to guide policy and investment decisions that help provide clean energy for those who need it most.
Technology is the key to obtaining these critical insights. IBM is working to help communities overcome this obstacle through the IBM Sustainability Accelerator – a pro bono social impact program that applies IBM technologies to scale the efforts of nonprofit and governmental organizations working to help populations most vulnerable to environmental threats.
For example, Sustainable Energy for All – one of the five organizations selected to be a part of the IBM Sustainability Accelerator's clean energy cohort – is working to build an intelligent model to project energy needs using temporal and spatial data. This model will be designed to help address key development challenges, such as lack of energy access and poor healthcare, and support the development of robust infrastructure planning.
Watch the AI for Good webinar to learn more:
Communities lack access due to remote locations
Due to high energy costs and other issues that are specific to low-population areas, many rural and remote communities also often face a lack of energy access, according to the U.S. Department of Energy.
Miyakojima City Government is another entity that was selected to be a part of the IBM Sustainability Accelerator's clean energy cohort. Located about 2,000 kilometers from Tokyo, Miyakojima is actually closer to Taiwan and the Philippines than it is to neighboring islands of Japan. Further, the residents of Miyakojima rely on a clean local environment for the tourist and agriculture industries that sustain its economy. All these factors stress the island's need for a more sustainable, stable, and continuous source of clean energy, which is the foundation that supports local communities' civic life and business activities.
Miyakojima City Government is working with IBM to develop a renewable energy strategy covering an electricity microgrid on Miyakojima Island and models for electricity demand that will help guide energy infrastructure development. This partnership exhibits the opportunities technology presents to help remote communities who are exposed to risk of increasing energy prices or lack of energy due to extreme weather events.
The transition must be just and inclusive
Ensuring inclusivity as we strive for energy access for all is also a core challenge, with significant attention needed in regions for Indigenous communities. Many of the minerals and resources needed to develop technologies for the transition to a low-carbon economy are found in areas disproportionately inhabited by Indigenous peoples. A just and inclusive energy transition requires the consideration of risks that may be posed to Indigenous peoples and gives them a voice when making decisions about clean energy initiatives.
Net-Zero Atlantic is working with Indigenous communities in Nova Scotia to advance a sustainable and inclusive transition to a carbon-neutral Atlantic Canada. Championing a just energy future for Indigenous peoples is particularly crucial given the fraught history of energy development on Indigenous lands in Canada. As a partner organization of the IBM Sustainability Accelerator, Net Zero Atlantic is collaborating with IBM and Indigenous partners to develop an interactive digital tool that will geospatially display environmental and socioeconomic impacts of possible energy system futures for Indigenous communities in Nova Scotia. The tool will inform the input these communities provide into energy and development planning, supporting their participation in the clean energy transition.
It's time to take action
It is clear that achieving SDG 7 will be no easy feat. But with the power of science, technology and innovation, IBM is confident that it is possible. By uniting experts and technology through the IBM Sustainability Accelerator, we can scale and speed up solutions for helping underrepresented communities most devastated by environmental threats.
In order to drive real progress, everyone needs to play their part – whether it be through private sector funding, partnerships, or other contributions. The only way we can overcome these barriers and ensure affordable, reliable, and sustainable energy for all is by working together with innovative, cross-sector partnerships.