What's next in disruptive tech? Five takeaways from Disrupt Berlin 2017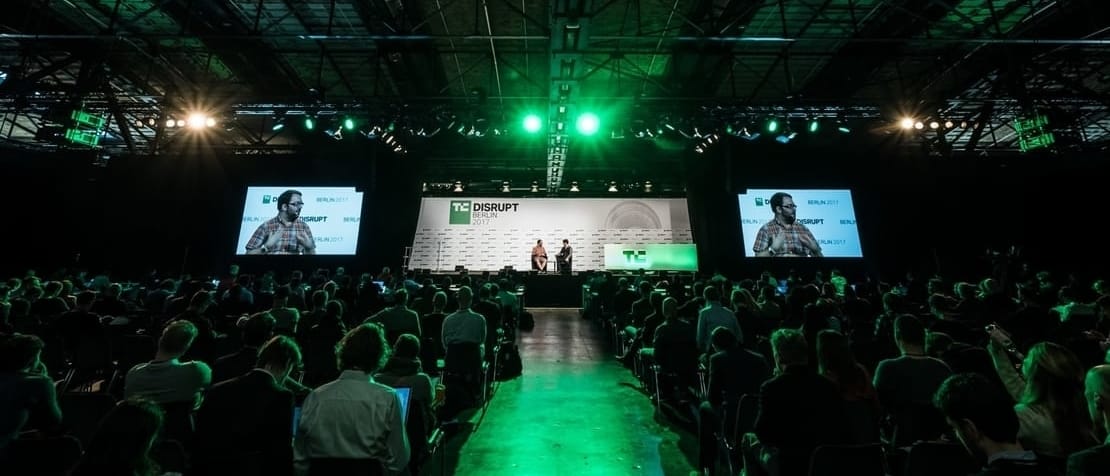 Digital Economy
|
Digital Financial Services
|
Innovation & Creativity
Technology is developing at an exponential pace that can be difficult to follow.
But one conference tries to stay ahead of the curve: TechCrunch's regional European conference, Disrupt Berlin, showcases the latest in game-changing technology, and thought-leadership from key innovators and disruptors in tech.
From FinTech to FemTech, ITU News has five top takeaways from Disrupt Berlin 2017.
1. Cryptocurrencies are more likely to cause disruption in the long-term
From latent bitcoin mining to the recent 'freezing' of $150 million worth of Ethereum – discussion on cryptocurrencies dominated the two-day event.
"It's definitely history what we see now," Nikolay Storonsky, co-Founder and CEO of Revolut, said to ITU News about the 'hype' around these digital assets.
Revolut, the FinTech disruptor that offers competitive mobile banking services, recently launched cryptocurrency trading (Ether, Lightcoin and Bitcoin) on the platform.
Storonsky says that it will be treated exactly the same as any other currency; "Crypto is a financial product as well," he told the audience at Disrupt Berlin earlier this week.
"I don't think in the near [term] that cryptocurrency will disrupt fiat currency; I think we will still be using dollars, pounds, euros," he told ITU News at the event. "I think Bitcoin will be like a stock value, same as gold if you want to store your money somewhere, not in a bank account."
Do attendees think that it will have an impact on their lives in 5 – 10 years?
"Yes, but whether or not I understand the depth of that [impact], I'm not sure," Danielle Seymour, a representative of Playt, said. "I think there will be a big, very much behind-the-scenes nature of it."
2. Much more to come — soon — from Artificial Intelligence (AI)
AI and machine learning are already part of our everyday lives — and they will be key tools for every company in the near future.
This was the message from Google during their talk, 'Machine Learning with Google Cloud & SearchInk'.
"I think there are so many different areas that Artificial Intelligence will go that we cannot even imagine," Vinko Kojundizic, Managing Director at Cuspis Group, told ITU News. "We are talking about the next couple of years – so, less than five – we will see major improvements in that area. That's my takeaway from [Disrupt Berlin]."
3.Successful disruption doesn't have to be 'high tech'
The winner of the Startup Battlefield at TechCrunch Disrupt Berlin 2017 provides an alternative solution to an archaic women's health technology.
"1987 brought us the first cellphone, the boombox, the Apple personal computer and the at-home pregnancy test," Bethany Edwards, co-Founder and CEO at Lia Diagnostics, said to Startup Battlefield judges. "It's been 30 years since 1987 and all of these revolutionary innovations have advanced significantly, except for one: the at-home pregnancy test."
Lia Diagnostics developed the first-ever flushable pregnancy test, that is both biodegradable and discreet, without compromising on accuracy.
4. Human creativity may prevail over AI
Disrupt Berlin 2017 held 'Off the Record' sessions — unrecorded, moderated question-and-answer sessions with founders and investors, on Artificial Intelligence/Machine Learning, Cryptocurrencies/Blockchain, Biotech, Robotics and Fintech.
Attending, Danielle Seymour, told ITU News her key take-away from a session on Robotics.
"What was actually quite interesting, was they were arguing [about] whether or not we should be worried about robots, or robots should be worried about humans," she said. "Whether or not [the creativity we are capable of] is actually a bigger threat than what robots will pose to us."
5. Berlin is a startup city
As the self-proclaimed "world's leading authority in debuting revolutionary startups," what is the main takeaway from Disrupt Berlin 2017 for early stage companies exhibiting at the conference?
"I think it is probably two-fold. One of them is obviously, because we are in the early stages, to get feedback and start meeting people. Not just people for funding, but also prospective clients," Dana Gornitzki, CMO and Co-founder Dext Cloud, told ITU News. "Also meeting other people in the startup space, and really exploring the scene in Berlin."
"Now we know this is a city we want to come to again," she added
By Lucy Spencer, @inquisitivelucy