Here's how we can avoid an AI divide in healthcare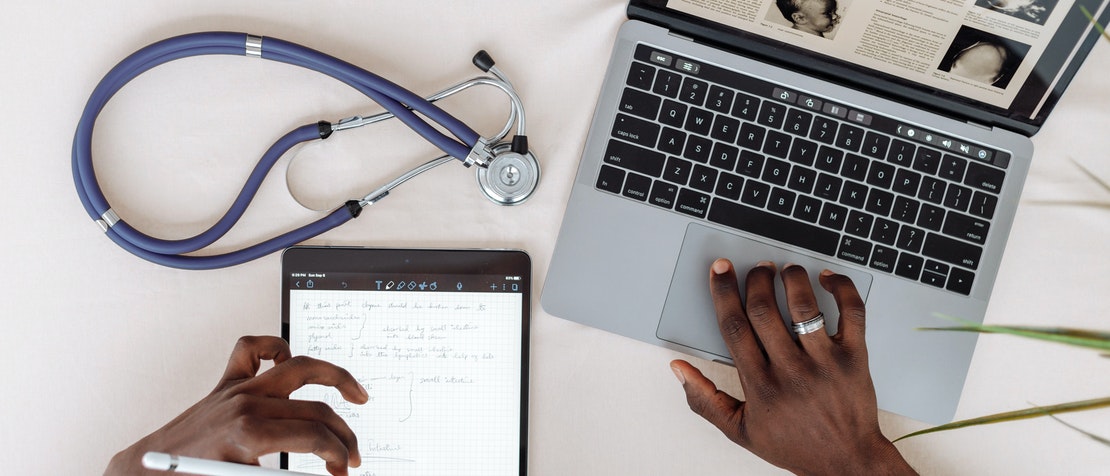 Health
|
Inclusivity
Even before the world began to grapple with COVID-19, many turned to artificial intelligence to fast-track solutions for healthcare challenges confronting patients, health workers, institutions, and governments.
Yet, as AI-driven applications are being tested and deployed, a call to ensure these endeavours do not deepen existing inequalities between developed and developing countries grows louder.
Low- to middle-income countries, which account for 85 percent of the global population, bear 92 percent of the global burden of disease, according to pre-COVID-19 statistics from the World Health Organization (WHO).
Digital health tools are seen as avenues for improved access to services that can in turn enhance health and wellbeing, but several factors must be taken into account to ensure digital divides are not replicated or intensified.
A deepening digital divide
Research has found that AI can help achieve positive results for 134 targets of the UN Sustainable Development Goals, but it might also inhibit progress towards 59 targets. Alongside concerns about bias, privacy and ethics, questions about deepening the digital divide should also be dwelled upon when it comes to AI, said Fred Werner, Head of Strategic Engagement at ITU.
"Developing countries don't always have rich datasets," Werner noted, calling for digitization of information to fully leverage AI.
"Finding preconditions to exchanging data for collaboration in safe and secure ways is hugely important," he added. Data has to be discoverable to scale related AI solutions.
Training AI consumes a lot of energy and requires a great deal of computational resources. Only wealthier countries and universities tend to have the computing power to run machine learning models, noted Reinhard Scholl, Deputy Director of ITU's Telecommunication Standardization Bureau (TSB). This poses an obstacle for the democratization of AI and frontier technologies, he added.
AI also requires large sets of 'clean' data and connectivity. Currently, however, only about half of the population around the world have access to the internet, according to ITU statistics.
Professor Moez Draief, Global Chief Scientist at Capgemini Invent, studied 50 organizations to understand how AI can help improve healthcare outcomes and experiences. While a lot of investment went into the technologies, data and human capital, Draief's team found the challenge of using AI was in going beyond algorithms to impacting lives. "It takes about 15 months from idea to delivery in the health space," he said.
From lab thinking to the real world
A project Capgemini Invent has been working on in France for two years, TrauMatrix, seeks to provide decision support to doctors treating trauma patients in the first 24 hours. Using a database of road accident victims, the solution aims to parse more data than normally collected to make ultra-specific contextual decisions for emergency surgeries.
Another tool developed by Capgemini Invent aims to anticipate hospital capacity shortages amid COVID-19. Using machine learning, it forecasts impending need for beds, equipment, and personnel.
Using a mix of traditional and modern techniques, the team discovered the possibility of creating decision-making tools that account for the future impact of scenarios such as seasonal pressure on healthcare resources or dispensing vaccinations.
The challenges, Draief says, have been finding reliable data sources, understanding who gets access and finding ways to aggregate and sift through huge amounts of data.
When it comes to data sharing, it is important to move from "lab thinking" in health innovation to the "real world", he added. Draief underscored the importance of ethical sharing and ensuring respect and privacy, since AI solutions also must cater to all populations and not a sub-section, he added.
'High tech' not always needed
Ulla Jasper, Policy Lead at Fondation Botnar, recognizes the new "double sidedness" of new risks and rewards stemming from digital health technologies. Nevertheless, Jasper wants to see AI improving the wellbeing of young people in low-income and developing countries.
COVID-19 has had an accelerating impact on digital transformation and these should be leveraged in low-income and developing countries, noted Jasper. Fondation Botnar's Afya-Tek project in Tanzania seeks to improve healthcare at the level of the community with the help of digital health technologies.
By digitizing the flow of information and using biometric data, the project aims to stop preventable deaths of children under five years old.
Another Botnar project, DYNAMIC, equips Tanzanian community health workers with devices using software based on clinical algorithms to support their decision-making. DYNAMIC is based on a study that identified the need to reduce avoidable over prescriptions of antibiotics.
Park Soo Jun, Assistant Vice President at Korea's Electronics and Telecommunications Research Institute, explained how digital technologies are helping Korea to fight the spread of COVID-19 with quicker screening and diagnoses.
But it's not the ultra-sophisticated AI that's been the most relevant, Park pointed out. Simpler tech solutions such as smart quarantine systems, self-check health and self-protection quarantine apps and chatbots have been powerful tools in their response to the pandemic, he said. Jasper agrees that it's "not about the fanciest AI" and even simple ideas such as equipping community health workers with a mobile phone or tablet can improve clinical care.
A call for technical standards
Bottlenecks in deploying solutions can also be 'low-tech', especially in contexts where devices must be tamper-proof, waterproof, and resistant to high temperatures to have a higher impact. Despite the explosion of data we often read about, detailed information about marginalized communities are often missing in digital health projects, pointed out Jasper.This widens the scope for inequalities in healthcare, she added.It is important to avoid misuse of health data.
There are also instances where the data is available but not shared due to a lack of enabling standards.
Jasper raised the key challenge of using AI in health as one of governance and underscored the need to establish to robust standards.
The International Digital Health & AI Research Collaborative (I-DAIR) aims to pursue collaborative research projects in global health to ensure an "inclusive global health agenda" through responsible governance of AI and digital technologies. While Jasper acknowledges claims of hype around AI, she believes that these data-driven technologies are here to stay and require deeper understanding.
Jasper advocated for the need to go beyond pilots and one-off projects to rigorous evaluations of AI solutions' impact on health outcomes.
The ITU-WHO Focus Group on AI for Health is an important tool in achieving this, she added. "The whole benchmarking process will allow us to settle on a few applications we can scale up and implement systematically and on a wider basis," Jasper pointed out.
The Focus Group is global, neutral and follows a model of collaboration working towards standardization. The Focus Group is developing a framework and associated processes for the performance benchmarking of 'AI for health' solutions. "It will be important for decision-makers," noted Jasper. This performance benchmarking of AI solutions can be compared to the studies of the efficacy and safety of pharmaceuticals that support national health regulators in deciding whether to approve pharmaceuticals' entrance to the market.

The ITU-WHO Focus Group on AI for Health is free and open to everyone. Those interested can participate here.
Image credit: Thirdman via Pexels