Go back to programme
AI for heart attack prevention: The story of Iker Casillas, World Cup winning goalkeeper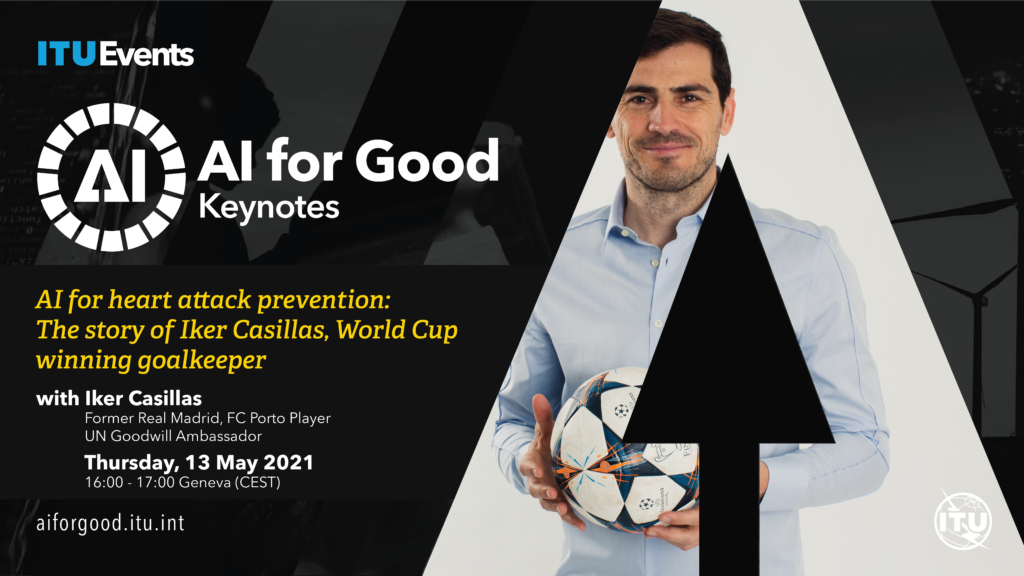 * Register (or log in) to the AI4G Neural Network to add this session to your agenda or watch the replay
In 2019, Iker Casillas, Real Madrid goalie and World Cup Football Champion, suffered a sudden heart attack during a training session and was forced to retire from elite-level football. Overnight, his life was changed forever, and he found himself re-evaluating his life priorities.
He started to learn about cardiovascular diseases and discovered that it is the first cause of death worldwide. This is an 800 billion Euro per year problem and the high costs of lengthy treatments can often result in loss of income and force millions of people into poverty annually, especially in low-resource settings. Cardiovascular diseases threaten progress towards the United Nations Sustainable Development Goal 3, which has a target to reduce premature deaths by one-third by 2030 (target 3.4).
But how can we reach this ambitious target and save lives?
One way is by using artificial intelligence. 300 million ECGs are manually analyzed every year by experts all around the world. If a machine could do this job in less than a second, we have the potential to reduce this time and its cost to zero. Think of the potential…
But what are the bottlenecks standing in the way of monitoring the world's heartbeats and treating this crisis? AI needs big data to work its magic and what are the preconditions needed for trusted heart data collection and analysis on a Global level? What do regulators, policy makers and institutions need to know to help realize the full potential of AI to prevent heart disease?
Find out as Iker Casillas shares his personal journey and how he teamed up with Manuel Marina, CEO of IDOVEN, a European HealthTech startup using AI to redefine and revolutionize the diagnosis of cardiac diseases.
Interested in the topic of AI for health? Explore the work of the ITU/WHO Focus Group on AI for Health (FG-AI4H)