4 emerging technologies on display at the 2018 World Cup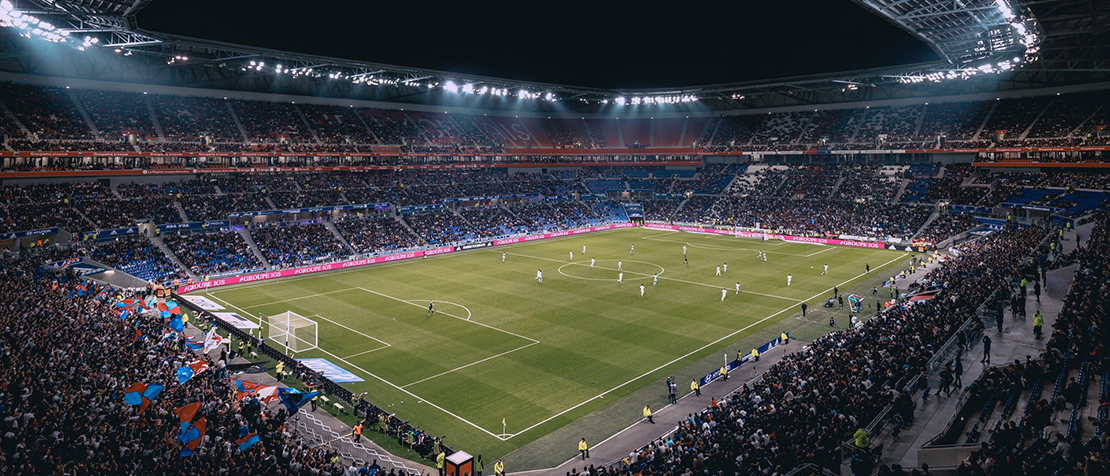 Innovation & Creativity
|
Sport
As the top teams compete to become the 2018 World Cup champion, there's another spectacle on display at the tournament in Russia: emerging technologies.
The high-profile stage of the World Cup, which reached 3.2 billion viewers in the final match in 2014, provides a venue to showcase new technologies, said Varuna De Silva, Lecturer in Artificial Intelligence at Loughborough University in London.
'Accelerated adoption drives accelerated innovation.' – Varuna De Silva, Lecturer in Artificial Intelligence at Loughborough University in London
This attention can help drive further advancements in specific technologies directly related to improving the game as well as to broader innovations that could improve the lives of viewers at home, he said.
"A world cup, especially football, draws the attention of millions of viewers across the globe," he said. "The companies that sponsor the technology can benefit from the publicity it receives, which accelerates adoption. Accelerated adoption drives accelerated innovation."
This year's World Cup features a range of emerging technologies, including Video Assistant Referee (VAR), Electronic Performance and Tracking Systems (EPTS), Ultra High Definition video (UHD) and virtual reality (VR), and 5G.
VAR
While VAR has been trialed in several competitions and there are similar systems in other sports including cricket and tennis, the 2018 World Cup represents a high-profile deployment of the new technology for football.
VAR allows referees on the field to use a fiber-based radio system to refer to video referees, who monitor the game using slow-motion cameras.
"On-field referees are humans and can make mistakes, and VAR is a method to assist correction of 'clear and obvious errors,'" De Silva explained.
EPTS
EPTS, a tablet-based system, gives coaches real-time access to player statistics and video footage, which can help players and coaching staff to create targeted training regimes and strategies.
There are potential artificial intelligence (AI) and big data applications to advancing this technology, De Silva said.
"For example, at Loughborough University we work with an elite Premier League football club to use the position tracking technology to understand game strategies, and to develop new strategies to suit different opponents," he said. "We use cutting edge artificial intelligence and sensor data processing to develop this project."
UHD and VR
The BBC is testing UHD and VR technologies at the tournament. The media company is offering a limited number of UHD feeds online on its BBC iPlayer. It is also featuring VR coverage on its BBC Sport VR – FIFA World Cup Russia 2018 app.
"With these trials we're giving audiences yet another taste of the future," Matthew Postgate, BBC Chief Technology & Product Officer, said in a statement.
5G
The World Cup has also put a spotlight on Russia's efforts to make progress on 5G development.
For example, Swedish networking and telecommunications company Ericsson partnered with Russian telecommunications company MTS to deploy 5G-ready Massive Multiple-Input Multiple-Output (MIMO) technology on the MTS network in seven of the 11 tournament cities. This included coverage at select stadiums, fan zones, transportation hot spots, and landmarks including Red Square and Tverskaya Street in Moscow, said Sebastian Tolstoy, Head of Ericsson in Russia.
This trial allows "tens of thousands of fans together in one place to enjoy high-speed mobile Internet without any loss in speed or quality," he said.
"This was a major contribution in the preparation of the country's infrastructure for the global sporting event of the year," he continued. "Massive MIMO boosts network performance in uplink, downlink, spectrum efficiency few times, which allows smooth live broadcasting actively used by fans at this tournament."
In addition to efforts at the World Cup, Ericsson and MTS opened a 5G center in Russia in April to explore opportunities related to 5G and the Internet of Things (IoT) for Smart Cities, Tolstoy said.
"5G will soon help to transform the lives of people, businesses, and society," he said.
What's next?
As these technologies continue to develop, De Silva says that it's important to keep in mind how they might affect those involved, especially when it comes to sports.
"There is a lot passion and emotion involved in sports," De Silva said. "Therefore the use of technology has to be scrutinized at every step of its adoption. Technology is a tool, but as always, the utilization of it should be given a quite a lot of thought, so that it does not affect the spirit of the game."
By Kirsten Salyer, @kirstensalyer