Go back to programme
Artificial Intelligence for Manufacturing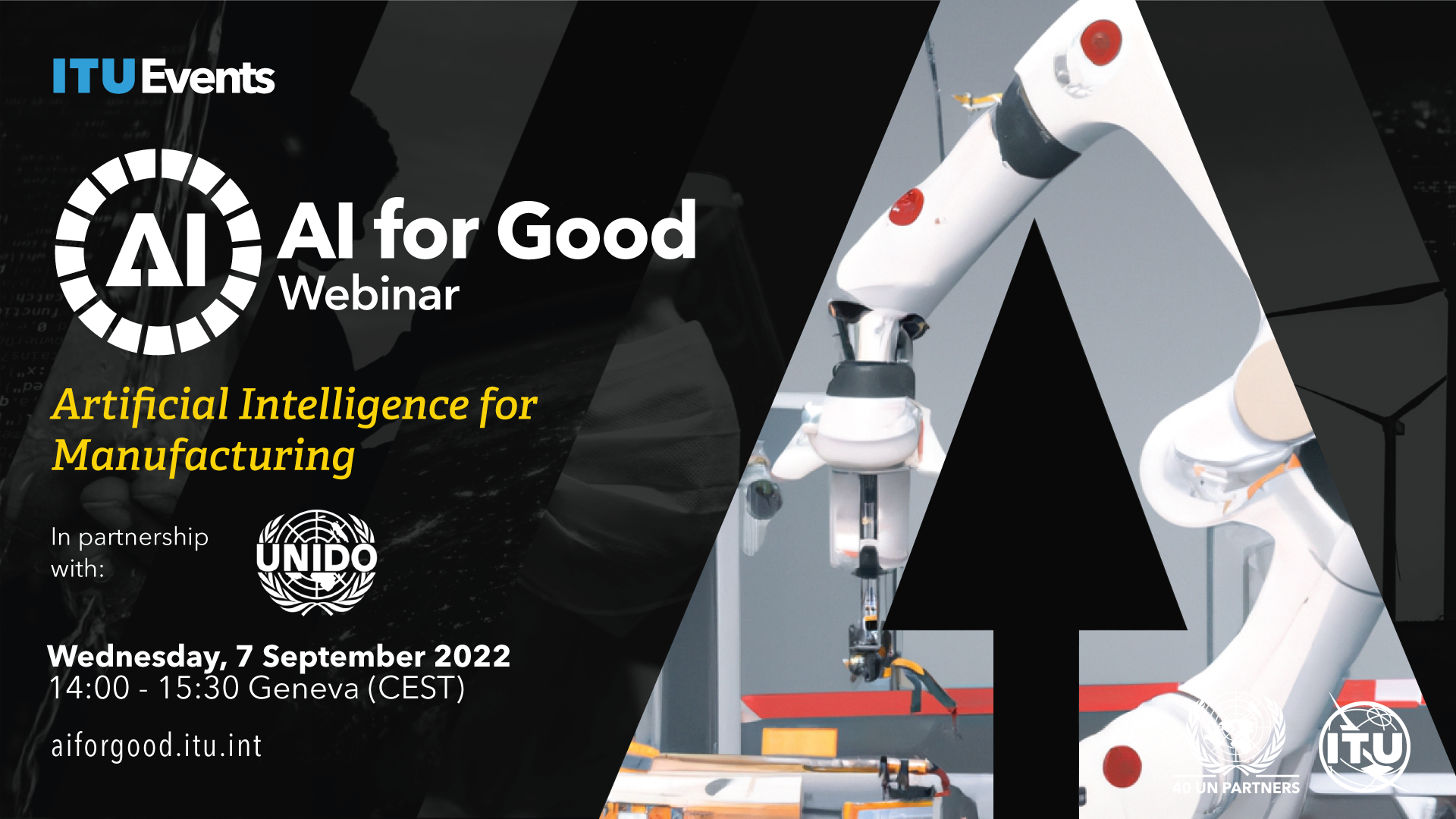 * Register (or log in) to the AI4G Neural Network to add this session to your agenda or watch the replay
Manufacturing is an integral and huge part of the economy and plays an essential role in accelerating progress toward the UN Sustainable Development Goals (SDGs). With the rapid development of information technology and the continuous deepening of the digital transformation process, AI is gradually applied to the whole lifecycle of manufacturing: AI in supply chain management, AI and the smart factory, and AI in the product lifecycle management. This trend is expected to accelerate. 
Together with the United Nations Industrial Development Organization (UNIDO), ITU launches the AI for Manufacturing series. A kick-off event on 7 September 2022 will set the stage for a series of expert talks over the following months which will bring together leading voices from academia, industry and policy to discuss the latest advances of AI as applied to manufacturing, drawing from a variety of techniques such as modeling and simulation, digital twin, blockchain, 5G, and edge computing.
Programme;
Welcome remarks: Houlin Zhao, Secretary General, ITU
Welcome remarks: Ciyong Zou, Managing Director, Directorate of Technical Cooperation and Sustainable Industrial Development, UNIDO
"From AI to AI-enabled Smart Manufacturing", Lihui Wang, Professor and Chair of Sustainable Manufacturing, KTH Royal Institute of Technology, Swede

Abstract: Smart manufacturing depends on the timely acquisition, distribution, and utilisation of information from machines and processes on manufacturing shop floors. This is especially true for factories of the future. Effective information sharing can improve production quality, reliability, resource efficiency and the recyclability of end-of-life products. Smart manufacturing built on digitalisation also aims for better sustainability. As emerging infrastructures, cyber-physical systems and cloud manufacturing provide new opportunities to achieve the goals of smart manufacturing, where digital twin and human-robot collaboration add values to manufacturing operations. For the sake of the audience with diverse background, the following topics will be covered.

Latest advancement and future opportunities in smart manufacturing
Showcases of remote monitoring and control, and human-robot collaboration.
While advanced technologies show great promise, challenges and future trends remain to be identified                           and will be highlighted in this introductory presentation, followed by a panel discussion.
"Why Do We Care About Artificial Intelligence?", Jeffrey Abell, Chief Scientist for Global Manufacturing and Director of Manufacturing Systems Research, General Motors

Abstract: The field of Artificial Intelligence has been a topic of research and interest for over 50 years especially for manufacturing applications, but sometimes the reality has fallen far short of the promise. In this talk we will explore why AI should still be on everyone's A-list of research topics and discuss how we are approaching the challenge of describing potential impact for manufacturing.

"Breaking Beliefs in Manufacturing", Dalith Steiger, Co-founder and Managing Partner, SwissCognitive
Panel Discussion
This live event includes a 30-minute networking event hosted on the AI for Good Neural Network. This is your opportunity to ask questions, interact with the panelists and participants and build connections with the AI for Good community.