IBM Project Debater visits the United Nations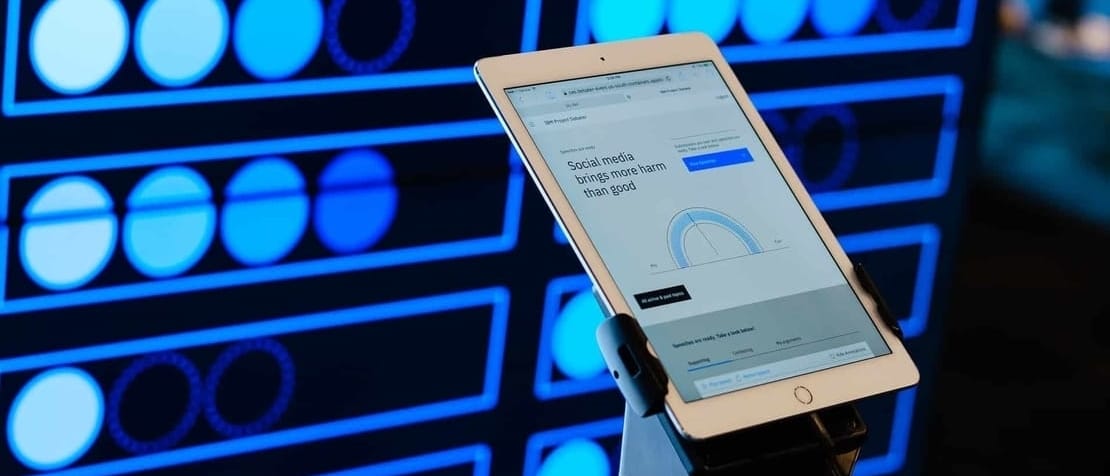 Disinformation
|
Ethics
Can Artificial Intelligence (AI) capture the narrative of a global population on a controversial topic?
At the AI for Good Global Summit we aim to find out.
A few months ago, IBM unveiled Project Debater to the world. It's the first ever AI technology to meaningfully engage in a live debate with a human. It was the culmination of several years of research and a milestone in a computer's ability to master human language. A replay of the full live debate is available to watch.
Now we are in the process of delivering some of the core AI capabilities behind Project Debater to the cloud, packaged as a service called Speech by Crowd.
As it sounds, Speech by Crowd supports the collection of free-text arguments from large audiences on debatable topics to generate meaningful narratives out of these numerous independent contributions.
Earlier this year, we experimented with Speech by Crowd at both the Consumer Electronics Show (CES) and the IBM THINK conference where we collected thousands of arguments written in natural language.
From these very disparate submissions, Speech by Crowd extracted key themes, summarized them concisely, and selected the highest quality arguments to support each theme. This resulted in compelling narratives, representing both sides of the debate, including insights and thought-provoking points by many different individuals.
We want your arguments
For the month of May we are opening up Speech by Crowd again to collect your best arguments on the topic: "Social media brings more harm than good."
While people often agree that one argument is better than the other, the notion of argument quality is hard to formalize.
Here are two examples of arguments considered to be of high quality, contributed at Consumer Electronics Show (CES) in January to the Speech by Crowd solution for the topic "Gambling should be banned":
Pro:
Gambling provides a false hope that most will never get to experience; therefore, it disproportionately effects the poorest members of society, who hope to get there, but mostly just worsens their situation.
Con:
Gambling serves the community at large by generating tax revenue for the economy, providing a positive outlet for mental health, and jobs.
IBM Project – Debater Speech by Crowd debuts at CES 2019 in Las Vegas. Credit: Graham Carlow for IBM
These are both good examples. Now it's your turn.
Starting today, we want your best arguments about whether "social media brings more harm than good." Please submit them here.
To collect an international pulse on this topic, we will be promoting Speech by Crowd with keynote talks and demonstrations, at several events this month including: Bologna Medicina in Italy (May 9-12), VivaTech in France (May 16-18), and C2 in Canada (May 22-24).
After collecting your arguments, with the help of Speech by Crowd, we will present the final narratives in Geneva, Switzerland at the AI for Good Global Summit, the leading United Nations platform for global and inclusive dialogue on AI.
RELATED: How will AI accelerate sustainable development? Find out at the AI for Good Global Summit.
Click here to submit your arguments and on Thursday, 30 May watch the AI for Good webcast for the results.
Ask me anything
Curious about Project Debater or Speech by Crowd? Do you have technical questions?
Join me, my colleague Ranit Aharonov, Manager and Project Debater at IBM Research and champion debater Harish Natarajan, who challenged Project Debater last February on Reddit for a session of Ask Me Anything on May 20.
More information about the AI for Good Global Summit