Revolutionizing Collaborative Research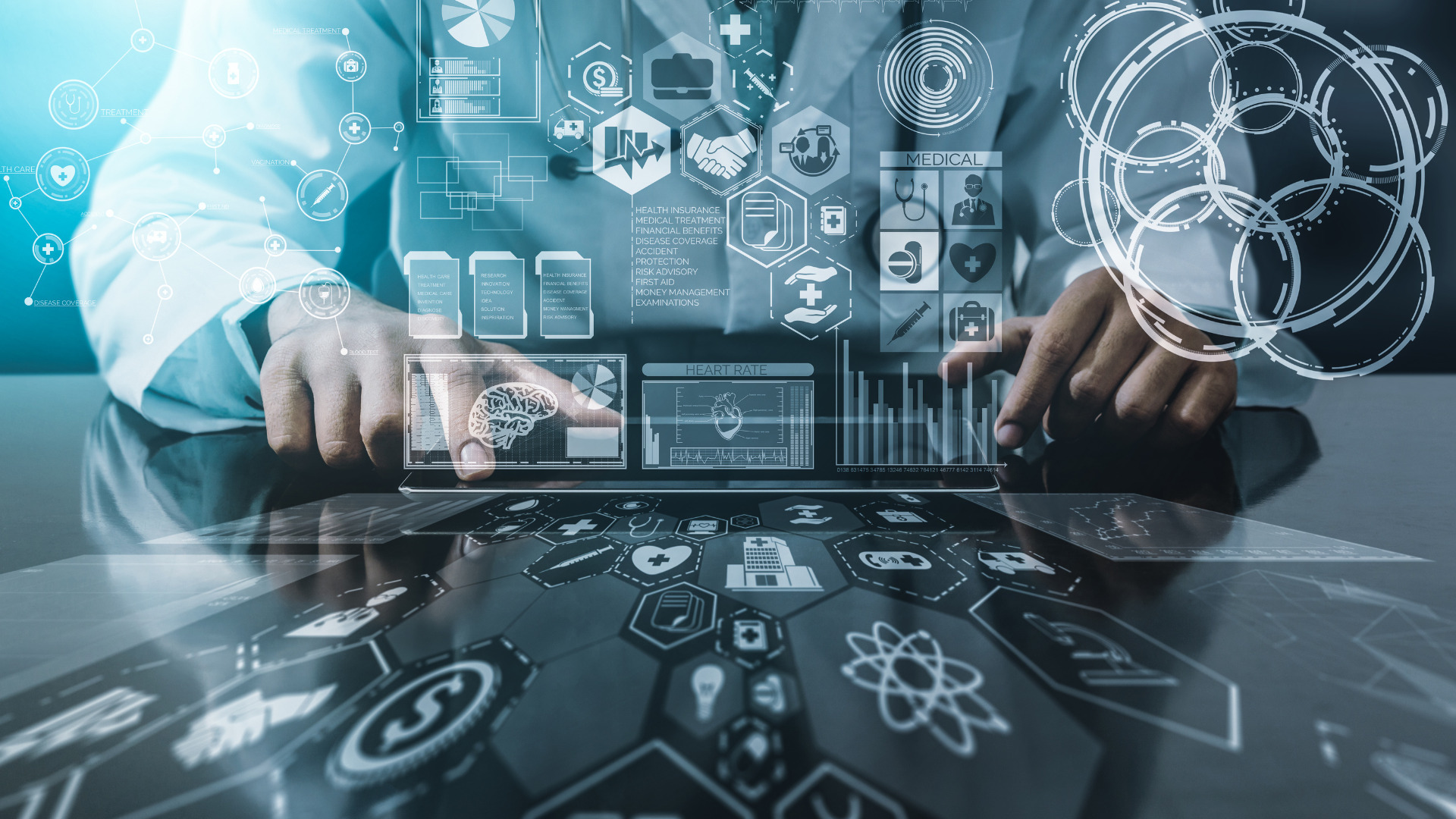 Health
|
Inclusivity
By Lindgard Buder
Advancements in AI have the potential to revolutionize healthcare by improving our ability to generate evidence that promotes better health decisions and better care. One of the most promising collaborative efforts in this area is the Observational Health Data Sciences and Informatics (OHDSI) initiative, which brings together a diverse group of stakeholders from around the world to conduct large-scale studies on health data. With over 3000 researchers from 80 countries and health records on 928 million unique patients, OHDSI is leveraging the power of AI to overcome the biases inherent in medical literature and produce evidence that can inform the treatment of conditions such as hypertension and COVID-19.
The AI for Good Discovery session "Drawing reproducible conclusions from observational clinical data" delves into the exciting work being undertaken by OHDSI to enhance health outcomes through data-driven, collaborative research.
Watch the full AI for Good Discovery to learn more about the future of collaborative research.
On reliable evidence
Observational research is a technique used to collect real world evidence. With little to no interference by the researcher, subjects can be observed in their most natural setting. Instead of conducting experiments, observational research looks back at already available data.
However, there is a need for large data bases as there is too little evidence data to draw upon. "We are increasingly relying on AI", says Dr. George Hripcsak, Chair and Vivian Beaumont Allen Professor of Biomedical Informatics at Columbia University, and Leader of the OHDSI coordination center. But even with a large number of test persons, concerns about the veracity of data and various biases can arise.
According to Dr. Hripcsak, reliable evidence thus requires a new tool: the community. This can take various forms, such as creating data networks that adhere to community standards, implementing community best practices, or sharing evidence through open-source tools that are accessible to the community.
Building a community
OHDSI is dedicated to empowering this type of collaborative community in order to generate evidence that can inform better health decisions and improve healthcare outcomes.
"OHDSI is an evidence generation initiative. It has a database, it has a data model, it has a vocabular – but the primary goal is generating reliable evidence.", emphasizes Dr. Hripcsak.
Through a federated database, researchers are able to keep their data local while OHDSI distributes the query, making it accessible to the voluntary network across the world. This way, results can be analyzed collaboratively.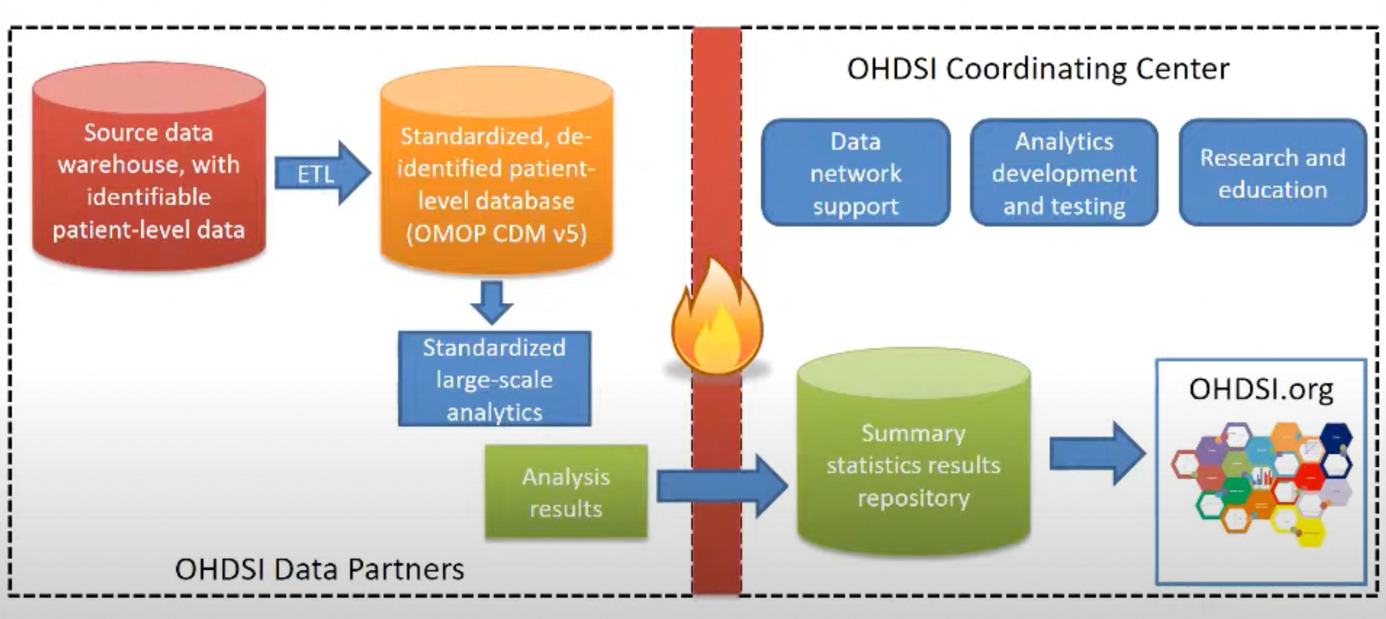 (Image source: Dr. Hripcsak)
Giving the community a common voice
To bridge the gaps of language barriers, OHDSI developed a deep information model. With a set of tools that verify data quality, over 10 million concepts in its vocabulary and more than 80 thousand relationships among those concepts, this database format allows researchers from different backgrounds to collaborate and contribute to the generation of robust, generalizable evidence.
This evidence can be divided into three types: Clinical characterization, population-level estimation, and patient-level prediction. For each of the types, Dr. Hripcsak delves into interesting real life examples including treatment pathways for diabetes, comparison of hypertension drugs and COVID-19 vaccine safety methods research.
No community without partnerships
The OHDSI initiative collaborates with a variety of different agencies around the globe. Among them are the US Food and Drug Administration, the All of US Research Program, the National COVID Cohort Collaborative as well as the European Health Data and Evidence Network. South Korea's National CDM Projects have even adopted the OHDSI's data model as their national standard.
"The tide has turned and the incentive to put it all in one database is very strong now", Dr. Hripcsak convincingly stated.
OHDSI believes that conducting large-scale observational research that is both open and verified holds the potential to be more reliable than the current approach. When asked where he sees OHDSI in ten years, Dr. Hripcsak responded: "Being a large-scale producer of evidence that is used by patients and doctors every day is what I would hope to happen."
For more insights into AI and health, we invite you to watch this AI for Good Discovery on performance evaluation of AI-based diagnostics.