Go back to programme
Protecting life after war and conflict: drones, thermal sensing and AI for weapon decontamination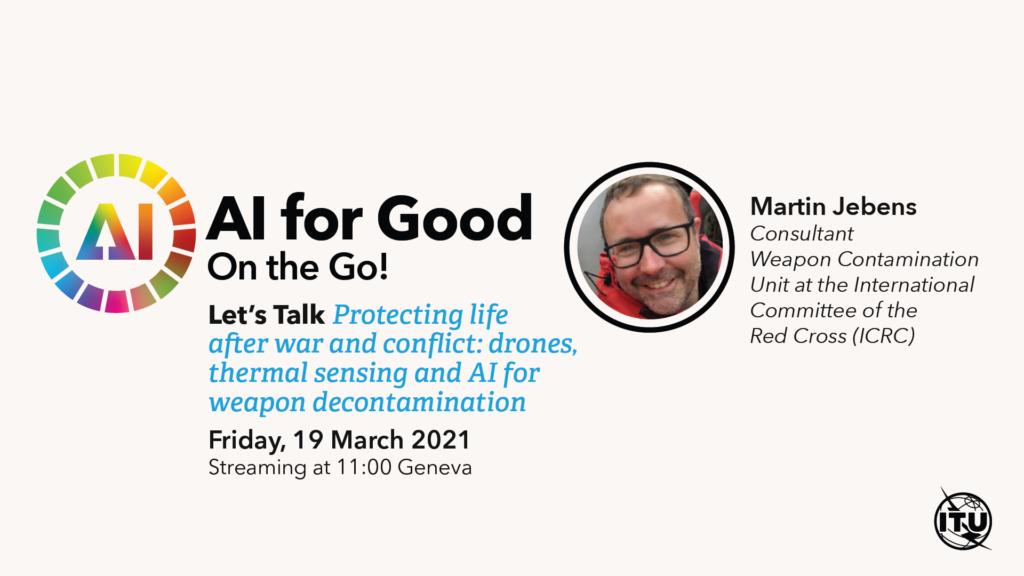 * Register (or log in) to the AI4G Neural Network to add this session to your agenda or watch the replay
Landmines and weapons are a deadly obstacle to both humanitarian access and everyday survival in conflict zones, with over 26,000 people per year being maimed or killed by these explosives in the mid-1990s. Even now, people in active conflict zones are losing their lives, limbs, and livelihoods from these indiscriminate weapons, and abandoned/unexploded weapons can endanger innocent lives long after their original purpose.
In this episode of Let's Talk, we will connect with Martin Jebens, Consultant and Weapon Contaminations Specialist working with the International Committee of the Red Cross, to talk about his current work in weapons decontamination and disaster risk management. We will explore how drones, thermal sensing and AI can be used to scale data collection and objection recognition of abandoned weapons, the different types of sensitive conditions that need to be recognized when gathering data and deploying these technologies in the field (especially in the context of the pandemic), and the viability of such technology to be made available for humanitarian aid at large. Finally, we will engage in a lively discussion on what promising applications these technologies may have to improve our ability to improve humanitarian action and to achieve the United Nations Sustainability Development Goals.
WHAT IS LET'S TALK?
Let's Talk is AI for Good's series of live and interactive fireside chats focused on human-centric conversations around AI presented straight to social media.