Go back to programme
AI/ML solutions for Climate Change Innovation Factory live pitching session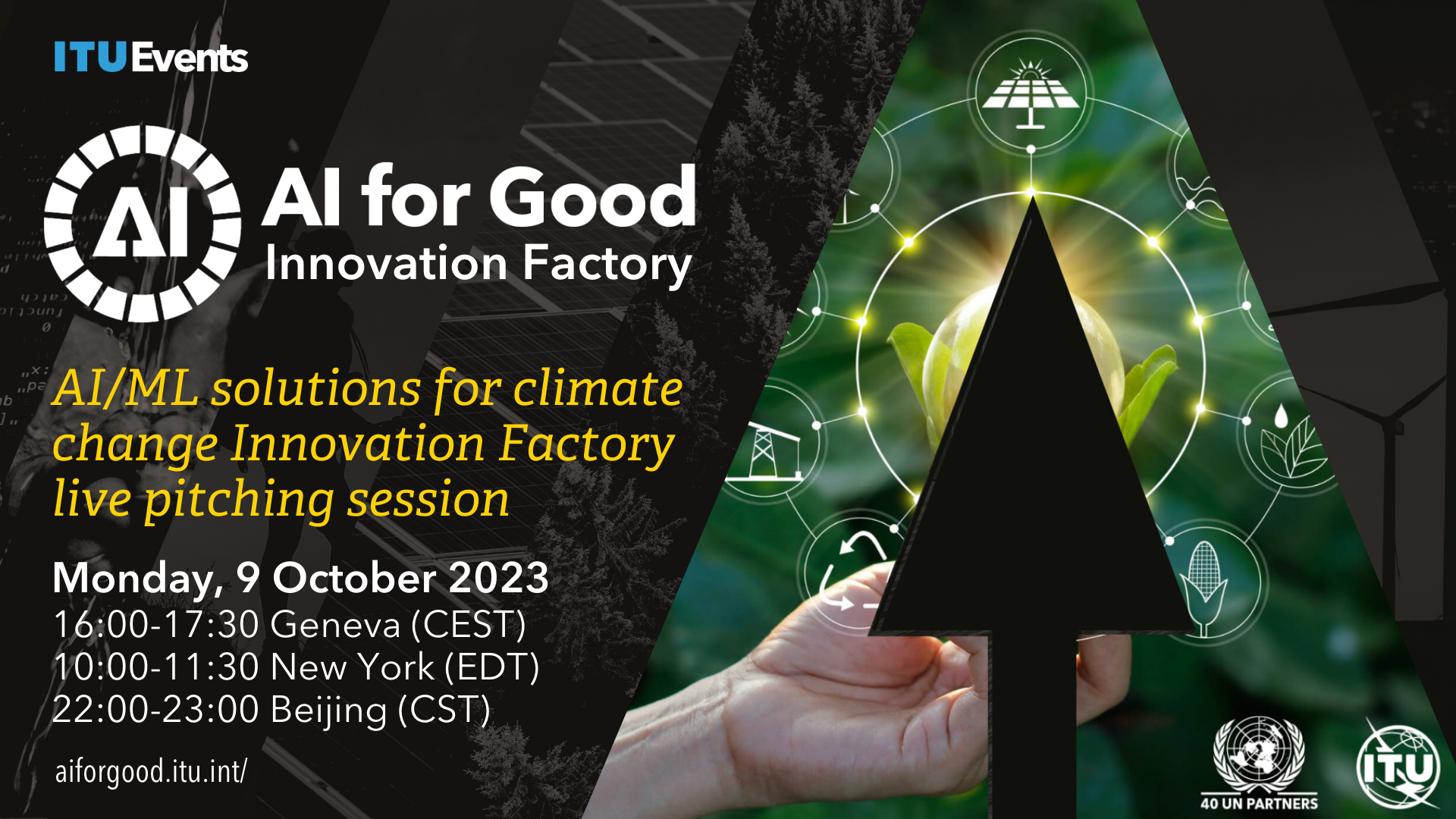 * Register (or log in) to the AI4G Neural Network to add this session to your agenda or watch the replay
Welcome to the AI/ML solutions for Climate Change live pitching session!
This is a global start-up pitching session to find the most promising solutions using AI to solve climate change challenges. The contest, which was launched at the AI for Good Global Summit 2023 by the International Telecommunication Union (ITU), the International Atomic Energy Agency (IAEA), the Food and Agriculture Organization of the United Nations (FAO) and the United Nations Educational, Scientific and Cultural Organization (UNESCO) is open to any innovative start-ups using AI, machine learning and advanced algorithms to address the impact of climate change on food security and sustainable water resources.
The winners of the live pitching session will receive:
Opportunity to present their solutions at the 2023 United Nations Climate Change Conference (COP28), in Dubai, United Arab Emirates as part of the UN Side Event "Crowdsourcing Solutions for Climate Change", hosted by ITU in partnership with IAEA, FAO and UNESCO.
Networking opportunities with the UN system organizations and other potential business partners
Mentoring from judges
AI for Good Innovation Factory Grand Finale ticket at the AI for Good Global Summit 2024 (30-31 May 2024)
VIP pass to attend the AI for Good Global Summit 2024 (30-31 May 2024)
Exhibition booth at the AI for Good Global Summit 2024 (30-31 May 2024)
Exhibition booth and general pass at the World AI Cannes Festival 2024 (8-10 February 2024)
Featured Start-up in the Innovation Factory Exhibition on the AI for Good Neural Network
WHAT IS AI FOR GOOD INNOVATION FACTORY? 
AI for Good Innovation Factory is a UN-led pitching platform to help start-ups grow and scale their innovative AI-powered and SDG-driven solutions, by connecting them to potential business partners, investors, governments, big IT companies and more.
This Innovation Factory focused on climate change gives start-ups a global stage to promote and help grow their innovative, AI-powered and climate-driven solutions.
For those who are seeking ground-breaking solutions from start-ups, it is an excellent platform to explore opportunities to meet promising ventures and collaborators.
AI for Good partners have identified five problems for contestants to solve in the areas of food & climate-smart agriculture and water resource management:
How can AI help estimate soil properties across large areas? (based on data collected from infrared spectroscopy, gamma spectrometry techniques and satellite imagery)
How can AI help map and monitor soil moisture levels? (using data from cosmic ray neutron sensors and gamma spectrometry techniques, in combination with satellite imagery)
How can AI complement the Earth Map to help users identify water-related challenges in specific areas and provide useful insights on and analyses of water resources?
How can AI help identify water resources vulnerable to climate change and support flood and drought forecasting and early warning?
How can AI be integrated into isotope hydrology studies to support water management and mitigate the world's water problems?
More information about the contest and the complete list of problem statements can be found here. Applications are open until 30 September.