A win for health: AI for Good announces winner of the Innovation Factory Grand Finale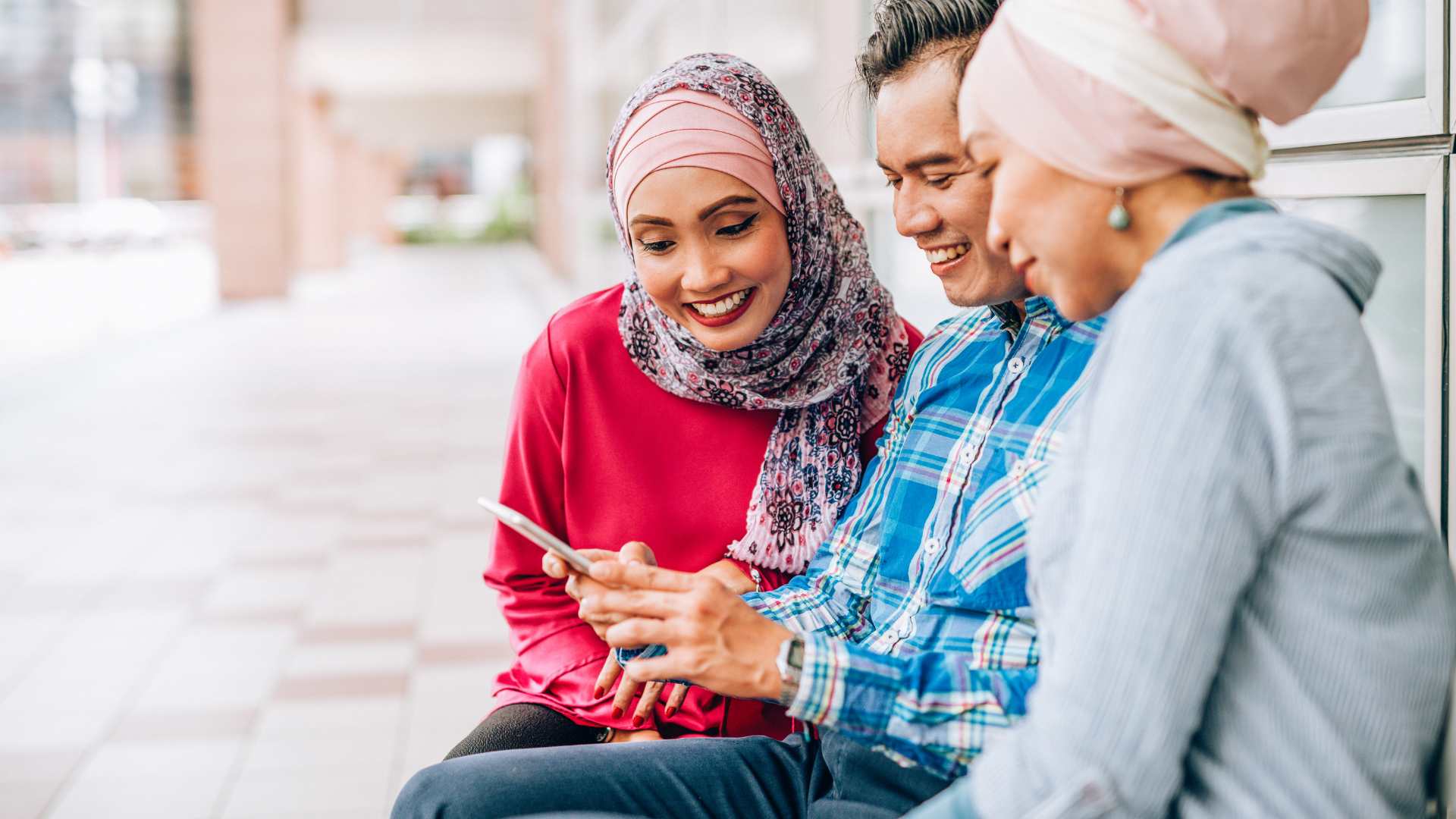 Education
|
Innovation & Creativity
After a year-long quest, AI for Good has announced the winner of the global startup pitching competition. The Innovation Factory top prize was awarded to DoctorOnCall, a digital health solution, during a live Grand Finale hosted by the International Telecommunication Union.
DoctorOnCall, developed in Malaysia, won first place for their remote healthcare application that enables patients to access medical video visits and health information virtually on their smartphone or computers at any time and anywhere. It was deemed the winning solution to help to advance the UN Sustainable Development Goals from over 150 startups that entered the competition this year.
This innovative and scalable solution using AI was seen to make a real impact on lives, and one that can help advance good health and well-being, UN SDG3. Their digital solution helps people access trusted medical advice and heathcare. With smart and localized content, they are bridging the digital health divide.
"A win at AI for Good would be a win for health care, and would allow us to bring more services sooner," said KokKwan Ng. "Thank you to AI for Good and ITU, for bringing AI to the world… thank you for the opportunity to grow and achieve more."
The winner was awarded more than $40,000 USD worth of prizes to help them scale their solution. This includes Web Service (AWS) cloud credits valued at $6,000, software licenses and advisory services from Gorilla Corporation and Tortora Brayda Institute valued at $34,000 and due diligence by REDDS Capital.
In a close second place, Kettle received $3,400 valued credits from AWS. Kettle is a reinsurance model using deep learning to better predict the catastrophic effects of climate change, and mitigate risk.
During the live public vote, Talov Studio was selected as the audience favourite. Hugo Jacome extended his gratitude,
"Thank you to AI for Good and ITU for promoting the ethical use of AI in entrepreneurship and in business in general."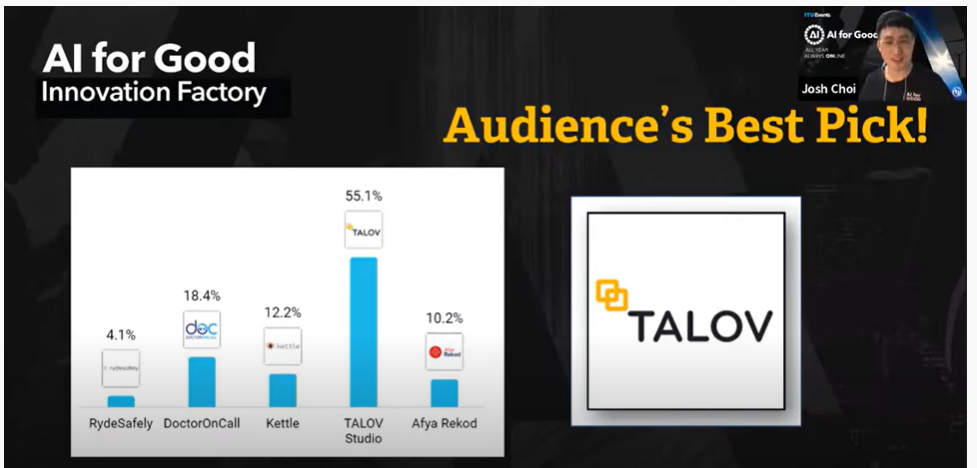 Talov has developed assistive technologies, including AI-powered hearing/visual assistant to enable persons with disabilities to communicate without barriers. As the public winner, Talov will be featured on the AI for Good blog and in upcoming events.
"Your innovative spirit encourages us all to think about how we apply everyday technologies to change lives, for good," said Chaesub Lee Director of the ITU Telecommunication Standardization Bureau to the startup finalists as he announced the winners live. "You have inspired us all tonight, and we wish you luck as you continue your startup journey."
The Innovation Factory was launched last year under the flagship initiative AI for Good. In only its 2nd year, the program continues to grow and is now truly global. With over 150 entries from 39 countries, the five finalists competed for the top spot in series of pitching sessions that connected innovators across time zones and across the world.
At the Grand Finale these finalists came from different countries including Kenya, Equador, Malaysia, Canada and USA and their social impact startups addressed very different social problems related to digital health, road safety, accessibility and climate change.
"ITU's AI for Good platform connects AI innovators and problem solvers to build technology for good. It great to see this community growing and supporting projects in service of the Sustainable Development Goals," said Reinhard Scholl, Deputy Director of the ITU Standardization Bureau in his welcome remarks.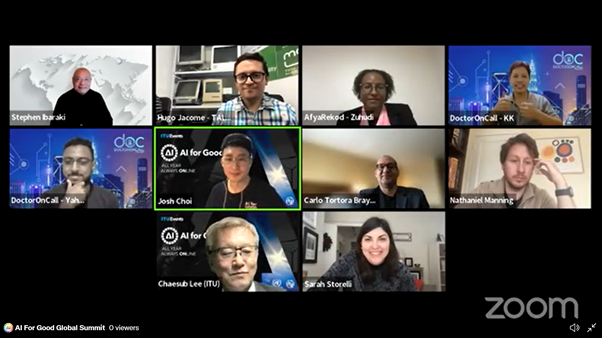 While all of these startups gained recognition from ITU and the 38 UN partners, this year they had a range of prizes, investment and mentoring opportunities, cloud credits, and partner opportunities that really spurred innovation to new heights.
"We develop channels to help scale up startups," explained Carlo Tortora Brayda di Belvedere, the CEO of Gorilla Corporation and Founder and Executive Chairman of Tortora Brayda Institute. He noted, "we look forward to being able to support in that manner the winner of today's contest."
Sarah Storelli, Global Marketing Leader at Amazon Web Services (AWS), brought her expertise from startup accelerator programmes at AWS including AWS EdStart, AWS GovTechStart, & Cloud Innovation Centers and discussed how AWS supports startups through cloud computing credits. As a judge, she was happy to join and to award the "great innovation that's happening from all of you today."
Stephen Ibaraki, Chairman of REDDS Capital, a long-time supporter and contributor of AI for Good, has generously offered Due Diligence advisory services to all of the five finalists. With his deep understanding of AI and the startup world he asked serious questions to help these startups identify the competition, regulation space and challenges to bring these solutions to scale.
All of the finalists in the Grand Finale, including notable mentions for Afya Rekod and RydeSafely, will receive support from REDDS to scale and reach investors.
While this year's edition of Innovation Factory may be over, Josh Choi, organizer of the year-long programme hinted at exciting developments in the future, with new ideas to support innovators using AI.
"Next year, the Innovation Factory will be one step further upgraded to be able to accelerate the growth of startups by helping scale up their AI solutions by more structured program, matchmaking, mentoring, networking with various partners," said Choi, "and we will move forward to empower startups to make bigger impact to achieve the SDGs."
Relive the excitement of the Innovation Factory Grande Finale here.